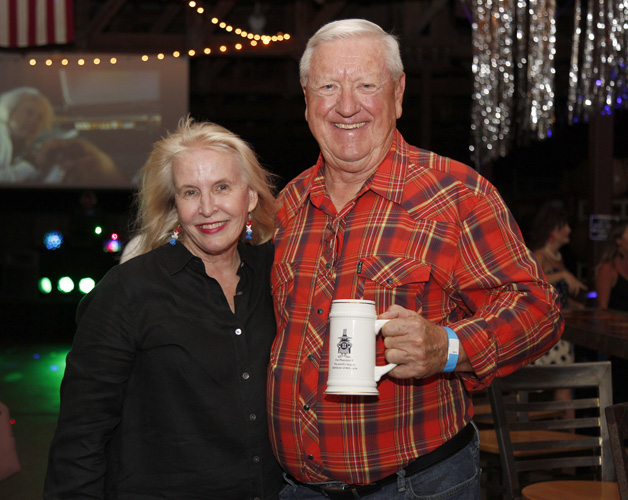 Traveling back in time to the eras of their high school proms, supporters of the Veterans Council of Indian River County rocked the night away at the fourth annual Prom Night, held recently at the Walking Tree Brewery.
Characters from the "Back to the Future" trilogy of films, including Dr. Emmett Brown, Marty McFly and Buford "Mad Dog" Tannen, shared a dance floor with James Crockett from "Miami Vice" in that oh-so-iconic white suit, along with ladies sporting bouffant hairstyles, dressed in their finest chiffon dresses and satin pumps.
DJs Joe and Shari Tessier, owners of Swingsation's 14th Ave. Dance Studio and Infinite Entertainment DJ Co., played songs through the decades to lure dancers into showing off their favorite dance skills from the '60s, '70s and '80s. There was a whole lot of shakin' going on as partygoers jitter-bugged, discoed, shimmied and twisted the night away.
Tracey Zudans ultimately won the dance competition, following a high-energy twist-off with last year's Prom King, Richard Demsick.
Last year's Prom Queen, Trish Pierce, circulating about the room as Doc Brown from "Back to the Future," was the winner of the costume contest, and Tim Capra strummed his way into First Place in the air guitar contest.
Of course, the highlight of the evening was the crowning of the new Prom King and Queen, Jason Patzer and Tracey Zudans, respectively, who joyously accepted their sashes and trophies.
People had cast their votes by making donations on behalf of the 11 people competing for the titles, with $1 equal to one vote. The title for third in the vote count was the Court Jester, which was awarded to Jim Romanek.
The other entrants, in order of dollars raised, were Marty Zickert, Robert Ryan, Patricia Pierce, Elysia Brennan, Laura Moss, Hollie Billero Buldo, Richard Giessert and Brandon Putzke.
"This was all in good fun and based on the money we raised," said Patzer. "My friends stepped up to the plate and all pitched in to help me raise $1,415. Tracey raised the most money, however, bringing in $2,225. Anything we can do to help the veterans in our community we'll do."
As the revelers stepped back in time, they also stepped up to raise more than $11,000 for the programs and services that support local veterans. And when the clock struck 10 p.m., partygoers were transported back to the present, with promises that they will continue to support our veterans.
The Veterans Council offers emergency assistance for veterans with medical expenses and household bills, provides transportation to and from medical appointments, and honors veterans and those who made the ultimate sacrifice through military ceremonies and memorials. There are also programs that help new veterans adapt to civilian life, including job readiness and skills training.
One special outreach program places veterans in the classroom to teach students about respect for the nation, flag, military service and citizenship, and another orchestrates a Veterans Helping Veterans program to assist with home improvements, for veterans unable to afford or physically unable to complete the work.
For more information, visit veteranscouncilirc.club.
Photos by: Kaila Jones
Click HERE to see more or buy photos