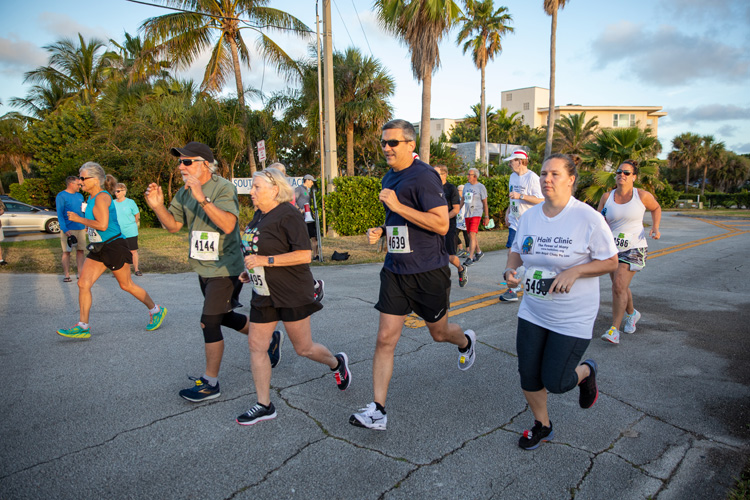 Nearly 50 runners made it in just under the wire, crossing the finish line at the recent sixth annual Haiti Clinic 5K Run/Walk at South Beach Park, shortly before a slew of event cancellations due to COVID-19.
It was a beautiful morning and, despite the fear of the looming pandemic, Haiti Clinic supporters were eager to have an opportunity to provide funds to the nonprofit, which operates a medical clinic in the poorest area of Haiti. Proceeds from the 5K will help fund their efforts to "improve healthcare and health education in the impoverished nation of Haiti."
The Haitian people are, unfortunately, familiar with devastating diseases; cholera and Zika virus have run rampant because of the country's poor healthcare systems.
"We have all kinds of diseases down there, which scare the living daylights out of most Americans. The Coronavirus is bad, but they've [the Haitian people] seen worse," said Dr. Neil Heskel, a Vero Beach dermatologist, who for 14 years has lent his services to the clinic founded by another Vero physician, Dr. Dirk Parvus.
Parvus had traveled to Cité Soleil, which was unable to provide even the most basic medical care to its citizens due to years of turmoil and gang warfare. After observing their plight, he founded Haiti Clinic, enlisting the support of a group of fellow Florida practitioners, who volunteered to provide care.
Now, 14 years later, Heskel said, they have weathered earthquakes and political unrest and have come out the other side, having built a permanent clinic that is now run by Haitian doctors and dentists.
Early on, physicians flew in from the United States bringing as much medicine as they could carry, said Heskel.
"We would see as many people as possible and then leave. That's a pretty bad business model for a medical clinic. What do people do in the meantime?"
Since then, the model for the clinic has evolved.
"We were able to hire reliable doctors and dentists to make a Haitian-run clinic. American drop-in clinics don't really work; it's temporary," said Heskel, adding that U.S. doctors do still go. "It's helpful to get some specialists down there with some expertise and support, to see what's going on and make improvements to the clinic, structurally."
It was a giant step forward when they began to track specific diseases and were able to establish a clinic in one location, where medications could be secured through a pharmacy.
Today, the clinic provides consistent, year-round primary care, preventive health, women's health, dental services, well-baby and maternal care, as well as health education.
While a permanent clinic has been established, Heskel said that turmoil within the government has resulted in riots, making it dangerous for Americans to visit Haiti.
"It's critical because these people have nowhere else to go. There is no social safety net in Haiti."
With people protesting in the streets, he said, it's difficult for many Haitians to get to work, meaning they don't make money and therefore can't buy food. As a result, the clinic also provides food security for as many children and families as possible.
"We go out into the neighborhoods and see who is at the highest risk and try to get them food supplies," said Heskel.
Physicians at Haiti Clinic saw more than 15,000 patients last year, according to Heskel, and it's still not enough.
"The whole island needs healthcare. We could see 6 million if we had enough funding," said Heskel, adding that Haiti Clinic is always in need of funding and volunteers.
For more information, visit haiticlinic.org.
Photos by: Denise Ritchie
Click HERE to see more or buy photos