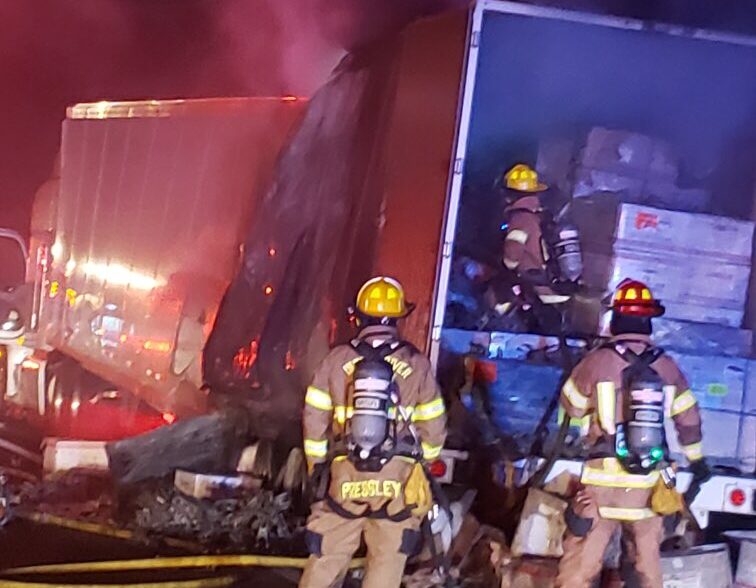 Update: All lanes on southbound Interstate 95 have reopened.
Earlier story:
INDIAN RIVER COUNTY — A semi-trailer fire blocked southbound lanes on Interstate 95 late Wednesday, fire rescue crews said.
No injuries were reported, Indian River County Fire Rescue Battalion Chief Jamie Coleman said.
Firefighters responded to the incident about 8 p.m. Wednesday on I-95, near the 154 mile marker, Coleman said. Fire crews arrived and found the semi-trailer half-way engulfed in flames.
The driver, the only person inside, escaped unharmed, Coleman said.
Police and Fire crews are working a tractor trailer fire on I-95 (SB) at the 153 mm, approximately 3 miles south of the CR-512 exit. SB traffic only is being diverted through Fellsmere on CR-512. No injuries have been reported, media contact FHP for more information. pic.twitter.com/pkh60Fh5CK

— Fellsmere Police (@FellsmerePD) March 26, 2020
Firefighters extinguished the blaze by 9:30 p.m. Coleman said there were still smoldering hot spots on the vehicle, which was hauling plastic material and other items.
Authorities closed the southbound lanes on the interstate from mile marker 154 to County Road 512, Coleman said. Southbound traffic was being diverted through Fellsmere on C.R. 512, according to the Fellsmere Police Department.
The cause of the blaze was unknown. Coleman said he expects the lanes to be closed for a few more hours.
No further details were immediately available.