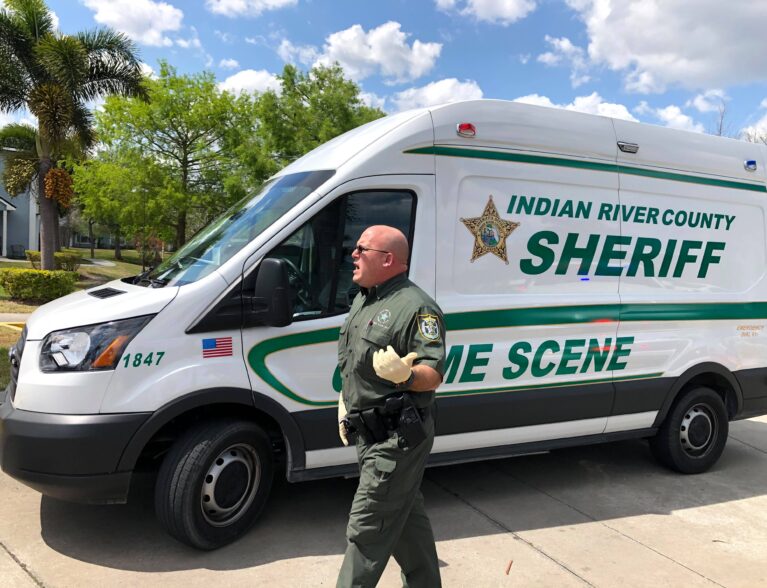 INDIAN RIVER COUNTY — Two juveniles are in custody while deputies search for a third after a botched drug deal led to a shooting Wednesday, officials said.
No injuries were reported in the case. Deputies recovered a stolen firearm at the scene of the shooting, Indian River County sheriff's spokesman Maj. Eric Flowers said.
"It appears to be a drug deal gone bad," Flowers said. "(The victim) was trying to sell marijuana and they robbed him."
It was unclear if deputies recovered any drugs from the area.
Indian River County deputies responded to the shooting about 1:20 p.m. Wednesday at Pemberly Palms apartment complex, Flowers said. The victim, a juvenile, told deputies he was shot at while sitting in his red Toyota Corolla.
Deputies detained two people seen running from the complex in the 800 block of 5th Avenue. Flowers said deputies were still questioning the juveniles late Wednesday.
.@IRCSheriff deputies are towing a small red car at the scene of a shooting at Pemberly Palms apartments. No injuries were reported. #VeroNews pic.twitter.com/e1NCUOHobB

— Nicholas Samuel (@JournalistNickS) March 25, 2020
A sheriff's truck towed away a red four-door Toyota Corolla from the area. The car had two bullet holes on its passenger side, Flowers said.
The juvenile victim was the only person inside the vehicle at the time of the shooting, Flowers said. K-9 deputies and a helicopter were trying to locate at least one other person who might have been involved.
A neighbor, who refused to be identified, said she was in her home when she heard what sounded like a firecracker. The neighbor said police and deputies arrived soon afterwards.
The neighbor said the tree-lined community is usually quiet.
A second resident, Jessica LeVoci, said she was at her friend's house at the complex cooking when another neighbor called and told her to stay inside. LeVoci, 56, said she heard a helicopter hovering above soon afterwards.
No other details were immediately available. The shooting remains under investigation.
Photos by Nick Samuel