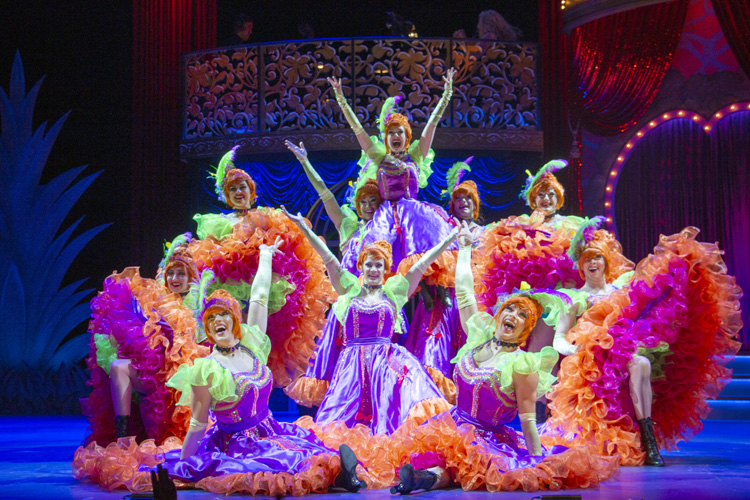 As a result of the COVID-19 pandemic, Riverside Theatre closed the final curtain on its production of "La Cage aux Folles" last Sunday evening, prematurely ending its planned three-week run.
With music and lyrics by the legendary Jerry Herman ("Hello, Dolly!") and book by Harvey Fierstein ("Torch Song Trilogy"), "La Cage aux Folles" won six 1983 Tony Awards when it premiered on Broadway.
Based on Jean Poiret's 1973 French play, the musical is set both in a St. Tropez drag nightclub and in the home of the nightclub owner and its celebrated star, Georges and Albin. Conflict arises when Georges' son, Jean-Michel, announces he is engaged to Anne Dindon, whose father is leader of an ultra-conservative political party that has its eye set on closing down local drag clubs.
Adding to the stunning news is the even more alarming announcement that the Dindons are coming that evening for dinner to meet Georges and Jean-Michel's mother, Sybil. Jean-Michel demands that Georges must tell the lovable Albin that he must stay away from their apartment until the Dindons leave.
Exacerbating this request is the fact that Albin has always been more of a mother to Jean-Michele than his absentee bio-mom. As Albin was the one who provided the loving, nurturing household, he is, understandably, crushed.
Throughout the drama and heartbreak of this dilemma, the show must go on in the drag club. We are drawn in again and again as the Cagelles are announced and perform their show-stopping musical numbers and sing "We are what we are and what we are is an illusion."
Given the French Riviera setting, and the potential for eye-popping visuals, Riverside's $1.4 million show is, indeed lavish. The drag chorus line dons Kurt Alger's glorious costumes and wigs that sparkle and shimmy and, really, take your breath away (and steal the show).
The dazzling array serves as background to director D.J. Salisbury's inspired and exhilarating choreography. In an exhausting can-can number, dancers flip and twirl, and kick and cartwheel with audience-satisfying glee.
And the high-energy, eight-piece orchestra — here perched in the back above the stage — really thrills with such a full sound you expect to see an entire orchestra. The always-indefatigable music director, Anne Shuttlesworth, both conducts and plays keyboard. You'll be hard pressed not to hum Jerry Herman's "The Best of Times" as you leave the theater.
The performances by the talented cast stand out. James Beaman's Albin is demanding and loving, vulnerable and strong, and his "I Am What I Am" delivers. James Patterson shows romantic Georges caught between the love for his son, Jean-Michel, and for his partner, Albin.
As the comic relief, Jesse Jones brings sass in his role of Jacob, the maid. As Jean-Michel, Bruce Landry has a standout moment in "With Anne on My Arm." His pas de deux with Rachel Hafell as Anne is beautiful.
But perhaps because cast members were worrying about the craziness loose in the land, you got a sense that the show was a string of standout moments without that magical theatrical glue connecting them.
It ends up interfering with the pacing and energy. Instead of numbers building on one another, they began, peaked and ended.
The same disconnect pervaded the scenery. In one number, set by the seaside, a large painting of a Mediterranean town, with blue sky and white clouds, seems to serve as the view from an outdoor café. But it's supposed to be a little bit before midnight.
And while the club looked like a club, the upstairs home has a mishmash of art, painted after Keith Haring, David Hockney, Toulouse-Lautrec and John Singer Sargent, all hanging on muddy, rose-colored walls.
In these uncertain times, audience members made nary a coughing sound and those who did sent ripples of nearby patrons adjusting in their seats. Upon leaving the theater, one could see people press against the doors with their shoulders to avoid using their hands.
Riverside Theatre had been in close communication with medical professionals, the Center for Disease Control (CDC), the World Health Organization (WHO), government agencies, and internal teams to monitor and stay on top of the evolving COVID-19 situation.
Staff spent several hours cleaning the theatre and the lobby after every show, making extra efforts to wipe down arm rests and chair backs in the audience chamber. Ushers wore disposable gloves, additional disinfectants were being used in lobby spaces and restrooms, and hand sanitizer was readily available throughout the lobby areas.
But the uncertainty of the ever-evolving situation forced them to finally make the challenging and financially difficult decision to cancel "La Cage aux Folles".
Riverside at the same time announced that it was also cancelling the upcoming productions of "Bakersfield Mist" and "The Bodyguard."
Riverside is asking people not to call in with individual inquiries; all ticket holders will be contacted within the next couple of weeks.
For more information, visit RiversideTheatre.com.