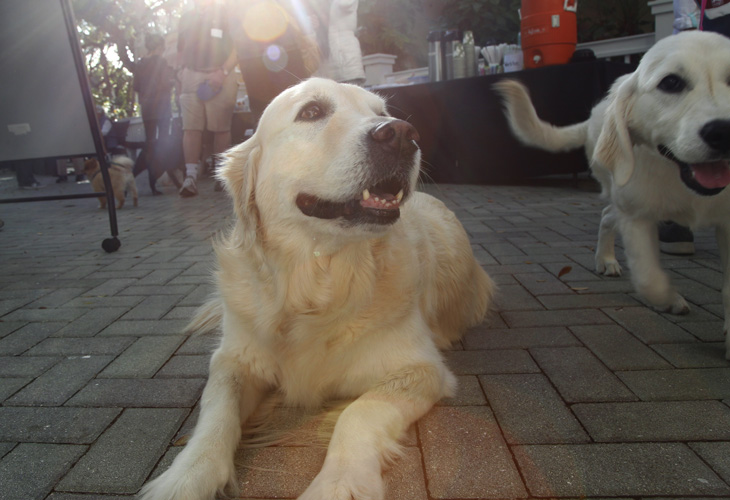 Woof, did I ever have the Best Time doing this week's column! I yapped with a whole buncha Cool Kibbles poocheroos at the 10th Annual Sea Oaks Dog Walk. Sea Oaks is a real pretty place over on the beach with lotsa handy trees everywhere, an all sorts of paths an sidewalks for leash walks. PLUS, I'm pretty sure just about every Sea Oaks human has at least one pooch.
Soon as me an my assistant parked, we knew which way to head: we just followed the barks to the clubhouse patio. Like always, there were tables full of snacks, some for humans and some for us pooches. An, woof, were they duh-licious!
Plus, I got to see lotsa my old pals an make new ones. Evrybody was lookin' their best an feelin' real energetic cuz it was sunny an cool. I had to keep remindin' myself I was there to Work.
Right away one of my favrite lady frens, Stella Duff, a super pretty Labradoodle, trotted over. "Oh, hey, Bonzo. It's so great to see you! You gotta try the Snacks. They're pawsome! An look over here!"
She led me to a special table. There was a big sign that said "Sea Oaks 10th Annual Dog Walk Welcomes Bonzo!" With my PIK-shur, a cool bandana with pooch faces on it, a copy of my columns, anna bag of Snacks! It was Super Crispy Dog Biscuits! I felt honored.
"Woof! Stella! This is so nice! I'm kinda choked up, ackshully." I gulped a coupla times.
"Come'on, I'll innerduce you around," she said. Just then a dainty liddle black an white English Cocker Spaniel approached. "Hello Bonzo!" she said. "We're so glad you could make it."
"This is Tess Petota," Stella said. "She knows everybody here."
"That's true," Tess said. "Hey, Lady," she called to a Golden Retriever. "Come meet Bonzo."
"I love your column, Mr. Bonzo. I'm Lady Jandorf an," she nudged another Golden wearin' a fetchin' green bandana. "This is my fren Casey Watts. She reads it, too."
Casey smiled sweetly. "That's true!"
"Me too! Me too! I read it, too, Mr. Bonzo!" I looked around. Then down. A teeny liddle Papillon was looking up at me, her beautiful butterfly ears in Full Fluff. "I'm MeMe Brasher. Isn't this So Fun?"
"Totally," I replied. "This is always such a Super Crispy Dog Biscuits party."
A wiggly young Old English Sheepdog wearin' a pink bandana was lookin' around eagerly. "This is Daisy Noel Fasolino. It's her first time here," Stella said. "Daisy Noel, this is Bonzo!"
"Woof!" she said. "You're an ackshull suh-LEH-bruddy! You look like a regular dog. I thought you'd have a crown or something." She looked around. "I didn't know there were this many dogs in the whole world."
"We have 41 pooches here," Tess said proudly. "It's the most ever in all our 70 dog years."
"Is it like a birthday party or something?" Daisy Noel asked.
"No, it's a Special Day one time every human year when us pooches an our humans get together an yap about important dog stuff and have snacks and go for a nice leash walk," Tess explained.
"Plus," innerjected Stella, "our humans raise money so the Humane Society can keep helpin' Pooches Less Fortunate.
"Yep!" Tess agreed.
A little Maltese was sitting in her human's lap shakin' like a fluffly leaf. Stella, Tess an I approached in a frenly way, and Stella whispered, "This is Molly Farhy. She's very, very nervous around Other Dogs. She's really sweet, though."
"Hi, Molly," Stella said softly. "I'm Stella and this is Tess. Remember us? We're your neighbors. An this is Mr. Bonzo. He's the pooch who writes those Cool Kibbles stories in the pay-per about us pooches. He's very nice an polite."
"Good morning, Miss Molly," I said in my nicest, most polite voice. "It's a pleasure to meet you."
She was still shakin'. But then she looked at me an smiled a timid liddle smile. "I, um, I … it's … I mean, there are just So Many Pooches all over the place. An barkin'. I know it's all real frenly but … but I'm just not USE to it. You know? You look like a nice sorta dog. I mean, you know, I don't get out that much. But it really is, um, it's nice to meet you in the fur. I am fuh-miliar with your work."
"I absolutely get it, Miss Molly. Sometimes the world can be a scary place. An there's nothing more comforting than our own soft, fluffy beds."
"Oh, that is so true, Mr. Bonzo. Thank you for understanding."
"Come meet Bailey Mitchell," Tess said. "He's one of our elders. A Maltese. He's mostly blind and deaf. He has a lotta pooch wisdom, an we all treat him with great respect. You gotta talk loud an stand right in front of him."
A mostly white Shih Tzu was peering out from his human's arms.
"GOOD MORNING, MR. BAILEY," Tess said, full volume. "IT'S ME, TESS PATOTA, AN STELLA HUFF. WE'D LIKE YOU TO MEET BONZO THE COLUMNIST. YOU KNOW. FROM THE PAY-PER. HE'S DOING A STORY ABOUT THIS EVENT."
I stood smack in front of Bailey. "GOOD MORNING, SIR," I said loudly. "IT'S AN HONOR TO MEET YOU."
Bailey squinted. "SPEAK UP YOUNG MAN," he said, "FROM WHAT I CAN TELL, YOU LOOK LIKE ONE OF THOSE SPAN-YULLS. I THINK TESS WAS SAYING YOU'RE FROM THE PAPER. YOU KNOW, YOU SHOULD THINK ABOUT WRITING A STORY ABOUT THIS EVENT."
"THAT'S AN EXCELLENT IDEA," I yelled. "THANKS FOR THE SUGGESTION, SIR."
I wish I coulda stayed all morning. Heading home, I was thinking about how Cool Kibbles it is that all those Sea Oaks pooches an their humans raise lots of money for Pooches Less Fortunate. All us pooches with Forever Families should Never Forget what Lucky Dogs we are. (Check out a bunch more Dog Walk pickshurs in this week's People section.)
Till next time,
The Bonz