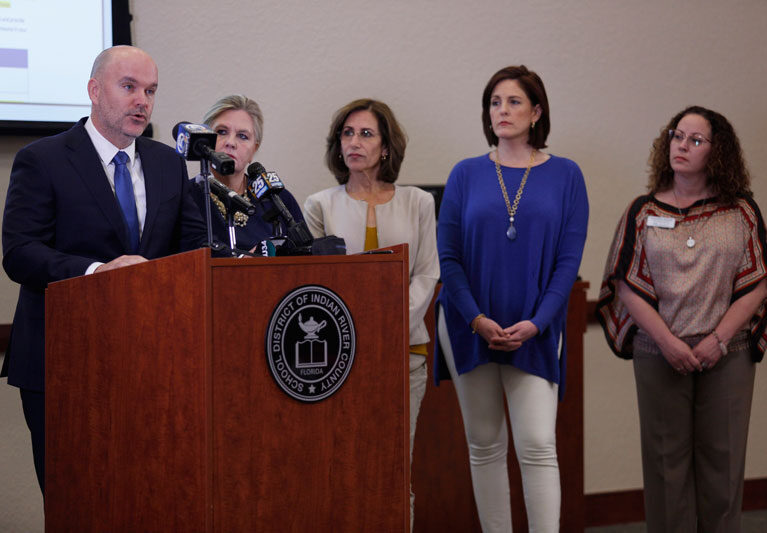 At 4 p.m. Friday, March 13, the State Board of Education ordered all schools statewide to be closed starting Monday, March 16, through March 20. The Indian River County School District goes on Spring break March 23 through 27.
The announcement came the same day – five hours – after Superintendent Dr. David Moore addressed the public, telling them at a press conference that the District had plans in place for closing schools.
Throughout the 2 week closure, all school activities & athletics, are canceled.
Starting Monday, the district will deploy its mobile cafes to its Summer lunch sites to provide food to children 18 and under.
On Wednesday, the buses will begin providing breakfast as well as lunch.
The School District will post a schedule and list of sites on its website.
---
INDIAN RIVER COUNTY — The School District of Indian River County is preparing for the possibility that schools will have to close during the coronavirus outbreak.
"We have taken a proactive approach," Schools Superintendent Dr. David Moore said during the County's first press conference regarding Covid-19.
The District has a shut-down implementation plan, which remains subject to change as variables are determined, according to Moore.
A phone call was sent out to registered parents Thursday night. Those who answered the call were given a series of questions to answer regarding their student's need for technology and other services in the event schools are closed.
Those who silenced the call or missed it will get another chance to answer the survey, Moore said. Another call is expected and if missed again, principals will reach out directly to families. A paper survey, too, could be sent home.
The District has 10,000 laptops that could be issued to students who do not have technology access at home. The bulk of the laptops would come from the classes' computer carts. Mobile hot spots, too, can be issued as needed for those without internet.
"We are not willing to outsource our primary mission," Moore said, explaining that the District plans to keep classes going remotely – keeping students and teachers connected and continuing their work during any shutdown.
The District's website, www.IndianRiverSchools.org, has a parent resource section that is meant to help parents understand and use the tools their students currently use in their classrooms and would use if forced to stay home. Moore encouraged parents to take time now and review the technology so they are prepared.
The instructional provision plan will encompass Advanced Placement and International Baccalaureate courses, as well as provide support for students in the ESE and English Language Learners programs.
Moore said he hopes to give parents two or three days of lead time prior to closing schools. He does not anticipate sending students home mid-school day.
However, he said the plan in place would allow the District to implement a shutdown on the first day back from Spring Break – if needed.
The School District has some 17,000 registered students. Of those, 60 percent qualify for free/reduced lunch. If schools are closed, Moore said the District's three mobile cafe buses will be deployed, just as they are during summer break, to provide free lunches to those who need it.
Superintendent Moore said he is the one to ultimately decide whether or not to close schools – but that decision would not be made in a vacuum. Instead, he said he would confer with the School Board, local health officials and others before rendering a decision.
The School District is the county's largest employer with more than 2,100 employees. With the instructional provision plan, Moore hopes to keep many of the staff working even if schools are shuttered.
The District has been in discussions with the teachers' union and others about handling compensation in the event of a shutdown. He likened the potential closure to that of a hurricane-necessitated shutdown. Essential personnel would report to the District offices.
"It's a system we're familiar with," he said.
Before the coronavirus, the School District had already in place hospital grade cleaning solution and the necessary machinery and other equipment to clean schools on a daily basis. The School District will continue that effort.
Superintendent Moore said that the District also stockpiled sought-after items that are now in short demand at local stores. Teachers and staff will continue to have access to hand sanitizer and other cleaners for their classrooms, he said. They need only to tell their principals.
"As a community and as a District, we stand ready," Moore said.