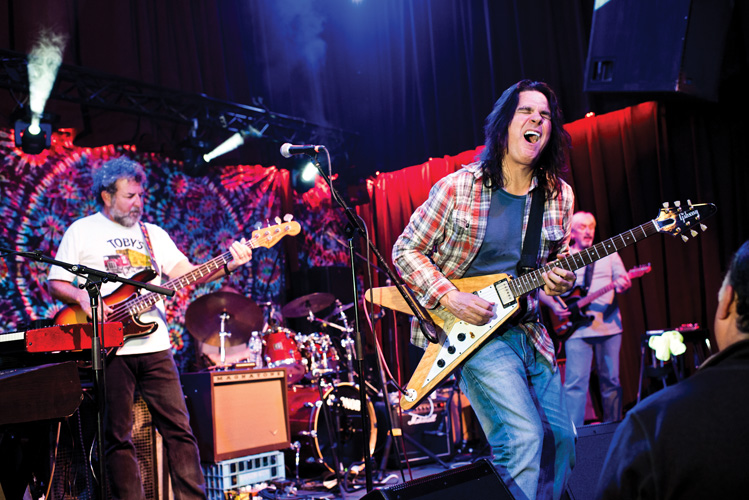 Art lovers surely will put on the top of their agenda the 69th Annual Under the Oaks Fine Arts & Crafts Show. This is a huge event where that beautiful park on the south side of Riverside Theatre is turned into an outdoor gallery, filled with little white booths loaded with art by more than 200 artists from around the country. There will also be some great food vendors with a wide range of offerings. The show has been ranked one of the top 30 nationwide by "Sunshine Artist" magazine. It runs 9 a.m. to 5 p.m. Friday, March 13, and Saturday, March 14; and 10 a.m. to 4 p.m. Sunday, March 15, at 3001 Riverside Park Dr., Vero Beach. Admission is free and there is ample parking. Call 772-231-0303 or visit VeroBeachArtClub.org.
As long as you're outside, head over to the Indian River County Firefighters Fair. That event will offer up carnival rides, games, good, 4-H livestock and agricultural competitions, and some family friendly entertainment. It's scheduled to open Friday, March 13, and run through Sunday, March 22. Doors open 1 p.m. weekends and 5 p.m. weekdays. Location is the Indian River County Fairgrounds, 7955 58th Ave., Vero Beach. Admission is $8 general, $5 children 6 through 12 years, seniors 55 and older, veterans and first responders. There are additional charges for rides and concert tickets. Call 772-388-8897 or visit FirefightersFair.org.
Beautiful music is always a mainstay for the Vero Beach area. It begins this Friday, March 13, when the Indian River Symphonic Association presents Brevard Symphony Orchestra led by Maestro Christopher Confessore performing Ravel, Beethoven and virtuoso flautist Amy Porter performing "Trail of Tears" by Grammy Award-winning Michael Daugherty. The contemporary composer dedicated his poignant work to Porter, a Juilliard graduate who has been featured on NPR and "Live from Lincoln Center." The concert begins 7:30 p.m. at the Community Church of Vero Beach, 1901 23rd Street. Tickets are $60. Call 772-778-1070 or visit IRSymphonic.org.
Or, perhaps you'd prefer your music with a more "down home" feel. Then grab your folding chairs and blankets and head to the Rhythm on the River Concert Friday evening. The concert features the Orlando-based Sandy Back Porch bluegrass group and the very popular Penny Creek Band. It runs 5:30 p.m. to 8 p.m. this Friday, March 13, at Riverview Park, 600 U.S. 1, Sebastian. Presented by the Sebastian Chamber of Commerce, the concert is free. For more information, call 772-589-5969 or visit SebastianChamber.com.
Riverside Theatre is plenty busy this week. In addition to having opened its revival of the very popular "La Cage aux Folles," it's also bringing acclaimed Broadway star Kelli O'Hara for its premiere benefit of the season. Patrons will gather for an evening of music, food and all-around rare fun as O'Hara shares stories and performs on the Stark Stage. The evening begins 5 p.m. Tuesday, March 17, with cocktails al fresco in the Loop Area. The evening ends with a sit-down dinner. As this is a major fundraiser, tickets are limited and start at $600. Riverside is at 3001 Riverside Dr., Vero Beach. Call 772-410-0470 or visit RiversideTheatre.com.
Hear bluegrass and folk music performed by accomplished musicians forming the Hanneke Cassel Trio. A performer and teacher, Cassel has performed around the world with a variety of instruments that can create a cutting-edge aesthetic to the traditional Scottish sound. She has been hailed by the Boston Globe as having "an irresistible playfulness." The other two trio members are Mike Block and Christopher Lewis. Block is part of Yo-Yo Ma's celebrated Silk Road Ensemble and teaches at the prestigious Berklee College of Music. Lewis, who graduated from Berklee, performs in Boston's popular indie rock scene. The concert begins 7 p.m. Monday, March 16, at the First Presbyterian Church, 520 Royal Palm Blvd., Vero Beach. A donation of $10 is requested. Call 772-562-9088 or visit FirstPresVero.org.
Those who love the music of Neil Young will find some bliss at "Broken Arrow – A Tribute to Neil Young" when it returns next week to the Emerson Center. The program, part of the Live! From Vero Beach series, features those iconic Neil Young tunes like "Cinnamon Girl," Heart of Gold," "Only Love Can Break Your Heart" and the plaintive "Southern Man." This show has "sold out" written all over it, so don't delay in getting those tickets. The concert begins 7 p.m. Thursday, March 19, at the Emerson Center, 1590 27th Ave., Vero Beach. Tickets are $25 to $65. Call 800-595-4849 or visit MusicWorksConcerts.com.