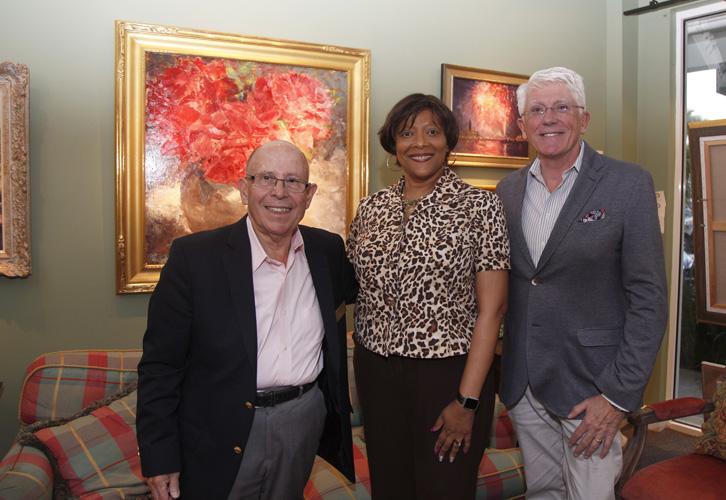 Members of the House of Art, Culture and Design committee and the Cultural Council of Indian River County gathered recently for an intimate reception at the J.M. Stringer Gallery to celebrate the success of their second annual fundraising event, which took place this past November.
Standing in the gallery surrounded by beautiful works of art, it was infinitely apparent that the arts are crucial to living our best lives.
As the late Thomas Kinkade once said, "Art transcends cultural boundaries." And that is precisely the goal of the Cultural Council: "To illuminate lives using the power and inspiration of Art and Culture, driving economic vitality through advocacy, collaboration, education and outreach."
During the reception, a check for $2,500, a portion of the proceeds from the four-day event co-chaired by Caesar Mistretta of the J.M. Stringer Gallery and interior design consultant Diane Langevin, was presented to Angelia Perry, Gifford Youth Achievement Center executive director, to help fund GYAC arts and literacy programs.
"We hope that our donation will allow you to promote the arts for your children; a most worthy cause," said Mistretta. "The government cuts the arts all the time, so we wanted to raise money for needy children relating to the arts. The money will ensure the children visit the Vero Beach Museum of Art, see shows at Riverside Theatre, and have the art materials they need for their art classes."
The educational programs at GYAC ideally complement the introduction of the arts to children.
"If you don't know how to read, you can't appreciate art," explained Mistretta.
Perry explained that while Indian River County is a hotbed of such cultural offerings as art, music and dance, not everyone has access to those opportunities.
"We want to offer art programs in addition to the academic setting to expose our students to programs and activities that they may not otherwise engage in," she added.
In addition to educational and recreational activities, the Gifford Youth Achievement Center works with children to develop their self-esteem and character so that each individual can achieve their full potential.
GYAC invites the community to attend an Open House, March 18, from 3:30 p.m. to 5 p.m. RSVP to 772-794-1005. For more information, visit GYAC.net.
Photos by: Kaila Jones
Click HERE to see more or buy photos