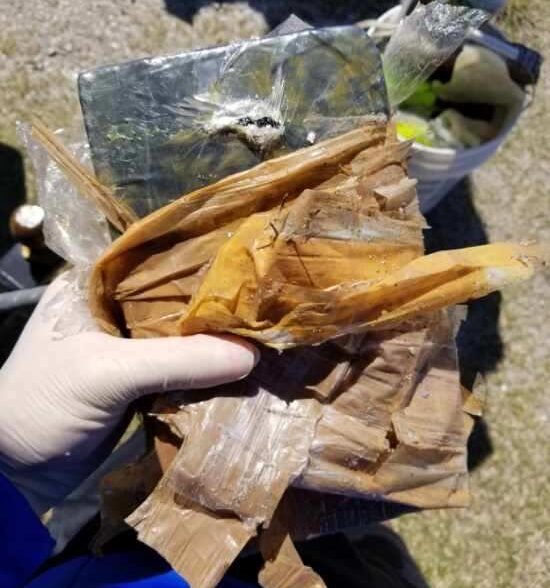 INDIAN RIVER COUNTY — Abe Sadowsky's first beach clean up on Sunday also turned into his first time discovering a suspicious bundle possibly packed with cocaine.
"I thought to myself, 'This looks like a kilo of cocaine,'" said Sadowsky, 28, of West Palm Beach. "It was crazy."
Sadowsky was with a group of people picking up trash along the beach shortly before noon Sunday at the Sebastian Inlet, 14251 Highway A1A. Sadowsky said he was walking along the rocks when he saw the brown bale.
Sadowsky, who had on gloves, picked up the plastic-wrapped bundle before calling law enforcement.
"It's not unusual. We get bundles of drugs that wash ashore a couple times a year in the county," Indian River County sheriff's spokesman Maj. Eric Flowers said. "Most are abandoned narcotics from drug traffickers. It doesn't mean they are close by."
Deputies inspected the bundle. Inside, they saw a white powdered substance that appeared to be cocaine, reports show.
The substance was not tested at the scene, officials said. Deputies turned over the package – weighing more than a kilogram – to the Special Investigations Unit.
The Drug Enforcement Administration will also inspect the bundle, Flowers said.
Flowers said sometimes drug traffickers toss drugs overboard if they are being followed. Flowers said many of the abandoned packages have been in the water and exposed to the elements for a long time.
"I would imagine every state (on the coast) has them wash up," Flowers said. "The (bundles) could be abandoned anywhere out there and end up on our coast line."
Photos contributed by Abe Sadowsky