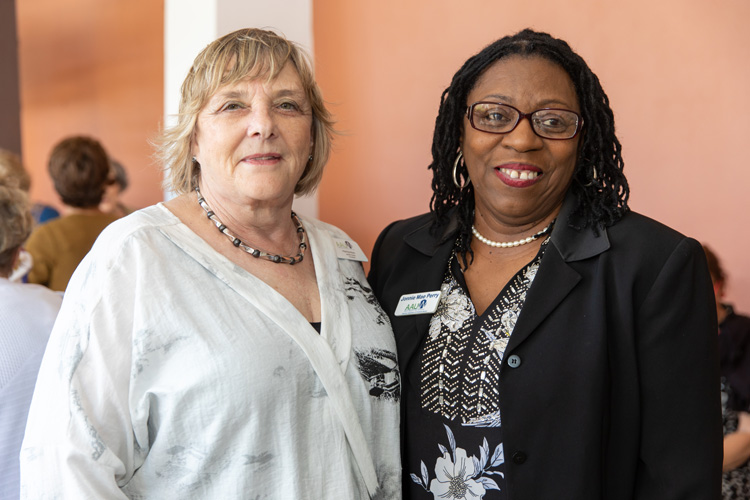 An appreciative audience of about 300 was treated to an unforgettable afternoon, as Eleanor Roosevelt, one of the most fascinating, admired and significant women of the 20th century, was wonderfully channeled by actress Jane VanBoskirk in "Across a Barrier of Fear." The presentation, sponsored by the American Association of University Women, took place recently on stage at the Vero Beach Theatre Guild.
The one-performance-only tour-de-force was chosen, said event chair Sally Fitzgerald, as something "different but still literary." The afternoon took the place of the AAUW's annual book-author luncheon, which has been the nonprofit's main fundraiser for the past four decades.
"We needed something different," said development director Linda Barker, who had posed the idea after hearing good things about the show.
The event was a hands-down success, from the postcard-perfect weather to the seamless coordination of the AAUW; the Florida Eye Institute, which graciously provided refreshments; VanBoskirk and her crew, who arrived only an hour before show time; and the Guild staff, which accurately set lights, sound, props and music in a New York minute.
And, of course, the performance, which, based on the excited after-show chatter, was absolutely terrific.
"We were lucky to get (VanBoskirk)," Fitzgerald said. She added that the actress had requested Roosevelt's favorite yellow roses, and was delighted to see they had been provided.
So convincing was VanBoskirk's pitch-perfect portrayal of Roosevelt, that during the post-show Q-and-A session, when audience members asked VanBoskirk about Roosevelt's own experiences and feelings, it was almost as if they were addressing the former First Lady herself.
Prior to the show, in the Guild's pleasant, outdoor patio, guests mixed and mingled, enjoying the sumptuous array of refreshments, as excitement mounted in anticipation of the performance to come.
VanBoskirk initially took the stage as herself. Then, with minimal props and on-stage "costume" changes (mostly hats), she portrayed not only Eleanor, but also some of the individuals who had greatly impacted her life.
"She was awesome," said Barker, "the hat, the stance, the voice (guttural when she portrayed a man) – thrilling!"
PR coordinator Rebecca Manning commented that Roosevelt, a shy, homely, highly intelligent woman from a wealthy family who would have preferred a pretty, frivolous daughter, had herself stated that "everything I did was across a barrier of fear."
Manning observed that, had Roosevelt been born a century later, we might already have had a woman president.
According to Manning, AAUW member and Vero resident Barbara Zitz knew the famed political figure, diplomat and activist well. Zitz's parents and sister worked on the Roosevelt estate, Val-Kill, when the Roosevelts lived in Hyde Park, N.Y. When newly married, Zitz and her husband lived in the gatehouse, and she remembers Eleanor as being very gracious with a warm sense of humor.
Zitz had looked forward to VanBoskirk's performance, but her husband fell ill and she was unable to attend, explained Manning.
Focusing principally on women and girls, the AAUW provides support via scholarships, a Senior Expo, tutoring, summer camps, and "Little Libraries," strategically located kiosks where children can borrow books.
For more information, visit verobeach-fl.aauw.net.
Photos by: Denise Ritchie
Click HERE to see more or buy photos