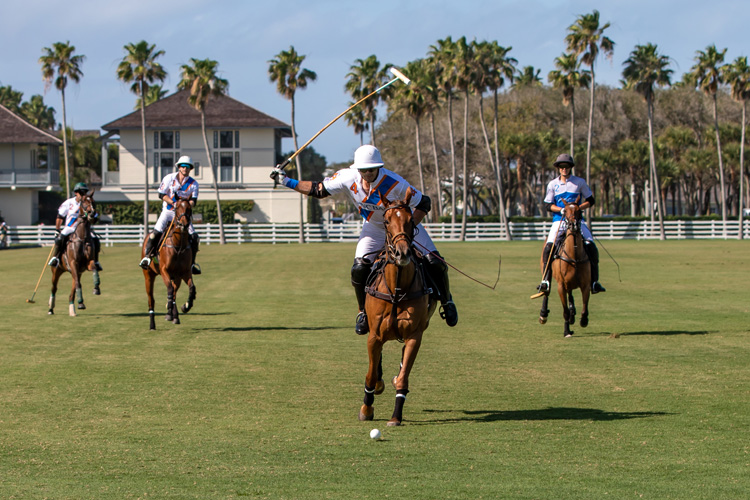 Following the Friday evening Players Reception, a record crowd of about 2,000 people turned out for the Saturday main event, the Windsor Charity Polo Cup, co-chaired by the Hon. Hilary M. Weston and Salvatore Ferragamo and presented by PNC Bank.
This fifth biennial event, the Windsor Charitable Foundation's signature fundraiser, supported three local charities: the Boys and Girls Clubs of Indian River County, Literacy Services of Indian River County, and the Humane Society of Vero Beach and Indian River County.
A glorious day filled with first-class activities was presented to all attendees, whether they had opted to purchase grandstand tickets, participate in the tailgate competition or go all out with top-tier luncheon tickets.
Prior to the match, tastefully attired guests strolled among the Porsche People's Choice Concours, where 55 gleaming models were on display by the Space Coast Region of Porsche Club of America.
In the Specialty Retail Village, a percentage of sales from the must-have array of products was donated to the charities, which each had representatives on hand to speak about their organizations. Attendees also bid on artist Carrie Nygren's commemorative poster artwork and purchased last-minute raffle tickets for an assortment of fabulous jewelry, wine and travel packages, including a stay at Ferragamo's Il Borro property.
Guests in the tented pavilion dined at tables with centerpiece baskets of luscious lemons, bright yellow daffodils and tulips, on elegant tenderloin and poached lobster salads, created by Executive Chef Robert Meitzer and impeccably served by Windsor's efficient staff.
Event emcee John Walsh acknowledged a litany of sponsors for their support, before sharing that he would not be playing in the match.
"Unfortunately, I've hurt my hand this year, but I've played in every game in the previous four Windsor Cups, and I'm bragging, because my team won all four of those games," said Walsh.
He noted that the philanthropic Weston family has had a "long love of horses and a tradition of polo," with Galen Weston, their son Galen and grandson Graydon all enjoying the sport.
"I'm full of excitement, the fact that my grandson, who is only 10, scored his first goal," said Hilary Weston, referencing the Junior Player Demonstration prior to lunch.
"It really is a pleasure to have so many members of Windsor, our neighbors and visitors and, of course, the polo community together once again for this very special sporting event," she said. "As you may know, Galen and I founded Windsor 31 years ago with polo and equestrian pursuits at the very heart of our community. I hope that everyone here will agree that Vero Beach is a very special place, and that volunteerism is alive and well here."
"I feel incredibly privileged to sit as the honorary co-chairman to this wonderful charity," said Ferragamo, before adding with a laugh, "I am, maybe I should say fortunate, that John is not playing this time. I hope we can put up a good game for you."
Match director Max Secunda pulled together another impressive roster of world-class players, all of whom donated their time for this premier, high-goal, charity polo match. Ferragamo did captain the winning team this year, with Henry Porter, Mariano Obregon and Nachi Du Plessis, the game's MVP. The talented players on the other team were Justin Taylor, Whistle Uys, Oliver Hipwood and Freddie Mannix.
Brady Roberts, Vero Beach Museum of Art executive director/CEO; Stellene Volandes, Town & Country editor-in-chief; and Alex Papachristidis, Everyday Elegance interior decorator, served as the judges of year's Famous Paintings-themed tailgate competition.
First Place, for Best Abstract Version of a Painting, was awarded to Leslie Bergstrom for "The Last Tailgate," based on Leonardo da Vinci's "The Last Supper." Second Place, Best Reproduction, went to Val Kratky for the South African Paintings of Marianne North. The People's Choice award went to Katy and Jim Dyreby for their interpretation of Renoir's "The Luncheon of the Boating Party."
Photos by: Denise Ritchie
Click HERE to see more or buy photos