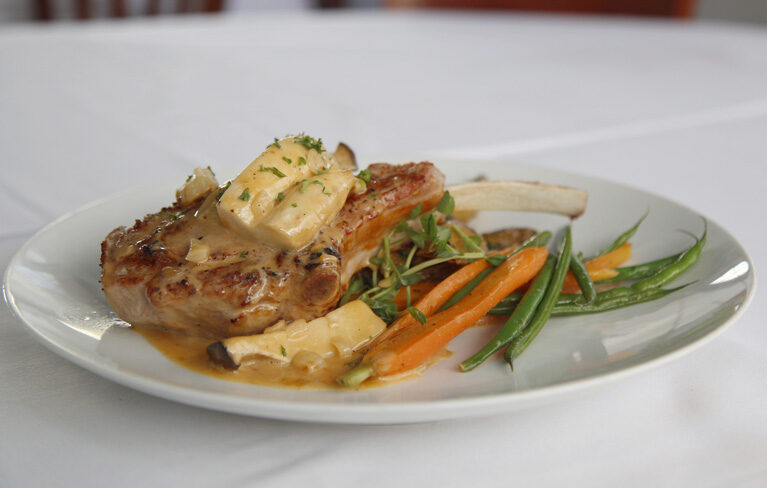 A few seasons ago, Ristorante di Mare for a time offered a weekly special it called Wild Game Mondays – bison, elk, wild boar and venison, plus a shot of Wild Turkey.
We really liked the elk and bison. They weren't truly wild, but were raised on ranches or farms – and unlike their brethren roaming the plains and Western backcountry, did not taste at all gamey. Best of all, we learned these exotic meats were good for you – leaner, high in protein, lower in cholesterol than beef.
Alas, it's been a while since wild game was featured at Ristorante di Mare, so imagine my husband's excitement last Friday night when he spotted elk chop as one of the evening's features.
Since the South Beach bistro, which specializes in Mediterranean cuisine, was full when our party of four was seated at 7:30, he laid claim to an elk chop even before we ordered drinks.
The other item on the special menu that also quickly drew our table's attention was the homemade pierogies appetizer ($15).
For the past half dozen years, Chef Jean Zana has been supplementing his excellent French and Italian creations with dishes from the "old country" produced by his wife Edyta's mother. (Edyta runs the front of the house).
The pierogies – Polish dumplings stuffed with mashed potatoes and farmer cheese – are pan sautéed here in something resembling a carbonara sauce that may be even better than the traditional sour cream. Delicious.
Next came a complimentary cup of a very good pasta fagioli, which seemed just right for a blustery Florida winter night.
Then for entrées, I ordered the veal forestiere ($42), my husband went with the elk au bourbon ($56), one of our companions chose veal picatta ($29) and our other friend opted for the salmon Francaise ($29).
My 16-ounce veal chop was perfectly prepared, sauteed in a brandy cream sauce with wonderful mushrooms, and served with fingerling potatoes and carrots. Very tasty. Our friends also gave high marks to the veal picatta (a nice thin cutlet sautéed in lemon, butter, capers and a chardonnay sauce) and the grilled filet of Scottish salmon.
But my husband was wild about his elk chop, grilled medium rare and topped with a mushroom bourbon sauce. A spectacular treat, he said.
For dessert, we shared an order of tiramisu ($10) and an order of bread pudding ($10 – and pronounced "outstanding").
Hard as it is to believe, di Mare is now in its tenth year in Vero. When it started, a preponderance of the entrées were Italian. These days, Chef Jean seems to be emphasizing his French culinary roots.
But over the past decade, di Mare has to a greater extent than any other local restaurant offered authentic dishes not often found in this area. If you haven't been there recently, give it a try. And if you don't want to be hooked, stay away from the pierogies.
I welcome your comments, and encourage you to send feedback to me at tina@verobeach32963.com.
The reviewer dines anonymously at restaurants at the expense of Vero Beach 32963.
Ristorante di Mare
Hours:  Daily, 5 p.m. to closing
Beverages: Full Bar
Address: 1517 South Ocean Drive
Phone: 772-234-2809