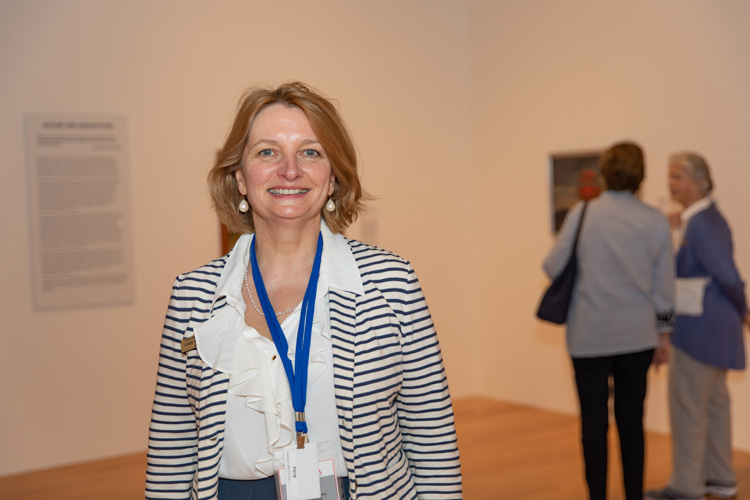 February 20020 ushered in two momentous events at the Vero Beach Museum of Art: the hiring of a new chief curator, and the opening of "From Homer to Hopper: American Art from the Phillips Collection."
The latter fills both the Holmes and the Titelman galleries at the VBMA, and is on view through May 31. The former is Anke Van Wagenberg, Ph.D., who came to Vero from the Academy Art Museum in Easton, Md., in late January. It is expected that Van Wagenberg will be at the museum for some time to come.
VBMA executive director/CEO Brady Roberts describes the museum in Easton as "very similar to Vero Beach in that it's a wonderful art museum with an art school."
Roberts praised Van Wagenberg "as an accomplished scholar and an expert in Dutch masters, and also in contemporary art."
Van Wagenberg served as chief curator at the Academy Art Museum for over eight years, during which time she oversaw the presentation of exhibitions that featured some of the best-known contemporary artists of the 20th century.
Just last year she oversaw the Academy Art Museum's presentation of "Diebenkorn: Beginnings," an exhibition of 106 early works organized by the Richard Diebenkorn Foundation. Other notable shows during Van Wagenberg's tenure there were a Bill Viola video and sound installation in 2015, "Mark Rothko: Selections from the National Gallery" in 2013, and "James Turrell: Perspectives," also in 2013.
Van Wagenberg's resume includes a Masters in Art History and Archaeology, as well as a Ph.D. in Art History from Vrije Universiteit in Amsterdam. A speaker of four languages, Van Wagenberg recently wasted no words in getting to the point of the "Homer to Hopper" exhibition.
"The main message from this show is that it shows the journey of one collector. It's the personal taste of Duncan Phillips in many ways," she said.
Van Wagenberg explains that Phillips was the foremost collector of contemporary American art of his time, acquiring everything from American Impressionism to Abstract Expressionism. Phillips also collected some important European works, including Pierre-Auguste Renoir's "The Boating Party," a key painting not only in the Phillips Collection, but also in Renoir's oeuvre.
Phillips did not allow himself to be distracted by the siren call of European masters, however. At his death in 1966, American art comprised more than two-thirds of the collection.
Von Wagenberg says "that was a very strategic idea by Duncan Phillips. He thought that (collecting known European artists) would draw in a bigger audience" to his new American art museum.
Born in 1886, Phillips was named after his father, a wealthy window glass manufacturer; his mother inherited part of a steel fortune. A family trip to Japan, Korea and China afforded Duncan Jr. and his elder brother, James, an appreciation of the material culture of Asia. The brothers were encouraged not only to value art, but also to purchase it. By means of an annual stipend of $10,000 to each of their sons, their parents afforded Duncan and James the means to collect art for the family's private enjoyment.
The brothers took art-buying seriously; together they developed a taste and the eye for the contemporary art of their day.
Tragedy was the impetus for Duncan Phillips to add an addition to his parents' mansion in Washington, D.C. and open it as a public museum in 1921. He originally named the museum the Phillips Memorial Art Gallery in tribute to his father, who died in 1917, and his beloved brother James, who succumbed to Spanish flu during the pandemic of 1918. James Phillips was 34 years old and newly married when his life ended. Because of the Phillips brothers' mutual love of art, the museum built as a memorial has celebrated the art of the living for nearly 100 years.
Says Van Wagenberg, "You have to keep in mind that in 1921 there was no National Gallery of Art in Washington yet. There was no Museum of Modern Art in New York, there was no Whitney Museum of American Art. None of them had opened yet."
Duncan Phillips devoted his life not only to purchasing art for his museum's collection, but also to financially assisting artists in need. He collected multiple examples of work by artists he felt strongly about, and gave many artists their first solo museum exhibitions. Phillips infused cash into the lives of Arthur Dove, Rockwell Kent, Ernest Lawson and John Marin; he awarded solo shows to (among others) Marin, Preston Dickenson, Jacob Lawrence, Milton Avery and Sam Gilliam. All of the above are represented in the current VBMA exhibition.
The exhibition's offering of 65 artworks by many of the greatest names in American art history – from George Inness' "Lake Albano" of 1869, to Helen Frankenthaler's "Canyon" of 1965 – exemplify the range and diversity of Phillips' acquisitions and belies the show's title, "From Homer to Hopper." The works are grouped, sometimes a bit loosely, into 11 thematic sections, each with an accompanying text panel written by Susan Behrends Frank, curator at the Phillips Collection.
Turning right as you enter the gallery, the earliest paintings in the show are grouped under the heading "Realism and Romanticism." They include George Inness' 1869 Italian idyll "Lake Albano," a painting whose dancing, picnicking, and canoodling holidaymakers recall Nicolas Poussin's 17th century bacchanals, except with more clothes. Thomas Eakins' circa 1891 portrait "Miss Amelia Van Buren" is also in this section. As immortalized by Eakins, Miss Van Buren's pensive, sidelong glance makes her face one of the most recognizable in American art. To her right, Winslow Homer's somber "To the Rescue" of 1886 follows two women and a man as they walk along the edge of an angry sea. With their backs to us, the trio is intent on arriving at a disaster that is implied, but not shown, beyond the picture's edge.
In the "Forces of Nature" section, a 1909 painting by Rockwell Kent titled "The Road Roller" is one of the most colorful monochromatic paintings in the show. It depicts several men atop a giant steel roller drawn by six powerful horses. Silhouetted against a bright winter sky, the remarkable group is shown tracing a route between somewhere and someplace in the rural New Hampshire countryside, leaving a swath of hard-packed, traversable snow behind it.
In addition to the Grandma Moses painting in the show, "Hoosick Falls in Winter" of 1944 (in the "Memory and Identity" section), the most popular picture in the exhibition is bound to be Georgia O'Keeffe's "Ranchos Church No. II, NM" of 1929.
"This, to me, is one of the masterpieces in the show," says Van Wagenberg.
The Titelman Galley holds the most up-to-date pieces in the exhibition. Helen Frankenthaler's "Canyon" exemplifies of the breath of expression New York School took in the 1950s and 1960s. California painter Richard Diebenkorn's works, like "Interior with View of the Ocean" of 1957, made the New York art world sit up and take notice.
"This is a show that you will want to come back and see several times," Van Wagenberg says, summing up the embarrassment of riches currently on display at the VBMA.