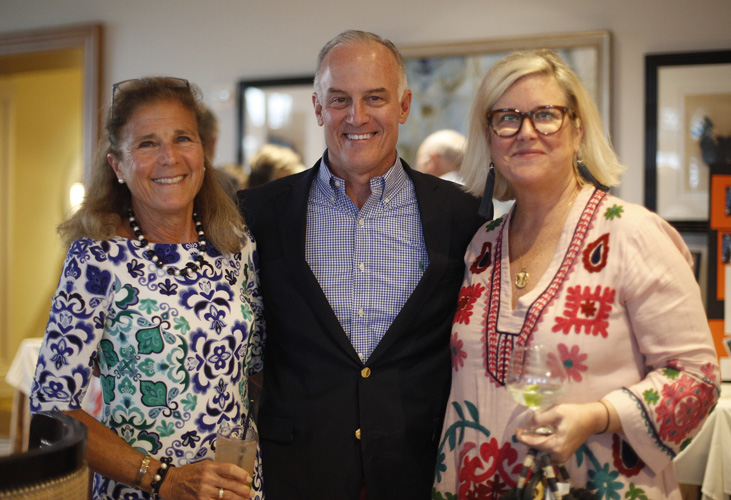 Members of the Moorings community partied with a purpose last Monday evening at the Moorings Yacht & Country Club, as they closed out the 21st annual Moorings Habitat Classic Weekend – a multi-day event to benefit Indian River Habitat for Humanity. Weekend fitness events had included golf, tennis, pickleball, croquet, putt-putt, bridge, Mah Jongg and a 5K run/walk/bike.
During their 20-year relationship with Habitat, the Moorings community has raised more than $9 million, resulting in the construction of 72 homes, numerous home revitalization projects and scholarships, enabling low-income working families to have safe, affordable homes.
As a glorious sun set over the lagoon, more than 450 guests gathered in the Governor's Lounge for cocktails, perusing silent-auction items and comparing weekend scores before heading into the dining room to feast on an extensive buffet of seafood, pasta and filet mignon prepared by Chef Ben Tench and his staff, followed by live-auction bidding and a bid from the heart.
Event chairs Karen and Randy Sones thanked sponsors, Moorings staff and event participants for another successful year, saying, "You're the ones who make it possible for Indian River Habitat to build affordable new homes, award scholarships and make critical home repairs for deserving Indian River County families. This is a special community, and we couldn't be more proud or grateful to be a part of it. You are simply the best."
"What I have found over the last couple of days and the last couple of years that I have gotten to know you all as a community is, you are extraordinarily kind people," said Sheryl Vittitoe, IRHH president/CEO. "This community is extraordinarily generous. Mr. Rogers taught us that we can count on our neighbors. And we have definitely counted on the Moorings to help Indian River Habitat for 20 years."
In a video interview, Bob Samuels, a founding member of the Moorings-Habitat collaboration, chatted with Roseline Civil, his caregiver and a Habitat homeowner.
"Housing is a huge issue to all of our society, and so much of the development of people depends on where they live and how they live," said Samuels, recalling the first year that members had raised enough money to sponsor a Habitat home. "No one could predict the success. It's hands-on giving to people who have to work. They're not given the chance; they have to earn that chance through their sweat equity."
As the first private country club to collectively recruit volunteers and raise funds for Habitat programs, the Moorings laid the groundwork for others to follow suit, with the goal of helping families become stronger through homeownership and education, so they can fully participate as members of the community.
"It's a blessing that I found something so meaningful to give to and be part of through my retirement years. It wasn't just golf and tennis or boating, it was giving back in a meaningful way to people who are most deserving, and the least served in the country. If you want your money and your time to go to something that can be a game-changer in other people's lives, give to Habitat," said Samuels.
"We are confident that we've raised more money than ever before," said David Sommers, Moorings Habitat Partnership chair. He said they expected to exceed $500,000, which would hopefully fund at least four Habitat homes this year.
On March 14, a Habitat Island Gala fundraiser will take place at Grand Harbor Beach Club. For more information, visit irchabitat.org.
Photos by: Kaila Jones and Denise Ritchie
Click HERE to see more or buy photos