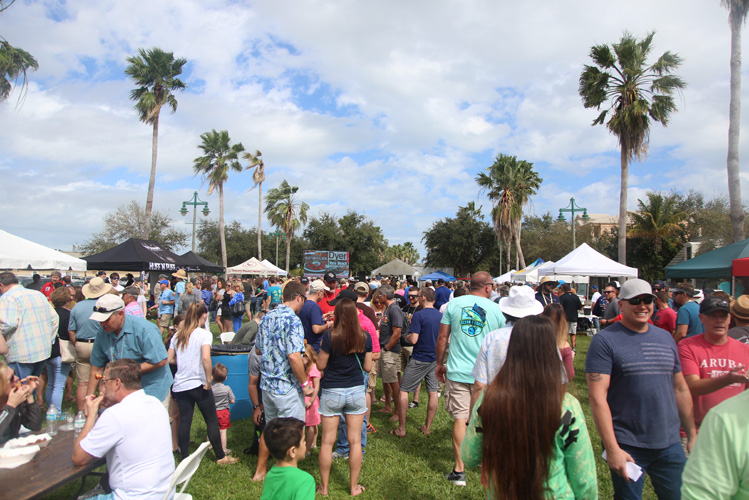 A 'brew' haha of epic proportions erupted on Royal Palm Pointe recently, as thousands of wing and beer fans turned out to eat and drink their way from one end to the other at the ninth annual Florida Craft Brew & Wingfest, hosted by Sunrise Rotary of Vero Beach.
Folks stopped and chatted with friends amid all the finger-lickin' and keg tappin' – often to recommend their personal favorites from among the grilled, fried and smoked chicken wings, along with endorsements for the perfect beverages with which to chase them down.
Brewskis flowed from the taps of 70 beer tents and, according to Kevin Rollin, chair of the planning committee, with between three and five craft beers, wines, hard seltzers and ciders at each of the tents, those visitors who anted up for the tasting bracelets would have had to consume more than four gallons to sample them all.
Cold refreshments were scattered strategically along the route to accompany the hot, mild, Carolina, garlic, peach habanero chicken wings, including one aptly named Stupid Hot. A variety of non-poultry items, for anyone not wanting to wing it, included fried shrimp, hush puppies, dirty oysters, pizza, pasta and gourmet grilled cheese.
Sunrise Rotary really stepped up the entertainment this year, with two bands performing on stages at each end of the green, digital billboards, better sound quality and louder music, ensuring that everyone could enjoy the entertainment no matter where they chose to settle in for the afternoon.
The Chef's Award in the Individual Division went to Huff N Puff and in the Restaurant Division, Hurricane Grill & Wings. Both the People's Choice and Spirit Awards were presented to the Vero Beach Little League.
While the motto of Rotary Clubs is "Service above self," and its mission is directed toward "continuous improvement through service to our local community and internationally," Rollin said Sunrise Rotary is unique because "we're really focused on having fun."
When he moved here about nine years ago, Rollin said he wanted to get to know Vero Beach, adding, "Rotary for me was a way to meet like-minded people with high ethical standards and very involved in the community."
Proceeds from the festival benefit various charitable projects of Sunrise Rotary. Among them: Adopt-A-School, Rotary Youth Leadership Awards, Growing Healthy Kids, Backpacks for Children, Pre-K Book program, scholarships, visits to retirement homes and the club's annual visit to the Dominican Republic where they fund bio-sand water filters, aqueduct systems and books for schools.
For information, visit sunriserotaryverobeach.org.
Photos by: Kaila Jones
Click HERE to see more or buy photos