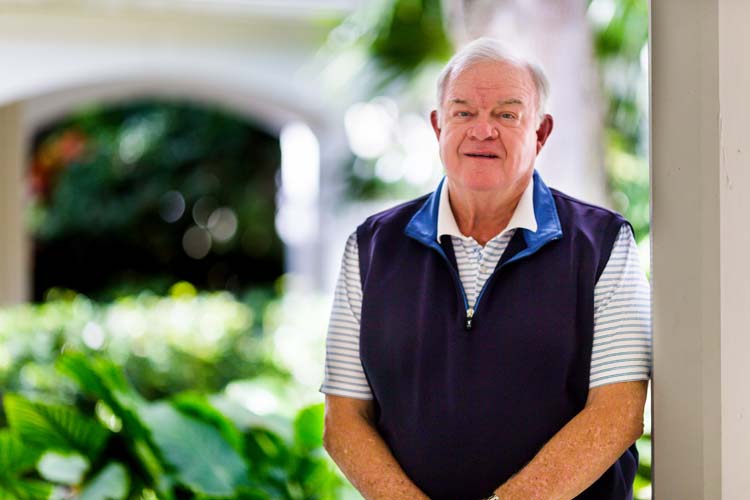 This one is easy.
Indian River County voters should be thrilled that someone of Brian Barefoot's stature and accomplishment cares enough about our community to want to step out of retirement and serve on the Indian River County School Board – an often-thankless, $35,000-per-year position that requires a great commitment of time and energy.
We should celebrate Barefoot's decision to run and fully embrace the knowledge, experience and professionalism he would bring to the sometimes-contentious, occasionally chaotic, five-member board – especially at this important inflection point, when the school district has a new, blue-chip superintendent who has hit the ground running and is determined to make the changes necessary for our school district to reach its potential.
We should elect Barefoot to the District 5 seat now occupied by Tiffany Justice, who, as of Monday morning, hadn't yet filed to run for a second term.
Then we, as a community, should strongly urge the other board members to elect Barefoot chairman, because the district would benefit mightily from the sure-and-steady, solution-driven leadership he would provide.
"Now is the time," Barefoot replied when asked why he decided to run. "We've got a superintendent who gets it, who has a reputation as a reformer and who sees an opportunity here. And he's going to push his agenda. I want to make sure he doesn't get bogged down by the board and that he gets what he needs to do the job."
He paused for a moment before adding: "A lot of people, including several Vero Beach political types, say this is a much more important election than the ones for sheriff or county commission."
They might be right.
Electing sheriffs and county commissioners always impacts the community, but the next few years – if Moore fulfills his promise – will be a gamechanger for our school district, which under former superintendent Mark Rendell was plagued by poor morale, too much teacher turnover, mishandled finances, unnecessary investigations and costly lawsuits.
"If you live here, you want all aspects of Indian River County to be a plus," said Barefoot, a former Indian River Shores mayor. "We've got Cleveland Clinic, one of the top two medical centers in the world, acquiring our local hospital. We have a theater that is recognized as one of the best off-Broadway theaters in the country. We've got the Vero Beach Museum of Art. I could go on and on.
"So why, when everything else around here is positive, do we settle for a mediocre school system? It's embarrassing."
That embarrassment is why Barefoot – at age 76, after a wildly successful career in investment banking at Paine-Webber International (where he was an executive vice president) and Merrill Lynch (where he retired as a senior vice president and managing director), followed by a seven-year stint as president of Massachusetts' Babson College – didn't immediately reject efforts to recruit him as a candidate for the School Board.
Among those who approached him was Indian River Shores Vice Mayor Bob Auwaerter, who served as chairman on the school district's Audit Committee, where he saw a glaring need for strong leaders with business expertise on the board.
Auwaerter, who is running for the District 5 seat on the County Commission, was aware of Barefoot's outstanding work as a member of St. Edward School's Board of Trustees, as well as his years serving on boards of numerous public and private schools, education-related committees and education-focused non-profit organizations.
He also sat with Barefoot on the Shores' Town Council and observed the efficient way he ran meetings.
"A school board can potentially create a lot of obstacles for a superintendent and having someone like Brian there to support his efforts would certainly enhance Dr. Moore's chances of succeeding," Auwaerter added. "Brian is a very intelligent man, and he would bring to that board a depth of knowledge and combination of educational experience, financial expertise and business acumen that's not there right now.
"He just seemed to be the right guy at the right time, so I began recruiting him to run."
As of Monday, Barefoot was running unopposed. But even if Justice seeks re-election, Barefoot shouldn't be concerned.
Not only are his qualifications far more impressive, but Justice doesn't deserve another term. She has been at the center of much of the board's acrimony and showed poor judgment in relentlessly supporting and defending Rendell, even after his failings had become so obvious that his departure last year became inevitable.
"A lot of people in and around the district are very excited about his candidacy," one high-ranking school official said, "because this is a very crucial time for the district, and we need someone with his credentials."
Certainly, we don't need another educator. There are currently three of them – Mara Schiff, Jackie Rosario and Teri Barenborg – on the board, and former principal Peggy Jones is challenging board Chairman Laura Zorc, an accountant by trade, for the District 3 seat.
While there's value to having an educator or two on the dais, Barefoot said, "strong boards bring together a diversity of backgrounds," adding that the school district "is a $300 million business."
Zorc, who is in her second year as chairman, said Barefoot "has a lot of strengths that would complement the board's other members," but she refrained from commenting further because the Florida School Board Association has advised the panel to stay neutral during the board races.
However, Zorc did say she doesn't plan to seek a third one-year term as chairman if re-elected to her seat, which helps clear a path for Barefoot, who would be – by far – the best choice to succeed her.
He's already met with board members. He observed the meetings at which they interviewed Moore. He has made himself familiar with the issues confronting the district and is eager to get to work.
"I like challenges – finding solutions to problem, fixing something that's broken," Barefoot said. "The first thing for me to do, though, is get elected."
Vero Beach 32963 wholeheartedly endorses his candidacy.
The above endorsement editorial was written for Vero Beach 32963 by columnist Ray McNulty.