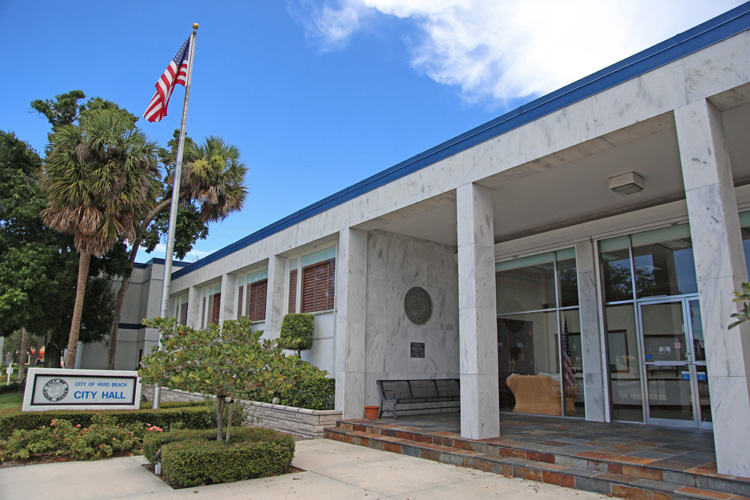 Former Vero Beach City Council member and longtime political gadfly Brian Heady said last week he might ask to join at least one of the public-records lawsuits filed recently by a mysterious plaintiff against several local governmental entities and officials.
The anonymous plaintiff, named only as "John Doe, aka saveverobeach@gmail.com" in the court filings, has sued the School District, Sheriff's Office and Vero Beach, but Heady appears to be interested mainly the action involving the city.
Heady addressed the issue at last week's City Council meeting, where he challenged the city's decision to heavily redact the phone records he received from City Clerk Tammy Bursick in response to his own records request and accused City Attorney John Turner of "violating Florida law."
Heady, who requested phone bills from the city-issued cell phones used by Bursick and City Council member Laura Moss, argued that the city has no right to redact information on calls made using those phones because it's a public record.
Turner disagreed, saying employees of governmental entities may legally redact personal information not connected to conducting business related to their position.
"The law is: You still have the opportunity to redact and remove personal information that did not come to you by virtue of your position," Turner told the council, adding, "That information is considered private. It does not have to be turned over."
Heady disputed Turner's opinion, saying he didn't ask for "personal information" and that Florida's public records law doesn't allow the documents he requested to be redacted.
"I have no issue with redacting personal information," Heady said, "but if you make a telephone call on your city-owned telephone – if you do something on a city computer – you can't claim, 'Oh, by the way, that was personal.'
"The city-paid cell phones are public record," he added. "If you don't want a private conversation, a private call, or a private number as part of the public record, then it's pretty simple: Don't use your city-owned, city-paid cell phone to make personal calls.
"Once you do that, you have, by yourself, caused that information to be public."
Turner said Florida case law supports his position, but Heady said he might take his case to court to get his way, even if he doesn't partner with the anonymous plaintiff.
"What I asked for at the council meeting was not connected to Save Vero Beach, but it's similar, so I might ask him if I can join his lawsuit and save a few bucks," Heady said. "You can't legally do what the city is doing, and they're doing it in plain sight."
The anonymous plaintiff said during an online interview last weekend that he and Heady had exchanged emails earlier this year. He said he believes Turner has misinterpreted the law.
"There is plenty of case law that states the bill and phone numbers on the bill, even if personal in nature, are open to public records," the plaintiff said. "My writ does not ask for the content of the conversations; only for the bills themselves. [Turner] is way off on this."
In his lawsuit filed against the city and Bursick in January, the anonymous plaintiff claims Bursick, as custodian of the city's records, denied or refused to fully provide the billing statements – including all calls and text messages from her city-issued cell phone – he requested.
He also sought the August billing statement for another city-issued cell phone assigned to Moss.
Turner responded with a motion asking Circuit Court Judge Janet Croom to dismiss the lawsuit because, under the Florida Rules of Civil Procedure and prior court rulings in the state, the plaintiff may hide behind a pseudonym only in extremely limited circumstances – none of which apply to this case, as Turner sees it.
The plaintiff's attorney countered with a motion opposing the city's motion to dismiss the case, stating the plaintiff has a "constitutional and statutory right" to proceed anonymously and there's no compelling reason to unmask him to resolve the case.
Last week, Turner followed up with discovery requests, asking the plaintiff to turn over from the past year all of his public records requests and responses from the city, all emails and other communications produced from the saveverobeach@gmail.com address, the names, user identifications and passwords for all of his social media accounts accessed, all public records complaints or requests for legal remedies filed in any Florida circuit court, all exhibits he intends to offer at trial or any hearing on the matter, as well as the names, addresses and phone numbers of all witnesses he expects to call, any other supporting documents that may be used in court.
"It's interesting that he wants my entire life to be handed over to him," the plaintiff said, "but he is withholding a city phone bill because of 'personal' phone calls."
Turner said he didn't know when Croom might rule on the motions, but the city is planning to bring in outside counsel because "I'm a one-man band right now."
The plaintiff, meanwhile, remained concerned about the city attorney's tactics.
"Mr. Turner has an issue with me being anonymous, regardless of the law," he said. "Now, if Mr. Heady or someone else files a suit for not being provided the same public records, what will be his excuse for not providing them then?"