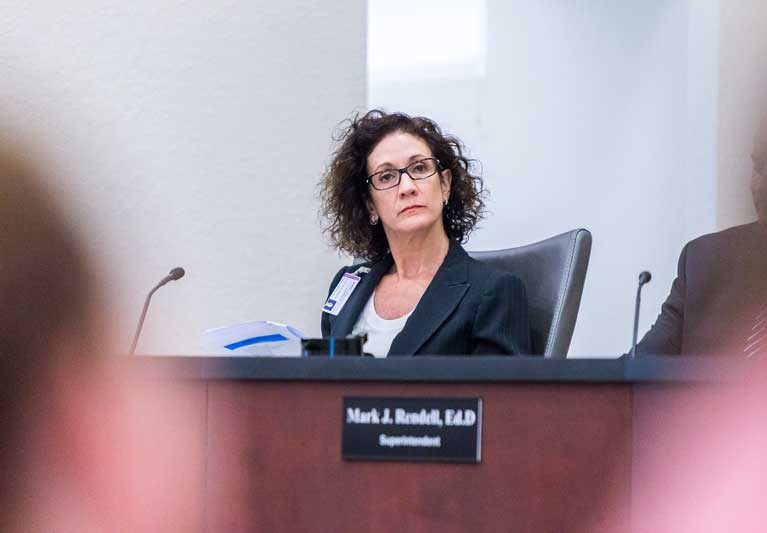 An effort to reduce school district legal expenses and likely replace longtime outside counsel Suzanne D'Agresta – one of the highest-paid school attorneys in the state – got underway last week.
At its Feb. 11 work session, the School Board directed administrators to immediately seek letters of interest from qualified attorneys who might be willing to handle the school district's legal work for less money.
"I've been saying this for years," Board Chairwoman Laura Zorc said. "We need to start seeking letters of interest to see what else is out there. We could see significant savings."
Jeff Carver, the district's director of purchasing, said he would begin advertising the position Feb. 14. The district will accept letters of interest for 45 days and then schedule interviews with the top three finalists. D'Agresta may also file a letter of interest.
At the same time, school administrators are exploring the idea of hiring an in-house attorney instead of retaining outside counsel, to see if that arrangement would work better and be more cost-effective.
Chief Financial Officer Ronald Fagan told the board it might cost more to hire an in-house attorney if the district also hired a paralegal and clerical staff to assist, but Superintendent David Moore disagreed.
He told the board that if the right attorney is hired, "I think we can reduce the cost of outsourcing. I think there is a great deal of savings to be had."
The school district paid much more for legal services last year than several larger districts, according to a review of records by Vero Beach 32963.
In the 2018-19 fiscal year, Indian River County School District – which had 17,792 students – paid a total of $518,884 in legal fees and expenses to D'Agresta and attorneys she hired to help her handle the district's legal work.
During the same period, St. Lucie County School District – which had 40,848 students – paid a total of $358,660 in legal costs, which included the salaries of two full-time, in-house attorneys and the use of a contracted attorney.
Martin County, which had about 1,200 more students than Indian River, had a total of $229,000 in legal expenses, less than half of what was paid by Indian River.
The Alachua County School District, which had 29,764 students – 12,000 more than Indian River – spent only $187,618 for legal services.
A review of school financial records shows D'Agresta, who is based in Orlando, has charged the school district more than $2.4 million in legal fees and travel expenses over the past seven years, even as she raked in cash working for other districts around the state.
In addition, the Indian River district had to cough up another $2 million during the same period to pay outside law firms D'Agresta hired to help her fight lawsuits and perform other legal work.
D'Agresta currently receives a $264,000 annual retainer, paid in monthly installments, that covers 30 hours of legal work per week, according to school records. Along with that income, she's also received money each year for "additional work performed" beyond 30 hours a week.
In her most lucrative years, she took in around $400,000 in retainer fees and "overtime" pay. During the 2013-14 school year, the district paid her a total of $406,927.65 in legal fees and expenses. She collected $393,624.26 in 2016-17.
Moore said the district needs to continue making changes and improvements, which he believes will reduce the need for legal services.
"My goal is to reduce the amount [of legal work] needed," Moore said.
The decision to consider replacing D'Agresta comes at a time when she is on thin ice with the School Board after submitting a rogue desegregation report to a federal judge that aroused the ire of the judge, School Board members, and Moore.
D'Agresta's contract expires on Mar. 31. If the school district doesn't tell she is out by Mar. 1 – giving her 30 days notice – her contract, by its terms, automatically renews for one year.
However, the contract also has a clause that allows either party – D'Agresta or the school district – to withdraw from the deal with 30 days notice at any time during the life of the contract.
So, if the district has not found a replacement by Mar. 1 – as seems likely given the 45-day letter of interest response period – but decides to hire a different outside counsel or an in-house attorney later in the month or in April, the board would be obligated to keep D'Agresta on for a month at most.