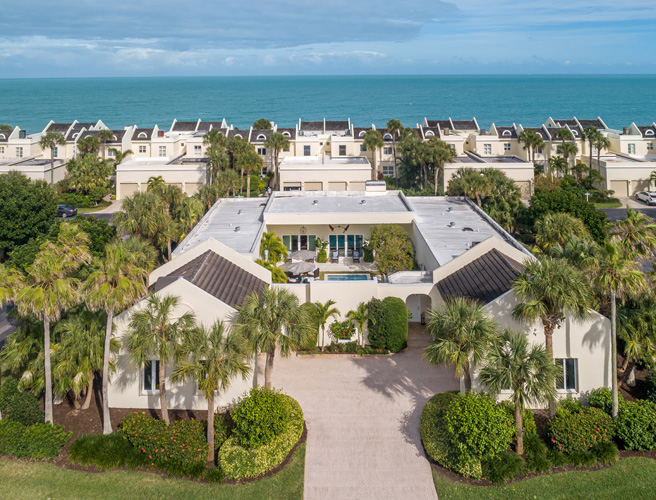 It is no stretch to say there is nothing else on the market in Vero Beach like the striking home at 8341 Calamandren Way in Baytree on the north island. Resplendent with a total, down-to-the-studs renovation in 2019, this sophisticated, one-of-a-kind beauty will wow you with its crisp, clean surfaces and fixtures, 13- to 18-foot ceilings, and light-filled open spaces.
The homeowners, two architect brothers, designed the renovation. Of Spanish descent, they grew up in Vero Beach and currently live and work in L.A.
As soon as they saw the house, they knew how they wanted to transform it. They say the style they created in this residence has elements of tropical, modern and contemporary architecture, with nods to their native Spain and to Vero Beach. Altogether, it has an irresistible L.A. vibe.
Bordered by graceful palms and low tropical green-scape, a pair of 2-bay garages extend from either side of the broad paver drive, flanking a high garden wall and arched entranceway. Step through and you find yourself in the heart of this welcoming home and its lovely centerpiece – a splendid courtyard, lushly landscaped with sweeps of lawn, trees and low plantings.
Each element – plants, soil, stone, concrete and the shimmering, asymmetrical pool with waterfall fountain, each curve and angle – fits together with all the others to create a residential work of art, a resort-like retreat where you'll want to spend hours relaxing, swimming and entertaining friends.
The brothers worked closely with Rock City Gardens to create the landscape design, including the courtyard, which they envisioned as functional and beautiful.
Inside, the walls, ceilings, windows, doors, molding and drapery are crisp white. The floors are wide-planked floating hardwood in gray/taupe hues. Subtle recessed lighting complements the wealth of ambient light flowing in through windows, skylights and glass doors.
Before renovation work began, the brothers considered how light and shadow moved across the structure, dawn to dusk, and how the ocean breezes played through the open spaces, affecting shapes and colors. Each structural element was designed and placed based on this careful contemplation, right down to the guava trees planted in the courtyard, whose silky trunks are a beautiful mix of continuously changing browns, reds and golds.
There is a charming powder room off the entranceway; then comes the first of this home's many "Wow!" moments – the big, bright formal living room/dining room with its soaring ceilings, tall clear doors and windows and, in elegant contrast, exposed, dark wood beams and drapery rods.
Another wide-open space is the kitchen/family room, a seamless, light-filled gathering place with wonderful courtyard views.
The kitchen is a chef's dream-come-true, with tons of storage, sleek white cabinetry topped with decorative molding, and high-end appliances, including cabinet-front side-by-side fridge/freezer, wall oven, microwave, dishwasher and wine cooler.
Here, dishwashing drudgery is mitigated by a great view, the large sink positioned below a trio of windows between glass-front cabinets. The chic Rubi designer fixtures are themselves small works of art. White Barcelona quartz glows from all countertops and both large islands – one with storage and breakfast bar, the other with small secondary sink and cooktop.
Off the kitchen are a butler's pantry and a large laundry room with washer/dryer, utility sink and window.
The family room features sleek, seamless, lighted display shelving, centered by a wall TV outlet. (Against its white background, even the black rectangle of a large TV becomes a design element.)
You will most certainly feel wrapped in the luxury of a resort in your master suite. The bedroom features white chair rail and wainscoting beneath rich honey-hued grass cloth. There are two walk-in closets, one with a roomy bureau and mirror.
Picture awakening to a view of your magical courtyard through the bedroom's glass wall. Allow this sunny green haven to ease you into the day: Take an invigorating, greet-the-morning swim, or bring that first cup of fragrant coffee out to terrace.
The master bath is another resort-like experience: a spacious room with tawny wood-plank floor, square recessed lights, and plenty of open space for a comfy chaise. On either side of the white French entry doors are a pair of large vanities, each with quartz countertop and elegant Rubi fixtures. A large, rectangular gold-framed mirror is positioned between glowing sconces.
The piece de resistance in this fabulous haven is the big, sumptuous oval tub, a gleaming white, stand-alone beauty. From this room, too, you can step right out into the courtyard if you wish.
Also looking out upon the courtyard and currently used as an office is a room that could easily be transformed into a den or library.
Also with courtyard access, the two en suite guest bedrooms are welcoming, restful havens.
From Baytree, it's a short drive south to Vero's charming island village with its many shops and boutiques, resorts, fine restaurants and pubs. Also on the Island are Riverside Park, home to the nationally known Riverside Theatre, the renowned Vero Beach Museum of Art and the city tennis center. The city marina and a large riverside dog park are other amenities.
Vital Statistics
Neighborhood: Baytree
Year built: 1993; to-the studs-renovation in 2019
Construction: Frame/stucco
Lot size: Approx. ¼-acre
Home size: 3,782 square feet
Bedrooms: 3
Bathrooms: 3.5
Additional features: Only steps to the beach; two 2-bay garages; gourmet chef's kitchen; wine cooler; butler's pantry; central vac; resort-like pool courtyard; gate-staffed; tile roof; community clubhouse, pool, exercise/fitness room, game room, gas BBQ, tennis courts; association fee includes lawn care/irrigation, security, sewer, trash collection and water
Listing agency: Premier Estate Properties
Listing agent: Cindy O'Dare, 772-713-5899
Listing price: $1,595,000