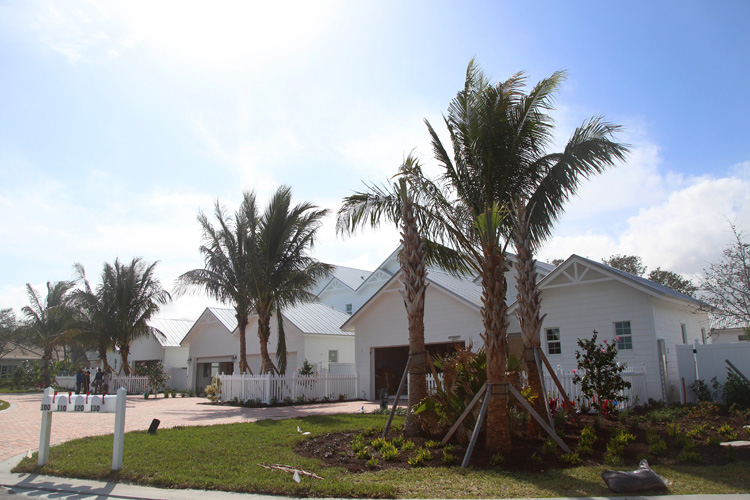 It's been a long and winding road from concept to completion for the prime Indian River Shores property now known as The Strand, but the goal finally is in sight.
Fifteen years after the land was initially platted as a luxury subdivision, the first homes are complete, according to Shari Goodner, director of sales for The Beach Cottages at the Strand.
The Beach Cottages – a five-building, 21-unit, Key West-style townhouse community that can be seen from Highway A1A – occupies the front 4.7 acres of the 34-acre development. A single-family subdivision with 47 homes sits behind the townhouses, extending to the Indian River Lagoon.
Those homes will be built by Lennar, which has 44 finished lots and a model home under construction, and GHO Homes, which has three lots the company snagged before Lennar swooped in and bought the rest.
Infrastructure is complete in the single-family home section and GHO president Bill Handler says he expects to begin construction by the end of April. Lennar executives were unable to provide a construction timeline for their homes.
Meanwhile, the action is all upfront, where Phoenix Custom Homes has completed one four-unit townhouse building and erected the concrete block shell for a second four-unit structure. Foundation work is underway for the third of five buildings and Goodner says work will start on the fourth building in March.
Goodner says two units in the completed building are under contract and ready to close. Two more units have been reserved.
"You can reserve a unit with a $10,000 deposit," says Goodner. "That takes it off the market and we work with the buyer to finalize details and finishes with the goal of going to contract quickly.
"Contracts are structured with a 10-percent down payment at signing, another 10 percent down when foundation work is complete, and a third 10-percent payment when the roof is on. The balance is settled at closing."
Townhouse developers Fred Bernstein and Joseph Ravenhorst hired Atelier d' Architecture to design the project and Phoenix Custom Homes to build it. Engineering was by Knight, McGuire & Associates and Schulke, Bittle & Stoddard, LLC; interior design is by Masterpiece Design Group.
Two furnished models will be open later this month, Goodner says, and there will be a grand opening to show them off on Feb. 27, from 4:30 p.m. to 6:30 p.m.
Handler says GHO plans to build 2,900-square-foot homes with three bedrooms and a den, four bathrooms and a three-car garage on its single-family lots. Pricing has not been finalized.
Lennar is building its Windjammer model as a display home. A Lennar executive told Vero News a year ago that prices for the company's homes in The Strand would likely range from about $1 million to $2 million, with the most expensive homes on riverfront lots. No update was available at press time.
Back at the start of the winding road, a 41.5-acre ocean-to-river parcel that included The Strand property was assembled in 2004 from grove land north of Palm Island Plantation. The tract was sold to McGough, a construction and development company headquartered in St. Paul, Minn., for $16.5 million.
McGough planned a high-end community called Providence that would take full advantage of the gold-plated barrier-island location. Plans for the development were approved and buyers put down deposits on new homes, but the real estate market began to slow before construction began and McGough put the project on hold.
The land lost value during the Great Recession and Beachlen Development, a company owned by Philadelphia billionaire Brook Lenfest, snapped it up in 2012 for $10.95 million. Beachlen talked about building large estate homes priced at more than $5 million on the property but never firmed up those plans. When Lenfest's development focus shifted back to Philadelphia, the property went back on the market.
In October 2014, island businesswoman Katherine McConvey bought the oceanfront part of the tract, paying $7,250,000 for seven acres on the east side of A1A where she hoped to build an ultra-luxurious modernist condo complex with 18 homes priced around $3 million each. When that project faltered, developer Yane Zana bought the oceanfront tract, where he is building the Blue at 8050 condominiums.
That left the western portion, where The Strand is now platted, which extends from A1A to the Indian River and has 620 linear feet of water frontage along the historic Jungle Trail.
The Patten Company, a national real estate development firm with offices in Naples and Boca Raton, closed on the tract in 2017, paying $5 million, and installed roads, sewers, water features and other infrastructure.
The Strand Beach Cottages LLC signed a contract to purchase the finished lots in the townhome section of the project two years ago.
One- and two-story townhouses are available, priced from the high $800s to $1.1 million. The three-bedroom, one-story Model A units have 2,335 square feet of air-conditioned living space and 2,872 square feet under roof. Two-story Model B units have 2,994 square feet under air and 4,121 under roof. Both units have two-car attached garages and loads of luxury features and finishes.
GHO bought its finished lots from Patten in 2018. Shortly afterward, Lennar signed a contract with Patten to purchase the rest of the single-family lots.