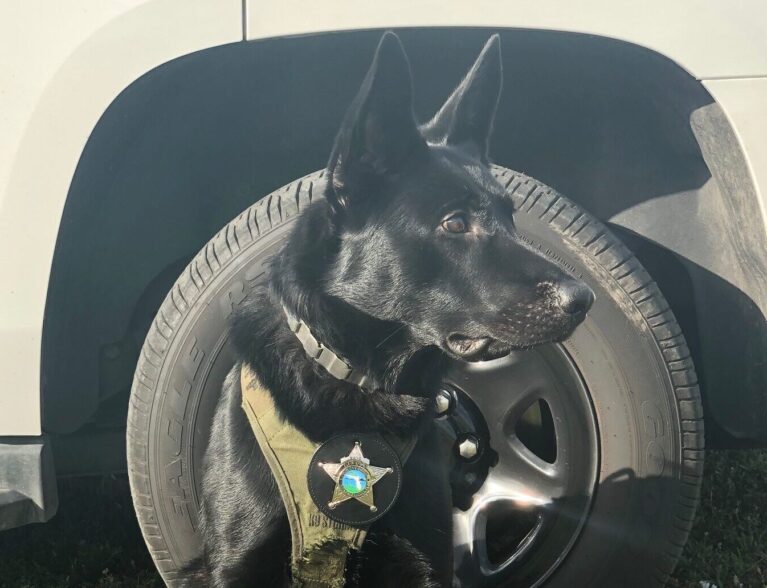 A 31-year-old man who repeatedly punched a K-9 dog after a seven-hour manhunt involving a stolen truck, was detained late Tuesday.
The suspect – identified as Dennis Keen – later told authorities he fled from deputies because he was "scared," reports show. Late Tuesday, Keen was caught snooping into vehicles in a McDonald's parking lot, reports show.
Indian River County deputies arrested Keen, described as homeless, on a variety of charges including battery on a police dog, grand theft auto, fleeing and eluding, leaving the scene of a crash on public or private property and breaking a fence containing animals. Keen was held Wednesday at the Indian River County Jail on $93,000 bond.
Keen's arrest came hours after deputies were called to investigate reports of a stolen truck.
Deputies were dispatched to reports of the stolen pickup about 12:30 p.m. Tuesday on southbound Interstate 95. The pickup was reported stolen out of St. Augustine in St. John's County, though deputies also believe the vehicle could have been taken from Volusia County.
Keen fled in the white Ford pickup after a deputy tried to conduct a traffic stop, reports show. The owner of the stolen truck tracked the vehicle on the interstate and saw Keen driving the automobile, reports show.
Deputies said Keen veered westbound off the roadway and crashed into a fence on Corrigan Ranch, tearing it down. The fence was state owned and the property had cattle roaming around at the time of the wreck, reports show.
Deputies said Keen ditched the vehicle – which was seized by deputies – and ran into the woods. Sheriff's helicopters and K-9 units searched for Keen for several hours.
Other law enforcement agencies, including Sebastian Police Department, Florida Highway Patrol, Fellsmere Police Department and Florida Fish and Wildlife Conservation Commission, helped deputies search for Keen. A McDonald's employee flagged down deputies after spotting Keen looking inside vehicles in the parking lot about 10:30 p.m., reports show.
Keen saw the deputies approach, then fled the parking lot, 9495 108th Avenue, Vero Beach, just east of the interstate. A K-9 dog named Bane tracked Keen into the woods and latched onto his left leg, reports show.
Deputies said Keen punched Bane twice in the head before being detained. The dog was not seriously hurt, its handler Deputy Jacob Curby said.
"He's doing great," Curby said.
Keen admitted to taking the truck, reports show.
Deputies arrested Keen and took him to the county jail. Keen has an arraignment at 8:45 a.m. April 3, court records show.
Photos provided by Deputy Jacob Curby