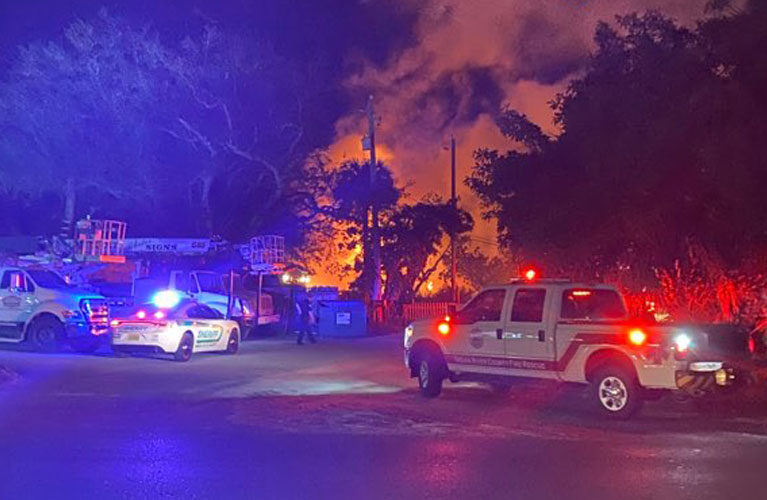 INDIAN RIVER COUNTY — A 38-year-old who deputies said knocked over a candle while throwing items in a rage – causing a home to erupt in flames  – and then fled the residence, was detained Friday.
Fire investigators arrested Jennifer Anne Jensen, of the 1000 block of 10th Place, Vero Beach, on a charge of arson of occupied structure. Jensen was held Tuesday at the Indian River County Jail on $50,000 bond.
Indian River County Fire Rescue responded to the house fire about 9 p.m. Feb. 6 at Jensen's residence. Authorities said Jensen called 911 anonymously to report the blaze and then hung up.
Investigators determined the inferno originated in the center of the northwest bedroom, reports show. Fire officials said the bedroom had the most fire damage, including burning through the roof.
Investigators said the home was a total loss. Three adults – who were initially reported to not be home when the fire ignited – were displaced, authorities said.
Investigators noted there was no power at the residence, ruling out the possibility of an electrical fire, reports show. Fire officials spoke with two people who lived in the home, Jensen and a man, who both admitted to arguing with each other shortly before the blaze.
After Jensen was caught lying to authorities, she eventually admitted to making the 911 call, reports show. Jensen knew where the fire ignited and admitted to being the only person home at the time of the blaze, officials said.
Jensen then told authorities she was angrily throwing items around the room when she knocked over the candle.
Jensen told deputies she did not intentionally start the fire. Jensen's two roommates had already left the residence before she ignited the blaze, reports show.
The Division of State Fire Marshall arrested Jensen and took her to the county jail. Jensen has an arraignment at 8:45 a.m. April 3, court records show.