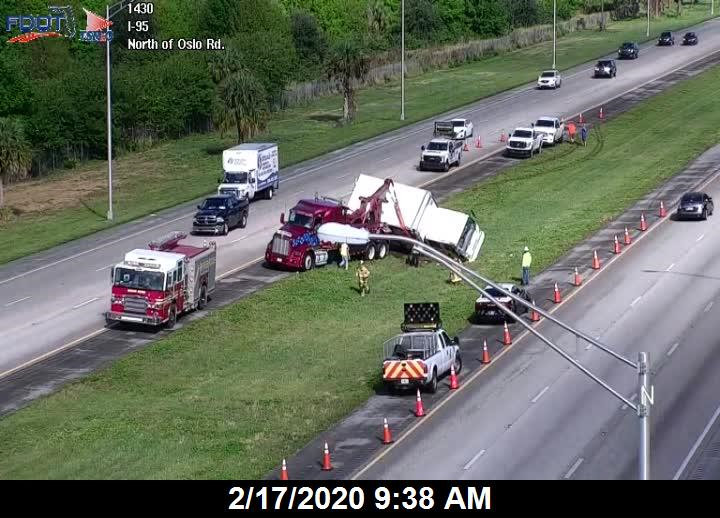 Update: The left lane on southbound Interstate 95 reopened by 10:30 a.m.
Earlier story:
INDIAN RIVER COUNTY — Several people were hurt in a wreck early Monday that closed one lane on southbound Interstate 95, fire rescue crews said.
The crash – involving a white box truck – happened about 8 a.m. Monday on southbound I-95, near mile marker 143, Indian River County Fire Rescue Battalion Chief Kyle Kofke said. Authorities initially said the collision involved two automobiles, including a green pickup.
Florida Highway Patrol later clarified the incident only involved the box truck. The green pickup was in a separate crash, highway troopers said.
The single-vehicle crash involving the box truck caused the vehicle to flip on its side in the median, just north of Oslo Road. There were six people in the truck, FHP spokesman Lt. Yanko Reyes said.
A woman was taken by ambulance to Lawnwood Regional Medical Center & Heart Institute in Fort Pierce with serious injuries, Reyes said. A man and woman were taken to Cleveland Clinic Indian River Hospital with non-life threatening injuries.
Three other men who were in the truck refused treatment, Reyes said. The ages and names of all people in the vehicle were not available.
Authorities shut down the left lane on SB I-95. It was unclear when the lane would reopen.
Florida Highway Patrol will investigate the cause of the crash. No further details were immediately available.