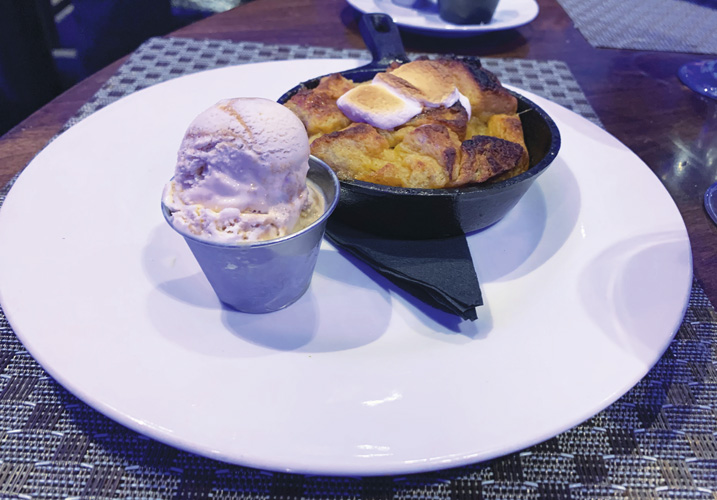 In the mood for a steak? For the past half dozen years, Wednesday has been Steak Night at the Costa d'Este Beach Resort.
While I tend to think of Cuban specialties and great paellas when someone mentions Gloria Estefan's chic hotel on Ocean Drive, The Wave's Steak Night – when it features a choice of sizzling filets, rib eyes and strip steaks – has earned a reputation of its own.
Word has gotten around to the point that you want to have a reservation, as fortunately we did when our party of four arrived at 7:30 last Wednesday.
We were quickly seated at the only remaining open table overlooking the Costa d'Este pool, and our server David took our drink order and returned with a selection of tasty bread.
For starters, the Steak Night menu offers as a first course choicce of a Caesar salad, a beef steak tomato with blue cheese, or Cuban-style black bean soup. Three members of our party opted for the excellent Caesar with anchovies, and one of our guests went for the soup – a quite hearty rendition of this Cuban staple.
Then it came time to divvy up the steaks. Our companions chose the bistro steak Diane ($37) and the 14-ounce blackened ribeye ($49). I decided to try the 12-ounce strip loin steak ($38), and my husband went for the 7-ounce center cut filet mignon ($46).
All the steaks were well-seasoned, which made them very flavorful. Sauces served with the steaks include a red wine demi glaze, chimichurri, Bearnaise and au poivre, and one of our guests raved about the brandy mushroom sauce poured over the steak Diane.
I should note that the steaks are brought to the table sizzling on a red-hot stone. This is great in that you do not wind up eating a steak already turning cool from the air conditioning when you are only half finished. But at the same time, the steaks are still cooking. I would recommend asking for your steak to be prepared a speck rarer than your usual preference.
One side dish also is included with each of these steaks, and our table shared the truffle mashed potatoes, the buttered asparagus, the roasted wild mushrooms and the wilted baby spinach with garlic. Excellent.
An additional option we noted a couple of other tables taking advantage of is the ability to create your own surf and turf. You can add blackened jumbo shrimp to any of these steaks for $12; seared diver sea scallops for $13; and half of a Maine lobster for $18.
We concluded a wonderful meal with flan ($8), ice cream ($6), bread pudding ($10) and a couple of espressos ($5 each).
I would be remiss as a paella lover in not noting that in addition to a Steak Night, Costa d'Este also has a Paella Night (Thursday) featuring several different paellas. We have very much enjoyed those as well.
But whether you are in the mood for a steak, seafood, a paella or perhaps one of the excellent Cuban dishes from Gloria Estefan's kitchen, when you visit, you are in for a great meal at The Wave.
I welcome your comments, and encourage you to send feedback to me at tina@verobeach32963.com.
The reviewer dines anonymously at restaurants at the expense of Vero Beach 32963.
The Waves
Hours: Tuesday through Saturday, 5:30 pm to 10 pm nightly
Beverages: Full Bar
Address: 3244 Ocean Drive
Phone: 772-410-0100
Click HERE to see more or buy photos