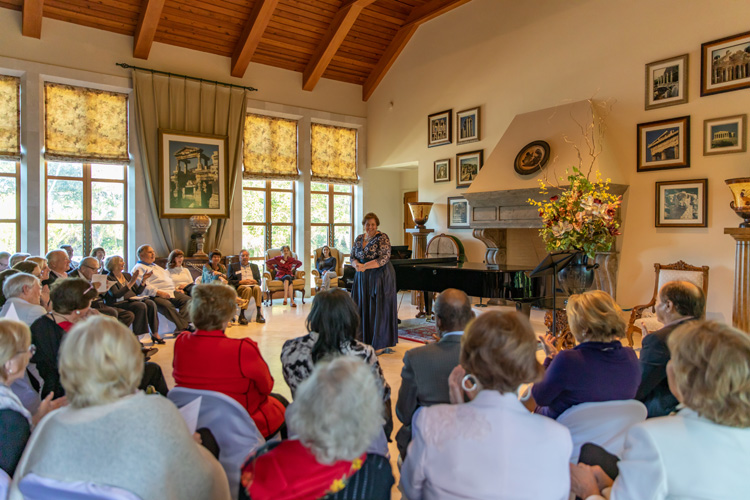 The stunning voice of dramatic soprano Susan Neves rose to the lofty-beamed ceiling and filled a spectacular 'concert hall' before an intimate audience of opera aficionados and supporters of Vero Beach Opera at its annual Parlor Concert last Sunday.
Parlor scarcely describes the venue in which this afternoon concert took place – the spacious, airy and light-filled great room of an exquisite private home on the island, graciously made available for this very special event. Three curved rows of crisp white-clothed chairs were set up on the pale marble floor before a magnificent ebony Bosendorfer grand piano occupying 'center stage' in front of an elegant stone fireplace.
Following introductions by VBO president Joan Ortega-Cowan and artistic director Roman Ortega-Cowan, the diva and her accompanist, Venice-born Macri Simone, descended a curving stone staircase.
Neves, who just recently returned from Teatro Lirico di Cagliari in Italy, has a long association with the VBO, including a performance as Berta in this season's opening "The Barber of Seville." Her repertoire, says her biography, includes "some of the most challenging roles written for soprano," which she has performed in many of the world's most famous opera houses including, of course, the Metropolitan Opera.
Although Neves shared that she had been battling a cold, she wasn't holding back as she performed a program that included works by Cilea, Tosti, Verdi and some of the Broadway music she "grew up on" as a native New Yorker, by Rodgers and Hammerstein.
The program choices wonderfully displayed her dramatic and vocal range, from giddy love in full bloom to love lost, soaring joy to tragedy, Ado Annie to Mother Abbess, and the appreciative audience frequently responded with shouts of "Brava! Brava!"
While Neves sipped water, Simone delighted the audience with an intermezzo from "Cavalleria Rusticana."
Among the attendees was Neves' husband, Ian Campbell, who sang as a tenor before transitioning to opera management; for three decades serving as general director and artistic director of the San Diego Opera. Campbell will be narrating the VBO's Feb. 22 Best of Broadway and Opera concert.
As VBO vice president Dr. Robert Loewinger waited 'in the wings' with two large bouquets of roses, delicious plates of hors d'oeuvres were being readied by the staff of Wild Thyme and champagne was poured.
When the glorious "Sound of Music" favorite, "Climb Every Mountain," concluded the program, and the well-deserved standing ovation ended at last, music-centric conversation filled the air, with Neves happily chatting with good friends made over many years. Glasses were filled, refreshments noshed and a wonderful afternoon of opera drew to a close.
For more information, visit verobeachopera.org.
Photos by: Denise Ritchie
Click HERE to see more or buy photos