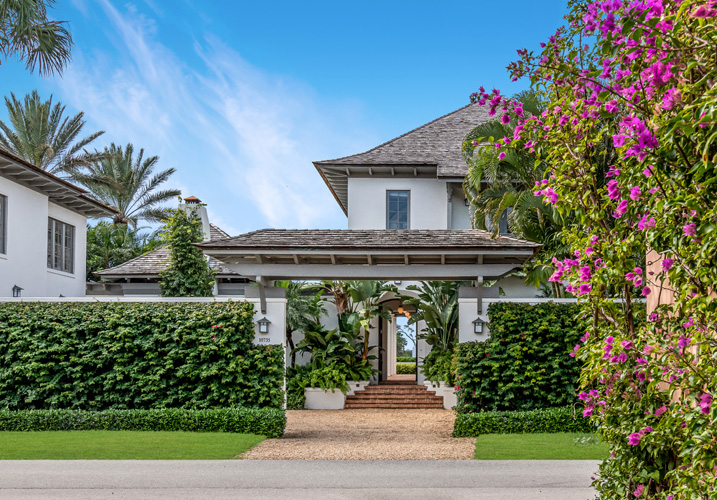 The 5-bedroom, 5.5-bath, two-story Anglo-Caribbean home at 10735 Charleston Dr. in Windsor holds a host of memories for Dan and Maureen Cahill who, along with their five children, spent countless vacations in their beloved Florida home.
Maureen Cahill stumbled across the sunny, seaside village of Windsor while helping her parents and grandmother search for a home in South Florida. Designed by New Urbanism pioneers Andrés Duany and Elizabeth Plater-Zyberk, Windsor features pedestrian-friendly neighborhoods anchored around a town center.
The charming Anglo-Caribbean architectural design is a hybrid of Spanish and British architecture found in the Caribbean and St. Augustine with a hint of Charleston and Savannah blended in. Traditional features include exposed rafter tails, lush courtyards, high masonry walls, breezeways, terraces, balconies and porches.
"Windsor is a place of elegant modesty, rather than pretension. There's a level of density, which means homes achieve their sense of size and privacy via architecture," said Duany in a New York Post interview.
"A great community encourages connection. The layout of Windsor encourages people to gather. They've created a culture that also creates connection," says Dan Cahill of the laid-back but social ambiance. "There are no rules. There are no tee times. It's not just the physical structure of the community and our house. It's the culture."
"People are drawn to Windsor because it's such a small enclave," says Beth Livers, Berkshire Hathaway Home Services Luxury Division. "They're tired of being in the hustle and bustle."
The understated elegance of the Cahills' home, with attention to detail and fine craftsmanship apparent throughout – triple crown molding, coffered ceilings, built-ins, board and batten panels – is typical of the quality homeowners have grown to expect from homes designed by Clemens Bruns Schaub and built by Huryn Construction.
Strolling up a few brick-paved steps, you reach a dark wooden door. Through that doorway, a veritable "secret garden" awaits with a hallway of arches creating a colonnade with views of the recently renovated Robert Trent Jones 18-hole golf course.
"The outdoor space is magnificent. It's a great family house. They have everything they need right here," says Livers.
Once the door closes behind you, it's as if you've entered a magical space in the lushly landscaped courtyard. A 62-foot-long pool sits at the center with a fountain and idyllic, grass-covered bridge at the far end.
At the rear of the house proper the teak and marble wet bar and loggia covered dining space are perfect for evenings under the stars and on the opposite side of the pool are a hot tub and summer kitchen ensuring all your needs can be met poolside.
A covered seating area with a wood-burning fireplace creates a cozy spot to while away stormy winter days. This breezeway also allows protected access to the detached two-car garage and second-floor carriage house where guests can enjoy complete autonomy with their own private entrance. With a kitchenette and en suite bath, it's the perfect place for long-term guests or live-in help.
At the rear of the courtyard is a bungalow the Cahills use as an office and sometimes guesthouse when extra space is needed, with the 16th hole of the Windsor golf course providing an engaging view.
A doorway near the courtyard entryway opens into the gourmet kitchen. Honed black granite countertops contrast with lighted, white custom cabinets. The double wall oven with warming drawer and wine cooler ensures feeding the Cahills' brood isn't too great a task.
The formal dining room opens into the living room and family room – two distinctly separate spaces.
Light from the sun-filled courtyard flows into the house through an abundance of floor-to-ceiling doors and windows. Sheer curtains billow in the breeze, softening the contemporary lines of the interior while Brazilian walnut wood floors add warmth.
A gas-burning fireplace is the focal point in the formal living area with a bifurcated staircase – two separate stairs lead to a shared landing behind the fireplace and then ascend in opposite directions – one leading to the master suite at the rear of the house and the other to a pair of en suite bedrooms at the front of the property, creating distinctly separate spaces.
The master suite opens onto a generous wraparound balcony with sweeping views of the golf course and courtyard.
It's the perfect place to read and relax or enjoy a glass of wine paired with the ideal Florida sunset.
Even though they are selling their beautiful Windsor home, Vero hasn't seen the last of the Cahills. Their youngest child is graduating from college, so they find they can't spend as much time here as they did when their children were younger. But, says Cahill, "When we're ready, we'll be back."
Windsor is an ocean-to-river luxury sporting and beach community established in 1989 by the Hon. Hilary and W. Galen Weston. At the heart of the 416-acre village, a post office, village store, town hall, two world-class restaurants, and guest suites draw the community together.
Amenities include croquet, tennis, the equestrian center, gun club, fitness center, beach and golf clubhouses, The Weston Guest House and The Gallery at Windsor.
Vital Statistics
Address: 10735 Charleston Dr.
Neighborhood: Windsor
Year built: 2000
Construction: Concrete block with stucco
Architecture: Anglo-Caribbean
Lot size: 88 feet by 89 feet
Home size: 4,620 square feet
Bedrooms: 5
Bathrooms: 5 full baths and one half-bath
Pool: 62-foot heated swimming pool
View: 180-degree golf course
Additional features: Guard-gated community; gourmet kitchen; granite countertops; custom cabinets; Brazilian Walnut Ipe wood floors; two fireplaces; courtyard; cabana; carriage house; two-car garage with golf cart bay; wet bar; hot tub; and summer kitchen
Listing agency: Berkshire Hathaway Home Services Luxury Division
Listing agent: Beth Livers and Maria Caldarone, 772-559-6958
Listing price: $3,495,000