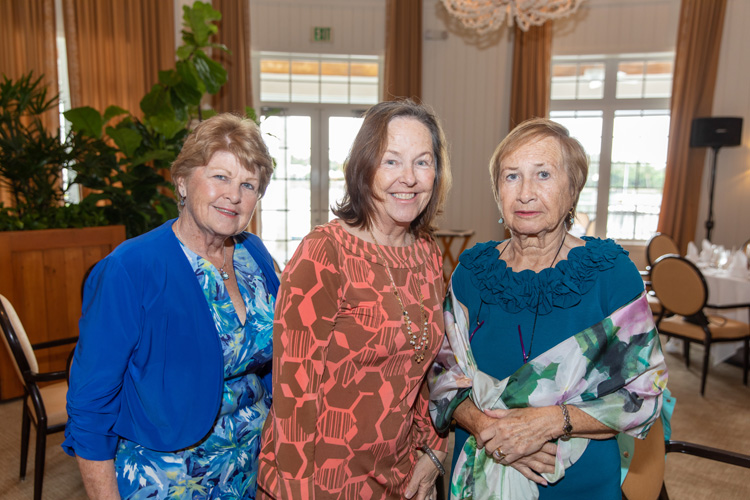 In a country where 50 percent of school-aged children do not attend school, the Haiti Partners Children's Academy and its partner schools are a wonderful anomaly, currently providing 1,200 children with a quality education.
"We're really blessed to have this family of supporters," said John Engle, director of Haiti Partners, at the recent Stories of Gratitude Luncheon at the Quail Valley River Club, which was generously underwritten by Elke Fetterolf. "We're really grateful."
Engle said the Vero Beach-based nonprofit, founded just over 10 years ago, now has hubs of support around the world.
"So thank you to all of you who are making this possible. Thanks to support, thanks to incredible engagement, great things are happening," said Engle, before introducing guest speaker Deanna Slamans, author, educator and board member.
"Each month as a board, we reflect on this noble work being done. Haiti's children, as all children, don't have a say in how they come into this world, when they come into this world and in what manner," said Slamans. "When I was 13 years old, I was given a gift so profound I knew that when I received it, I would never, ever be able to repay it."
As a child, her father was incarcerated and her mother committed suicide, but from eighth grade through high school, Slamans was given the gift of a quality education at the Milton Hershey School, a boarding school for orphaned and underprivileged children, which now boasts a $13 billion endowment. She would later become its curriculum supervisor for Social & Emotional Learning, and she and husband Andy were full-time house parents there for 14 years.
Slamans said that Hershey, who only had a fourth-grade education, also gave the greatest gift a child can receive – an acknowledgement that they matter.
"I thank all of you and the Engle family for this unwavering belief in lifelong education and your dedication to the world's most vulnerable children," said Slamans.
"What mattered most to Milton Hershey was the formation of our character. He knew that a strong character foundation could break the cycle of poverty. Because at the end of the day, it really doesn't matter how much you know and it really doesn't matter how much you have. It matters who you are."
Slamans said Haiti could be labeled as an island with mountains of despair; violence, poverty, political strife and illiteracy.
"But at the Children's Academy, which I feel is one of the wonders of the world, these mountains are conquered and overcome daily," said Slamans, adding that parents and teachers alike are invested in its innovative education and collaborative community model.
"It's really counter-culture to anything that Haiti has ever known," said Slamans of families who are discovering relationship skills, gender equality, respect, empathy, cooperation and hard work. "My favorite part of all of this is safety, joy and laughter are coming from some of the poorest and least educated people on earth."
On March 12, Haiti Partners will hold its Educate and Celebrate fundraiser at the Grand Harbor Club.
For more information, visit haitipartners.org.
Photos by: Denise Ritchie
Click HERE to see more or buy photos