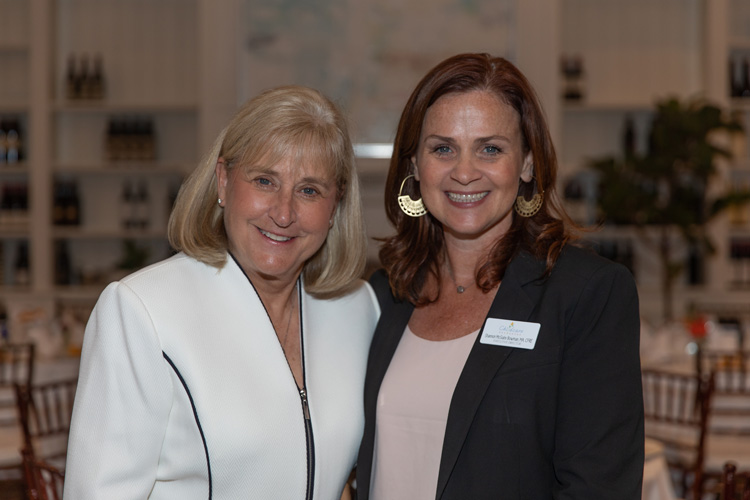 "I appreciate all you stars being here and supporting Childcare Resources," said Suzi McCoy Schriner, co-chair with Janet Gefaell of the Starfest Luncheon last Monday. A second luncheon was held Tuesday.
Shannon McGuire Bowman, Childcare Resources executive director, thanked everyone and particularly recognized Sandy Kahle, Sherry Waddell and Cathy Marshall, who founded the nonprofit 25 years ago so that more parents could afford high-quality, early childhood education.
"Because of your investment and your support, Childcare Resources is doing more today than we've ever done before," she said.
Programming last year touched roughly 3,000 children through their own school and at contracted centers, as well as through teachers' Professional Development workshops, coaches and a Credentialing program.
Bowman said they will soon expand the school by 2,500 square feet, which will allow them to add 20 more students, adding "the demand for our services is great. We have 249 children on our waiting list today."
She noted that countywide, only about 50 percent of children who showed up for kindergarten this year were ready, and that the ones who weren't ready are unlikely to catch up.
"What if focusing on young children, their parents and teachers of young children could change the next generation of children in our community? That's why we're doing everything that we're doing at Childcare Resources," said Bowman.
Their belief is that teaching children to learn self-regulation skills, so they can develop their social and emotional skills at a young age, is just as important as preparing them to become academically ready for kindergarten.
"We know that when children feel emotionally safe, they will become socially ready, and then they'll be prepared to take on anything they need to academically thereafter," said Bowman, before introducing guest speaker Becky Bailey, Ph.D., the creator of Conscious Discipline.
"I travel all over the world; this is what I've done for 40 years," said Bailey, who visited the Childcare Resources School that morning. "In all my years, in all my travels, I've never seen anything close to what you're doing."
Remarking that we develop through relationships, Bailey stressed that safe relationships require that we self-regulate.
"When we feel calm, appreciated, valued, we are pretty helpful people," said Bailey. That is not the case when we feel overwhelmed, underappreciated or undervalued. She said an individual's emotional state dictates not only their own behavior, but can also affect the behavior of others, especially children.
With Conscious Discipline, she said, "we're working backwards. We want to help ourselves and children learn to change their state first and their behavior second."
To do so means regulating our emotions and physiology, so that we can manage our behavior. Bailey said the goal of Conscious Discipline, a brain-based model, is to help teachers and adults expand their own windows of tolerance, so that they can then teach that skill to children.
"Conscious Discipline gives children and adults the ability to set and achieve their goals, and when they find themselves off track, they have a path to come back to," said Bailey.
For more information, visit childcareresources.org or consciousdiscipline.com.
Photos by: Denise Ritchie
Click HERE to see more or buy photos