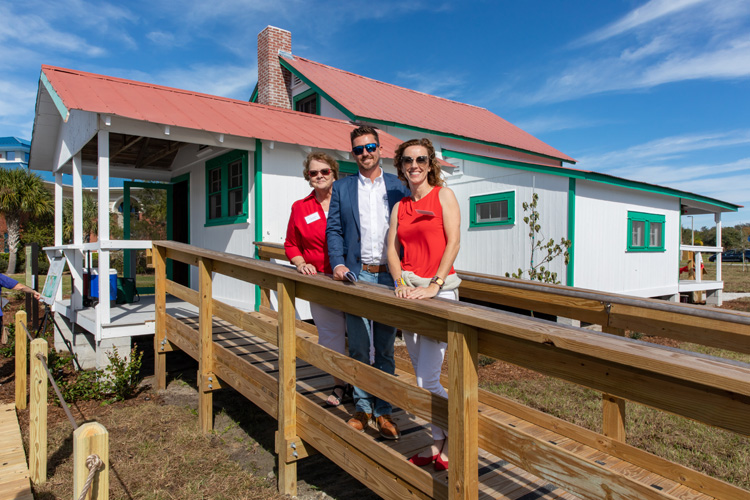 History, literature and education came together on a sunny afternoon, as celebrants gathered on the Mueller campus of Indian River State College to welcome home, at last, the historic, 110-year-old Laura (Riding) Jackson house and pole barn, at a grand-reopening that featured a ribbon-cutting, house tours, poetry and cake.
Far more well-traveled than your typical house, the Florida Cracker home of the internationally renowned poet was built in Wabasso and later moved to the Environmental Learning Center, where it stood for 25 years as a beacon of history and environmental awareness and a gathering place for poets to share, teach and hone their craft.
In 2017, the LRJ Foundation was jolted to learn the homestead would have to be relocated. Its future was uncertain until the community united with strong support and endless generosity, determined to save the fragile treasure.
"We got a phone call and after 10 minutes we said, 'Bring it!,'" recalls IRSC President Edwin Massey, who with Muller campus provost Casey Lunceford saw the possibilities almost immediately after getting wind of the home's plight. Recognizing the home's educational, historical and teaching value for students and the community, the college offered a section of campus.
What appeared a daunting hurdle had become a blessing in disguise. Funding came in for the 12-mile move – about "$5 for each foot," according to LRJF board president Marie Stiefel. Other funding and in-kind donations covered reconstruction and even a native plant garden.
Thus, on this sunny Sunday, in the shade of the pole barn, the painstakingly reconstructed home had its own housewarming. Recognizing the numerous individuals and entities whose support had made it all possible were Stiefel, who had managed to remain bold, calm and pleasant through what were often bumpy seas; and the foundation's soon-to-be first executive director, the charming, ebullient Louise Kennedy.
Another key player, Jacque Jacobs, handled what Stiefel called "the hardest task: chairing the Relocation Committee," akin in many ways to juggling cats. Without losing her cool, Jacobs made sure "all the moving parts went the right way at the right time."
Among numerous participants recognized was project manager Eric Crockett of Proctor Construction, the company charged with the deconstruction and reconstruction.
"What better way to teach history: not in a classroom, but in the history itself," commented Vero Beach Mayor Tony Young.
Of course, poetry was a part of the afternoon, with comments and readings by Indian River County Poet Laureate Sean Sexton, who recalled that meetings with the college "were all about Yes." Other readings were by Florida poet Sydney Wade, Kennedy read a poem by Jacobs, and Jackson friend and biographer Elizabeth Friedmann shared a piece by Jackson.
Formally presented was a sturdy pink hibiscus plant from the original Wabasso homestead, which will now become a permanent resident in the new garden. A good omen if ever there was one.
Photos by: Denise Ritchie
Click HERE to see more or buy photos