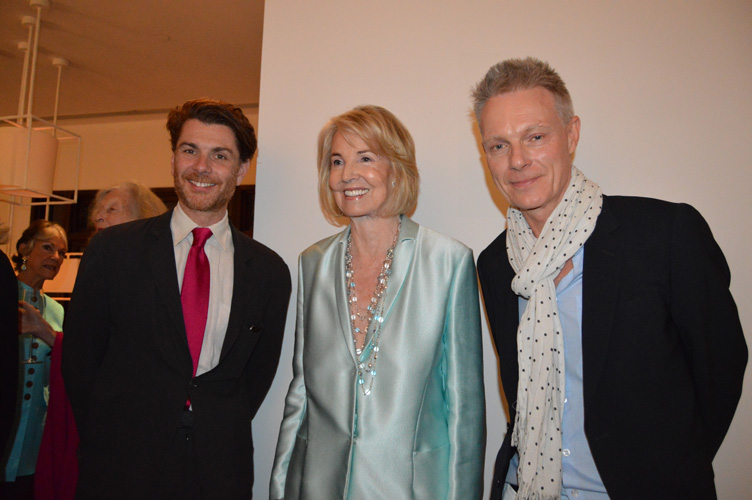 Windsor residents and invited guests were drawn into the "picture book-like" paintings and drawings of Rose Wylie at a recent reception to introduce the thought-provoking, larger-than-life works of her 'Let it Settle' collection, on display through April at The Gallery at Windsor.
This specially curated exhibition, Windsor's third curatorial collaboration with the Royal Academy, features a diverse cast of characters committed by Wylie on canvas and paper. The exhibit features the noted contemporary artist's uninhibited use of wit to visually represent the world as she sees it, featuring representations from British monarchs to fictional characters, most prevalently Snow White.
The Hon. Hilary M. Weston, co-founder of Windsor with husband Galen and the creative director for The Gallery at Windsor, shared her excitement over the thought-provoking contemporary works.
"Tonight, we are truly privileged to unveil Rose Wylie, 'Let it Settle,' an exhibition of Rose Wylie's bold and colorful paintings and drawings," said Weston. "At Windsor, art and culture are paramount to our community. The gallery is now in its 18th year and has a strong reputation of showing world-class contemporary artists."
Commenting on the importance of the exhibition, Weston noted that Wylie is the collaboration's first female artist.
"We felt she represented a strong voice in contemporary art, drawing inspiration from sources as diverse as film, fashion, literature and newspapers. But every painting or drawing occupies its own world."
She went on to point out that Wylie's "humorous and rebellious paintings have proved that neither age nor gender defines her art."
The Royal Academy curatorial partnership was forged with Christopher LeBrun, artist and former Royal Academy president, who was on hand for the gallery opening.
"It's been our happy job to select artists. When we were choosing the first artist, who better to have than a British transvestite," LeBrun recalled. "I was a little bit worried presenting a big man in a dress as the first. Hilary was immediately enthusiastic and, as you remember, it was a wonderful exhibition."
Of Wylie's intriguing work, he said, "she's a wonderful artist. Her work makes me feel happy when I see it. It makes me feel rather free; which is a right attitude for an artist to convey to an audience."
After screening a short film of an interview with Wylie in her studio, Tim Marlow, recently appointed London's Design Museum chief executive director, led a panel discussion with guests Melissa Blanchflower and Jari-Juhani Lager, who offered insights into Wylie's work, before answering questions from the audience.
Marlow said that while visiting Wylie's studio, he had referred to it as being "cocooned in creative chaos."
Wylie had replied, "I don't see it as chaos. I see it as liberation. I don't like imposed instruction and art structures. I like people to be what they are. Do what they are."
To her credit, and much to the art community's pleasure, that is precisely what she has done.
'Let it Settle' is open to the public at The Gallery at Windsor by appointment thru April 30. For reservations call 772-388-4071.
Photos by: Stephanie LaBaff
Click HERE to see more or buy photos