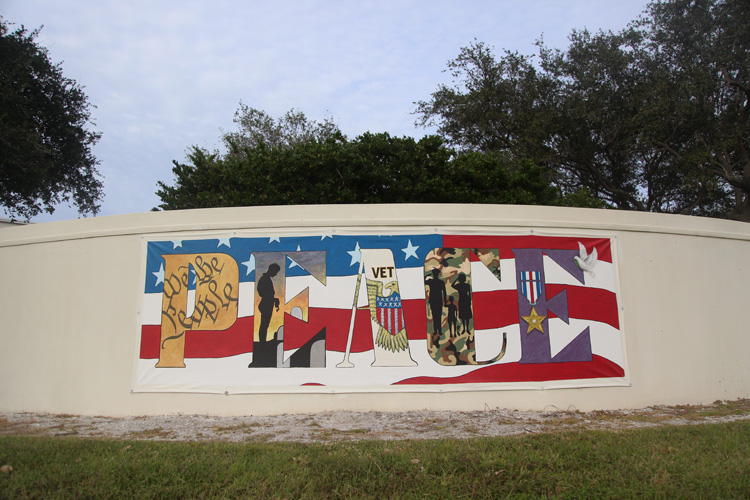 Veterans have been known to be as protective of their innermost feelings as they were courageous on the battlefields, where they often faced death for the love of their country. That stoicism was instilled during military training, where they were taught how to suppress fear and emotion in the face of adversity and danger.
But while those traits may have served them well in military service, suppressed emotions have also been known to stifle happiness in civilian life. In an effort to give veterans a way to deal with repressed emotions, the Vero Beach Museum of Art recently began offering a program designed especially for them, providing an outlet for artistic expression in a congenial environment.
The Veterans Program is being offered through a collaborative partnership between the museum and the Veterans Council of Indian River County. It is being offered free of charge thanks to a donation by members of The Circle, a funding group of VBMA members who contribute to the museum's outreach programs.
"We were looking for new ways to serve our community and do our job better, when the professional development team asked what we were doing for veterans," said Sophie Wood, VBMA director of marketing.
"We interviewed all of the veterans on our staff and overwhelmingly found a need," said Wood. "That's when we contacted the Veterans Council and started working on a program."
The multi-faceted program incorporates many different art forms, introducing veterans to creative ways of interpreting and expressing themselves through art, while also connecting them to one another.
The first of three five-week class sessions was held last fall. Its focus was to design and paint a PEACE mural, which was unveiled just before Veterans Day and now graces the courtyard wall south of the museum. Roughly 20 veterans, from varying military branches and wars, participated in the creation of the mural.
Against an American Flag backdrop, symbols of honor representing service to country are depicted inside each of the letters that spell out the word PEACE.
Portrayed inside the letter 'P' are the words, "We the People," the start of the Constitution. The 'E' depicts a soldier holding dog tags, standing in front of a headstone to pay tribute to a fallen soldier. The letter 'A' has the portion of the Great Seal of the United States displaying the eagle and the colors of the flag. The 'C' depicts a man, woman and child saluting within a background of camouflage colors. The final 'E' displays the Silver Star Medal, an award presented for "gallantry in action against an enemy of the United States." A white dove, the symbol of peace, graces the upper right-hand corner of that 'E.'
"It was an incredible experience," said retired U.S. Army Maj. Terry Treat. "The first few sessions were really brainstorming and trying to formulate what we wanted our mural to convey. Cat Faust, the artist who worked us, sketched out several drafts before we settled on the design we liked. In the end, she had it all sectioned off so all we had to do was paint by numbers. We had so much fun and we've made some new friends.
At the unveiling and dedication ceremony last fall, some of the veterans also read heartfelt poetry they had written about their upbringing and favorite memories. A commemorative pamphlet entitled 'From These Things – Poems from the Veterans Community' was published by the VBMA as a keepsake.
The current session, 'Through the Eyes of a Veteran,' encourages observation and interpretations of surroundings through the camera lens. These classes are held at the museum Tuesday evenings from 6 p.m. to 8:30 p.m. through Feb. 4. Veterans, regardless of their photography experience, are welcome to join in on the classes at any time, but must inform the museum ahead of time.
"Photography is all about being in the moment," explained instructor Aric Attas during the first class. "Some think that we need to travel to an exotic place, or stage the perfect setting for the desired photo, but in reality, some of the accidental photos are the best and most creative."
Attas presented a slide show showing the evolution of his own photography, explaining how he evolved from snapshots to creating his own reality with digital composites and layering.
As a two-time cancer survivor, Attas said he found solace and healing through photography.
"I created some ethereal photos with camera movement and lighting and I was able to focus on these and meditate through painful radiation and chemotherapy," he said. "I'm now involved with a program that integrates art therapy into cancer treatments. Creative expression has tremendous healing power."
Over the course of the session, students will learn various exposure and developing techniques and hopefully discover their own creative vision and energy.
The third session, 'Exhibition Explorations and Studio Interpretations,' will be held Thursday evenings from March 19 to April 16. In addition to discussions on interpreting the works of artists in the current VBMA exhibitions, veterans will make their own creations in a studio setting. A variety of mixed mediums including watercolor, clay, acrylics and collage will be supplied for their individual projects.
"This program is therapeutic," explained Dawn Miller, VBMS Art for Health's Sake Program Manager. "It's not about teaching them how to mix paints or create a pot. It's all about the process. It doesn't matter if they do a masterpiece or draw a stick figure. It's about tapping into their emotion and sharing their experiences with other veterans."
Miller said that it quickly became apparent during the first session that there was a unique connection among veterans.
"Through the process of creating art, our participants shared feelings and experiences with other veterans that they wouldn't share with civilians. This a safe place to talk and the creative process opens up communication."
An exhibition of the photography and the studio art creations will be held at some point in the spring.
For more information contact Dawn Miller at 772-321-0707 ext. 155.