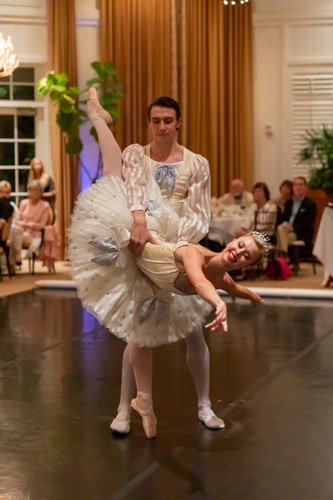 Ballet Vero Beach has been taking the show on the road recently, with a series of Club Tours, including one last Thursday evening at the Quail Valley River Club. Previous performances have taken place at Indian River Estates, John's Island, Oak Harbor, Sea Oaks and Windsor.
"The goal of this program, from the very beginning, has been to raise visibility for the organization," explained Adam Schnell, BVB artistic director/CEO. "What we try to do is to do a mini sampling of what our entire repertoire looks like, so there will be some contemporary works this evening and some classical. Because we can say, yes, we do great work, but it doesn't always register unless people see it."
The setting was relaxed, with tables surrounding a special dance floor, where BVB ballet master Camilo Rodriguez, Katherine Eppink, Kelsey Schwenker and Anders Southerland performed four captivating pieces.
"We try and keep it small and intimate," said Schnell.
"They do a fantastic job," said Kevin Given, Quail Valley COO/partner, introducing Schnell. "Ballet Vero Beach has grown so much. It's been seven years now since they started the ballet."
"At Ballet Vero Beach, our mission is to promote the art of dance as a universal language in this community and beyond," said Schnell. "We do that with performances by our resident professional company, which you are about to see; through the presentation of national and international dance artists; and through our education and community engagement programs."
Since its inception, he said they have attempted to challenge the perception of what a professional ballet company and an arts organization in Indian River County can be. Through its Outreach initiatives, BVB currently donates performance tickets to 16 social service nonprofits.
Quail Valley Charities funded their first grant request to provide a free student matinee series, for which Ballet Vero Beach has now assumed financial ownership, expanding the program to serve first-, third- and fourth-grade students throughout the county. They also providing bus funding to the schools, and offer pre- and post-performance outreach on school campuses.
In its fifth season, when Ballet Vero Beach premiered its own "Nutcracker on the Indian River," Schnell said they again reached out to underserved youth.
"We go to two underserved elementary schools every year to teach on campus, so that they can join the production in the theater and share the stage with our professional dancers and have a mentorship opportunity," said Schnell.
"That led to our second request for funding from Quail Valley Charities. This year, for the first time, we are the only arts organization in the area to have an abbreviated, accessible version of our 'Nutcracker' that is aimed at the differently abled individuals in our community. The goal of this program, and hopefully it will expand to some of our other programming, is to make sure that we are reaching each and every person in Indian River County."
The first two dances Thursday were "Pourquoi," performed by Rodriguez and Schwenker; and "Love me Always," performed by Eppink and Southerland. Schnell said the next two pieces celebrated two recently established partnerships.
"We would be nowhere as an organization, even seven years in, without our donors, without our board members, without organizations like Quail Valley Charities supporting us along the way."
The third dance, he explained, was a world premiere of "Playing with Strings," which will get its official debut on April 5 during the Atlantic Classical Orchestra's Chamber Music Concert at the Vero Beach Museum of Art.
"Hopefully, this is the beginning of a very fruitful partnership between two successful arts organizations in our area, in which we will be able to work together to provide a higher quality arts and entertainment experience to the community," said Schnell.
The final piece was an excerpt of "The Sleeping Beauty" Wedding Pas de Deux, a company premier danced by Eppink and Southerland.
Schnell noted that BVB was recently awarded a $25,000 grant from the Indian River Community Foundation to continue its educational programming for school-aged children. One way they plan to do that is to work on literacy programs by aligning one-act story ballets in partnership with The Learning Alliance.
"The Learning Alliance has agreed to train our dancers in the techniques of arts literacy and arts integration," said Scnhell, adding that research shows that by doing so, "you engage the children in a way that is much more meaningful than a standard academic experience. We are using all of these great classics to really and truly be at the forefront of the arts in this community."
Upcoming performances include Composers Notebook: The Music of Paul Gay, Feb. 28-29, and Clarity of Vison, April 17-18, both at VBHS PAC. The Bach to Ballet performance with Atlantic Classical Orchestra is April 5 at VBMA. For more information, visit balletverobeach.org.