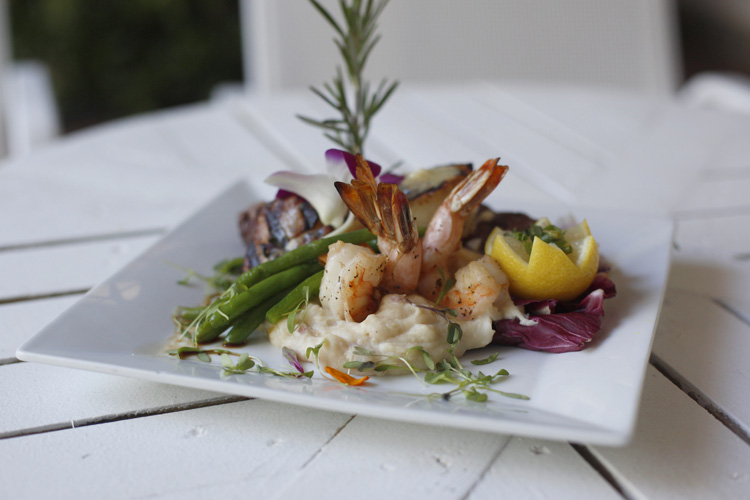 In recent years, Maison Martinique, the onetime premier island dining spot, has gone through a half dozen executive chefs – some pretty good, some not so much.
There was no consistency here in either food or service. On occasion, you might have a very good dining experience; other times, the only remembrance you took away of this classy restaurant's glory days was the stiff check.
In its latest comeback attempt, Maison Martinique has turned to a female chef, Pam Kubis.
While we are reluctant to tell you that all is now well, what we can say is a dinner for four last Saturday night produced an evening of food and service that rivaled the era of the late chef Yannick Martin.
Arriving for our reservation at 7:45, we were seated in the larger of Maison Martinique's dining areas, the Bamboo Room, which was about two-thirds full.
An excellent server, Leslie, quickly took our drink orders, and brought a basket of extremely tasty bread.
For starters on this evening, one of our companions and I decided to share an order of mussels ($16); my husband went for the sea scallops ($13); our other companion ordered a small Caesar salad ($6).
My husband's two jumbo scallops were gorgeous, smoked and grilled to perfection, wrapped in Applewood bacon, and served with a cucumber salsa tossed in a sweet chili sauce. An excellent start.
As for the mussels, there were two steamed mussel appetizers on the menu – the regular Maison Martinique preparation, and a chef's special served in a sweet marinara sauce. We went with the original – tasty small, tender bivalves steamed in a white wine, lemon butter and garlic broth. I lost no time in asking for more bread to mop up every last drop.
Then for entrées, I ordered the shrimp and scallop scampi ($30); my husband opted for the roasted duck ($32); one of our companions chose grilled swordfish ($32); and the other settled on the blackened salmon ($32).
My jumbo shrimp and scallops were sautéed in a garlic butter sauce, served over linguine. A great dish. The other two seafood dishes were equally successful, the extra thick cut of swordfish perfectly grilled and the very nice piece of salmon served with black beans and rice.
My husband initially regretted missing out on the swordfish, but quickly forgot it when he tasted the roasted duck. Basted with a sweet wine, herb and garlic glaze, the crispy skin was extremely tasty and the juicy breast and leg were very tender and flavorful.
While we were full by dessert time, reports of a fresh brownie just emerging from the oven led us to share a baked brownie sundae with vanilla gelato ($10). Yummy.
We concluded the evening with espresso ($2.25) and decaf ($2.50). Dinner for four with a couple of glasses of nice wine each would run close to $300 before tax and tip.
Given the ups and downs of recent years, we are reluctant to get too excited based on one dinner. But our first experience with Chef Pam was highly encouraging. Hopefully, Maison Martinique is back on track.
I welcome your comments, and encourage you to send feedback to me at tina@verobeach32963.com.
The reviewer dines anonymously at restaurants at the expense of Vero Beach 32963.
Maison Martinique
Hours: Tuesday through Saturday, 4:30 p.m. to 9:30 p.m.
Beverages: Full Bar
Address: 1601 South Ocean Drive
Phone: 772-231-7299
Photos by: Kaila Jones
Click HERE to see more or buy photos