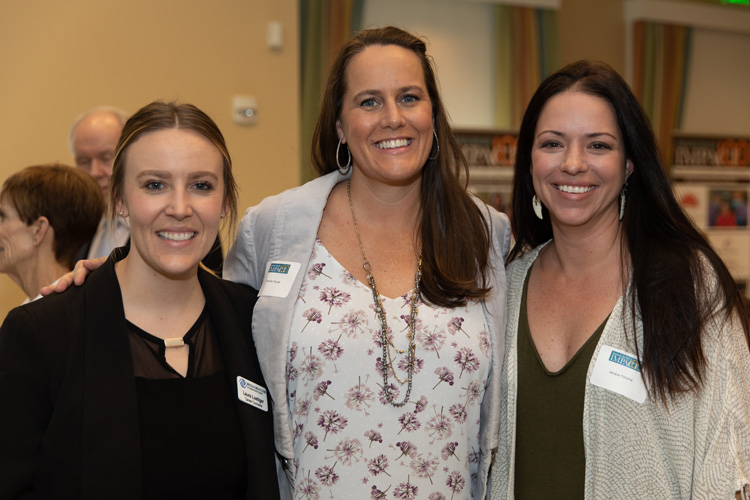 The enthusiasm for their organizations' programs and their appreciation for the $100,000 grants awarded to them this past spring by the Indian River Impact 100 membership bubbled forth, as representatives from the Boys and Girls Clubs of Indian River County, H.A.L.O. No Kill Rescue and Space Coast Symphony Orchestra spoke at the 2020 Impact Day last Wednesday afternoon.
Current and prospective Impact 100 members gathered at Northern Trust Company for the event, sponsored by Robin Lloyd & Associates, P.A., to hear from Impact's newest Community Partners about where their projects currently stand and the grants' impact on their organizations.
Amy Acker, board president, disclosed that over its 12-year history, Indian River Impact 100 has funded 62 grants – 38 Impact grants and 24 Merit grants – totaling more than $4.1 million. That amount, she pointed out, constitutes 10 percent of the roughly $45 million invested globally by 50-plus chapters.
"The Impact 100 model is built around a concept called team philanthropy, and it happens through the collective giving of its members," said Acker. "By pooling our $1,000 we exponentially and powerfully accelerate the investment that we can make in our community."
She explained that last year there were 425 members, but just three finalists made it through the stringent grant review process, adding that the excess $125,000 was held over for distribution in a future funding cycle.
"After signing contracts in May, our Impact award winners have two years to implement their programs," said Denise Battaglini, past president, who moderated the panel discussion.
Panelists were Laura Luettger, career counselor at BGCIRC; Jennifer Royals, a founding member and principal clarinetist of SCSO; and Jacque Petrone, H.A.L.O.'s founder/CEO.
The B&GC Destinations Program is assisting teens in determining their post-high school plans – career, college or military. Noting that the current student/school guidance counselor ratio is 400 to 1, Luettger said Impact funding has enabled them to provide teens with support such as one-on-one or small group meetings, career/trade speakers, college trips, parent nights, tuition for the Smart Horizons Program to help teens graduate on time, and even clothing for job and college interviews. Luettger said they are giving teens the skills and tools needed to become responsible, caring, productive citizens after graduation.
Royals said a goal of the SCSO is to make quality music accessible to everybody. Two of the four Indian River County Music Education projects funded have already taken place. Roughly 400 people attended the free super-hero themed Family Concert in November, and 750 elementary students attended one of two Children's Concerts at Vero Beach High School. In April, the last of four Once Upon an Orchestra Concerts at McKee Botanical Garden, geared toward toddlers, will take place, and two Shoulder-to-Shoulder Concerts – this March at Vero Beach High School and next year at Sebastian High School, will give music students a chance to play alongside professional musicians.
Petrone said more than 14,000 lives have already been saved through H.A.L.O. programs and they hope to continue reducing county euthanasia rates. Impact funding is supporting medical equipment, fixtures, software and services that will be offered in an expanded 5,000-square-foot Enrichment Center, Training Center and Low Cost Veterinarian Clinic adjacent to the current facility. She cited veterinary costs and behavioral issues as two of the most common reasons for pet surrenders, adding that by providing low cost care and a training center, more people can keep their pets at home. The facility will also enable additional catastrophic rescues, such as those from Puerto Rico and the Bahamas.
2020 membership is open until Feb. 28. Upcoming events: March 5 Meet the Finalists reception at Vero Beach Country Club; March 18 New Member Social at Quail Valley River Club Boathouse; and April 16 Grant Awards and Annual Meeting at Oak Harbor Club.
For more information, visit impact100ir.com.
Photos by: Denise Ritchie
Click HERE to see more or buy photos