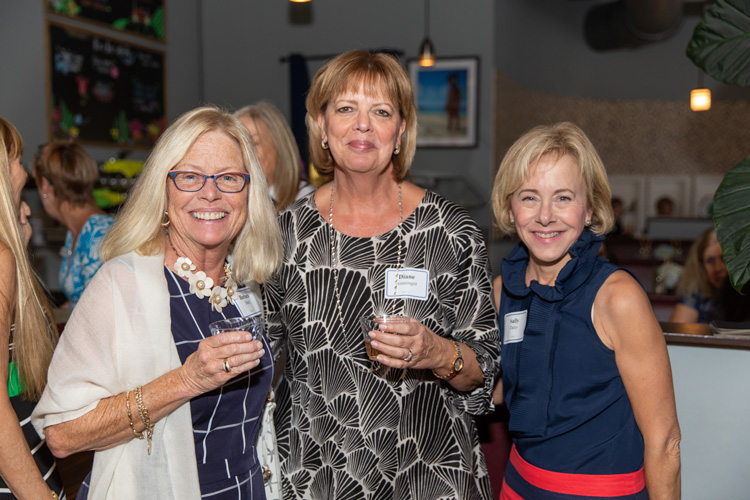 The restaurant Michael's on 7th rolled out the red carpet for a Shellebration Dinner last Tuesday evening, attended by the Ladies of the Lagoon, a group of Indian River Land Trust supporters.
The ladies enjoyed a gourmet farm-to-table feast prepared by Chef Michael Lander and his terrific staff, sipping on a selection of wines from Alimentari Gourmet Market paired with Lander's signature dishes.
"I'm happy to be partnering with the Ladies of the Lagoon," said Chef Lander. "I appreciate what you do. It goes hand-in-hand with what we try to do – farm-to-table sustainable local cuisine."
Dinner included locally sourced Pepper Trail Farm lettuce, Schacht Grove grapefruit, local black grouper and Sebastian clams. The sweet finish to the evening featured miniature buttermilk, citrus, honey pies, drizzled with honey procured from beehives kept on IRLT properties.
The Ladies of the Lagoon is a giving circle which supports the Land Trust's mission "to promote the preservation, conservation, and improvement of natural resources and special places in Indian River County for the benefit of the general public and future generations."
"Your impact as the Ladies of the Lagoon has been just tremendous in this community," said Ken Gruden, IRLT executive director. "The coastal wetlands and the fish and wildlife habitats have greatly benefited from the fishery studies and terrapin studies that have gone on. And it wouldn't have happened without this special giving circle of women."
Gruden likened the work the ladies do to that of Rachel Carlson, an American marine biologist and conservationist who has helped advance the environmental movement on a global level.
"As I stand here before you, what I really see is Rachel Carsons all around me. It's wonderful to see so many women from Vero Beach coming forward and helping us to take the work that we're doing to the next level," said Gruden.
"We made the acquisition and you're leveraging that acquisition. You're meshing science and conservation one fish at a time. We bought property one parcel at a time and you're doing this work one terrapin and one fish at a time."
Recalling Carson's words, "The edge of the sea is a strange and beautiful place," Gruden commented that the lagoon is an amazing body of water, home to thousands of species of plants and animals, and is vital to sport fish and millions of migrating birds.
"The progress is great, the groundswell is amazing. We need to keep working together and, as Rachel Carson said, 'In nature, nothing exists alone.' Let's keep working together to make that a reality," said Gruden.
A portion of sales from Take the Lagoon to Heart, 10 a.m. to 5 p.m. Feb. 12 at participating Village Shops, and a 3 to 5 p.m. High Tea at Citron that day will support Ladies of the Lagoon and the IRLT.
For more information, visit irlt.org.
Photos by: Denise Ritchie and Stephanie LaBaff
Click HERE to see more or buy photos