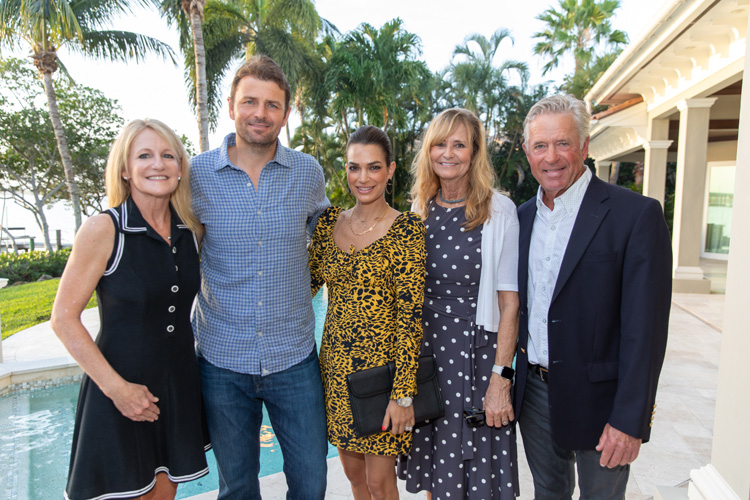 Supporters of the Mardy Fish Children's Foundation were feted during an intimate gathering at the Riomar II home of Lynn Southerly, MFCF executive director, where over cocktails and hors d'oeuvres, U.S. Davis Cup Captain Mardy Fish chatted with guests in a casual Q&A format.
The next day, an impressive lineup of world-class professional athletes teed up alongside Fish to help raise funds and awareness during the annual Mardy Fish Children's Foundation Golf Fundraiser, held at the recently renovated Windsor Golf Course. Proceeds from the events will enable the MFCF to help more children.
The setting sun and dolphins frolicking in the background on Sunday were poignant reminders to Fish of his childhood in Vero Beach and why he still considers it home.
"There's a reason why this foundation has stayed here for this many years," said Fish of the nonprofit he founded in 2007. "I wanted it in the place that I grew up in, that gave so much to me as a youngster."
Fish founded the organization to provide children with an opportunity to participate in safe and impactful fitness, nutritional and enrichment programs that would empower them to live healthy lives. What began as a tennis-based program has expanded to support a wide range of activities.
A volunteer executive director, Southerly said that she sees amazing things happening during site visits to beneficiary schools and organizations.
"These are children that would not have the opportunity to do the activities that we support," said Southerly. "We have homeless children who are learning to swim and how to ride horses. We have underprivileged children learning how to play golf, learning how to play tennis and learning how to garden. We are not just about tennis anymore."
Their focus is on funding afterschool activities where children can be safe, have fun and make friends.
"We have been doing a lot of good work in the community and helping a lot of children," said Tom Fish, Mardy's father and MFCF president emeritus.
MFCF currently supports more than 2,400 children from elementary through high school, funding programs that promote lifestyle choices and 'Mardy's Six Healthy Habits: Get Sleep; Drink Water; Exercise Daily, Eat Healthy; Brush and Floss; and Make Friends.'
"We've been doing this for 10 years. The Mardy Fish Foundation is a godsend for us, because without the funds from the foundation, this program would not be affordable," said Roger Van Dyke, executive director of the Indian River Golf Foundation, which introduces golf to children in pre-school through fifth grade.
"We have over 300 kids in our program at 10 elementary schools, the Boys and Girls Clubs of Vero Beach and the Gifford Youth Achievement Center," said Van Dyke.
Monday's tournament offered up a picture-perfect day to tee up to support MFCF, with players that included a virtual who's who of professional athletes. Among them, Luke Donald, the former No.1 golfer in the world; Paul McGinley, Ryder Cup winner; Rick Rhoden, 16-year MLB pitcher; Rick Monday, 19-year MLB center fielder; and Tim Wakefield, former Boston Red Sox pitcher.
While Fish is primarily known for his prowess on the tennis court, he's no slouch on the golf course. To ensure his skills are kept sharp, each of the nearly 60 golfers faced off against him on the 17th hole.
With a score of 55, the foursome that left the greens with a bit of swagger and the title of 2020 Mardy Fish Children's Foundation champions were Bob Barros, Bill Biersach, Ewan Copeland and Sal Spallone.
Next up, the 2020 MFCF Pro Circuit Tournament will be played at the Boulevard Tennis Club from April 26 to May 3.
For more information, visit mardyfishchildrensfoundation.org.
Photos by: Denise Ritchie
Click HERE to see more or buy photos