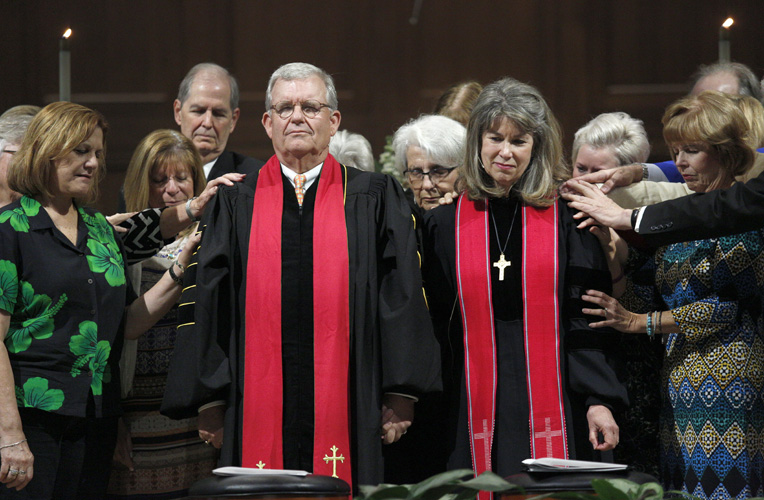 More than 1,000 smiling faces – and fistfuls of tissues – reflected the mixed emotions of the congregation as the Revs. Bob and Casey Baggott delivered a final message Sunday to worshipers at Community Church, where the couple has served for 16 years.
The Baggotts, who shared duties as the spiritual leaders of one of Vero's most prominent churches, are headed back to Minneapolis to be close to their 13 children and grandchildren – a group that filled a long row of seats at Sunday's service.
In addition to hundreds of sermons, the pair also co-wrote the On Faith column for Vero Beach 32963.
The Baggotts' farewell was delivered in the church's main sanctuary, against a backdrop of the spectacular Lively-Fulcher pipe organ. The sanctuary required extensive renovation when the organ was installed and the Baggotts led the successful effort to raise $13 million for the instrument and construction.
The organ, played by director of music Andrew Galuska, accompanied the Chancel choir, alternating with the church's own brass section and pop band – Bob Baggott is a talented guitarist and singer who sometimes performed with the C-2 band, as it's called.
The Baggotts, teary-eyed themselves as they scanned the crowd, basked in the evident admiration of their flock as the business end of the service was dispensed with – readings by the Revs. Elizabeth Johnson, Holly Adams, David Johnson, and Raymond Hargrove, the regional minister of the Florida Conference of the United Church of Christ, of which Community Church is part.
Then, after a 30-second thunderous standing ovation that included at least one wolf whistle, the Baggotts pulled two chairs together and settled in to tell a series of self-deprecating bloopers.
Bob told of giving his first sermon with the microphone set for his 6-foot-3 predecessor, the late Rev. Bill Nigh, and feeling like "the Munchkin minister from Minnesota." Casey told of the remedy – an elevated platform built within the pulpit – and how she stepped onto the freshly-varnished surface, delivered her sermon, and had to leave her shoes behind when she realized they were stuck to the tacky floor.
"I was forced to do my meditation in my stocking feet," she recalled.
And then there was the time Bob had to get a temporary tooth, and it shot out of his mouth mid-sermon; Casey did an impersonation of him lisping through the story of "Jethus and Ithaiah."
After the funny stories, things turned serious, as the couple offered comfort to the congregation, letting them know there would be help from above as they moved on.
"I feel a bit of a fraud standing up here and having you clap and appreciate us because the wonder of Community Church is due to you. You're the church," said Casey.
"They married us," said a tearful Mollie Rogers as she exited the church, wiping her eyes as she recalled the wedding five years ago to husband Jack.
"They were difference-makers," said Jack Rogers. "They made a difference in everybody's life that came close to them. That room was jammed. How can a couple make such an impact? We're going to really miss them."
Cathy de Schouwer recalled the day that she, along with Antoine Jennings, approached Bob Baggott with their idea of a youth mentoring group, Crossroads Mission, that would combine basketball coaching and academic tutoring.
"Bob said, 'I love it. Here's $10,000. Whatever you need, you got it.'" de Schouwer said. "He helped us form the organization.'"
For three years, the group met for tutoring at the church. It now involves 70 kids and 75 volunteers who tutor one-on-one. By raising grades and increasing team skills, 30 kids in the group have made it onto their schools' basketball teams. A couple of dozen members of the mission came to the Baggotts' farewell service.
"These boys have come to church with me year after year. Even some who have graduated and are in college are close to Bob. He's going to stay on our board from afar, but I'm really going to miss him," said de Schouwer.
Sharon Richards, who serves as clerk of the church, called Community Church "our home away from home. She and husband Tom are both deacons and Tom spoke at the farewell service.
Several years ago, Sharon Richards was approached by Casey Baggott to start a "call to care" ministry to assist the clergy with people who "wanted somebody to listen, and who wanted a visit one-on-one" on a regular basis in their homes, sometimes for six months or more.
"She trained us for over two years. There are five of us now, and we just added two more." Richards said of Casey. "The ministry has served from 70 to 80 people, many of them elderly and alone, in grief or ill health – even counseling them as their lives were ending, as happened several times recently.
"Casey just exudes compassion and love, and we have just learned from her," Richards said.
The Richards have joined the Baggotts and a busload of others on nine "pilgrimages" to other countries, including China, South Africa and Ireland, studying the practice of religion in each nation.
"They are our family of choice," said Tom Richards.
"It was a wonderful way to send off the Baggotts," said tenor section leader Kent Ahern. "We poured our hearts into it."
For Sean Sexton, the Baggotts' departure comes too soon, and not only for spiritual reasons. Though he and wife Sharon have been involved with Community Church for years, including a monthly noon-time poetry-and-organ music series started last year, they had never seen the Baggotts socially – until last week.
"We had them over Tuesday night for the first time in 16 years," said Sexton. "We had the most wonderful time, and we wondered, why did we not spend more time together? It's like going to the ocean for 20 years and not going swimming. We realized how much we really like each other. You don't necessarily have to like your minister, but we do. We adore them."
The Sextons and the rest may get their second chance to socialize with the much-admired couple. But not for a year, at least.
In keeping with a tradition of many churches, the Baggotts will not return to Vero for a year, so that the congregation can adjust to and connect with a new minister. For now, that person is the Rev. Anna Copeland, who will serve on an interim basis while the church seeks a full-time minister.
As the Baggotts joked about returning to the snows of Minnesota, they remembered that their tenure began with two hurricanes that turned the church into a Red Cross center. It spanned the economic downturn, during which the church budgeted more for helping others, not less. It included the hiring of Jose Daniel Flores, an organist and choral director from Puerto Rico who greatly expanded the church's music program, now run by Galuska, whose talents closed the service with a flourish.
Bob knew it was going to be a big one: the Widor Toccata. According to tenor Ahern, Baggott always introduced the showstoppers the same way. "Hit it, Andrew!" he bellowed.