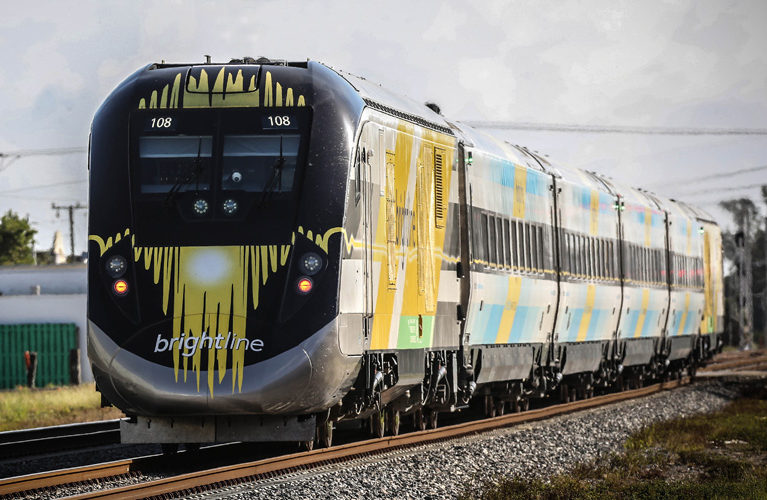 Indian River County Commissioner Bob Solari slammed the Vero Beach City Council for pursuing a Virgin Trains USA station while demurring on proposed passenger rail safety legislation.
Solari unleashed his salvo on Jan. 14 after joining the commission majority in a 4-1 vote to drop the county's federal case against the VTUSA project's financial and environmental approvals.
Solari said he was "incredibly disturbed" after watching the official videotape of the Jan. 7 Vero Beach City Council meeting when the council discussed several Virgin Trains issues.
Solari, who is not seeking re-election as District 5 commissioner, was particularly critical of Vice Mayor Laura Moss, who is running for County Commission against Indian River Shores Vice Mayor Bob Auwaerter, the man Solari is backing to take over the District 5 seat.
"For me, the low point of the meeting was when the councilwoman, during the discussion about the safety legislation said, quote: 'We have always been neutral. … We want to be Switzerland as far as the train goes.'"
"This is the same as saying: 'We want to be neutral as far as the lives of our residents are concerned,'" Solari said. "As a city resident, I do not see how it is possible for one of my representatives, who has been on the council for three years, to be neutral on anything related to the 'death train.'"
But Moss said the council has a duty to discuss the possibility of developing a Virgin Trains station in the city and seek public opinion about the concept, and Councilman Joe Graves called Solari's criticism "not true" and "an unfair characterization."
"Evidently, Commissioner Solari is opposed to free speech, at least with regard to the train," Moss said. "We have the right to discuss any matter we wish."
The council on Jan. 7 to asked City Manager Monte Falls to talk to VTUSA officials about developing a bus, train and air terminal at Vero Beach Regional Airport using federal grant money.
At the same meeting, the council decided not to endorse state Sen. Debbie Mayfield's proposed High Speed Passenger Rail Safety Act, which would strengthen state regulations and oversight for passenger trains exceeding 80 mph.
"I would hate to put us in an adversarial position with the trains at this point, especially given the unlikely event such legislation gets passed," said Graves on Jan. 7. "Who do you think is opposing the legislation? It's the train."
"Endorsing legislation that virtually has no chance of passing?" Graves asked rhetorically on Jan. 7. "At this point, I don't want to have anything that would hinder Monte's ability to negotiate with [the train company for a Vero station]."
However, two days later, Graves asked city officials to add a resolution supporting Mayfield's rail safety bill to the Jan. 21 agenda. In an interview, Graves said he supports Mayfield's legislation.
Virgin Trains plans to send 34 trains per day through Indian River County at speeds of up to 110 mph in late 2022 after completing the construction of passenger railroad tracks from Orlando to West Palm Beach.
VTUSA started passenger rail service between West Palm Beach and Fort Lauderdale in January 2018 and added a Miami station that May.
Indian River County Commissioners decided on Jan. 14 not to go all the way to the U.S. Supreme Court with their court challenge against the project because their negligible chances of victory.
An appellate court on Dec. 20 upheld a district judge's dismissal of the county's complaint claiming the Federal Railroad Administration improperly gave financial and environmental approvals for the project.
Meanwhile, Mayfield's High-Speed Passenger Rail Safety Act was scheduled to be heard in the Senate Infrastructure and Security Committee on Tuesday. The legislative session ends March 13.
Among the governments endorsing Mayfield's bill so far are Indian River and Brevard counties, Melbourne, Satellite Beach, Melbourne Beach, Palm Shores, Indialantic and St. Lucie Village.
Virgin Trains – previously known as Brightline and All Aboard Florida — killed 24 people South Florida in 2019, Federal Railroad Administration records show. It killed seven people in 2018.
Solari ridiculed the Vero Beach City Council for declining to endorse Mayfield's legislation during its Jan. 7 meeting despite a request by Mayor Tony Young.
"I certainly thought it would be impossible for any responsible representative to be neutral on Sen. Mayfield's safety legislation, which, if passed, will save the lives of perhaps hundreds of Floridians," Solari said. "For the past almost six years, the 'death train' has been one of the most prominent issue in the county."
"There is obviously no one on council that doesn't support safety," Graves said. "I want to make it clear through a proclamation that I'm supporting and that we support Sen. Mayfield's bill."