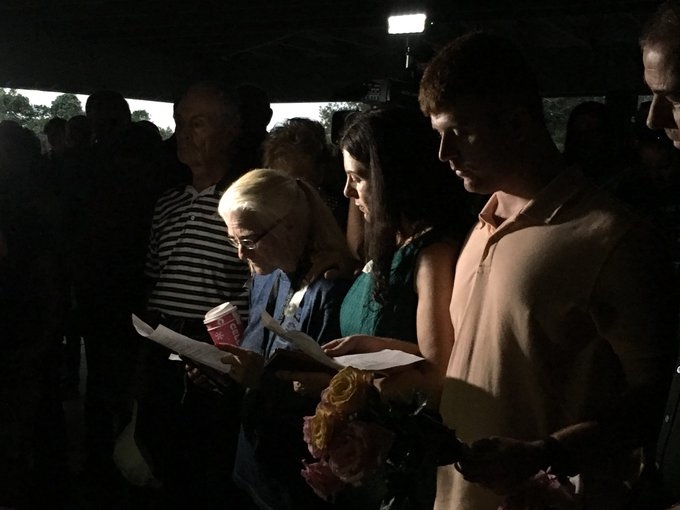 VERO BEACH — It seemed to affect everyone.
From purple ribbons to curbside memorials, commuters, rowing team members, first responders and others continue to pray for the victims of a deadly crash that killed 20-year-old rower Grace Rett, and seriously injured several others. Hospital officials said eight others involved in the Jan. 15 wreck – including Holy Cross Crusaders rowing team members – were taken to Lawnwood Regional Medical Center & Heart Institute in Fort Pierce.
By Saturday afternoon, two team members – senior Maegan Moriarty and junior Paige Cohen – had been released from the trauma center, the hospital's Public Relations Director Tiffany Woods said. Woods said six patients remain at the trauma center, with one in critical condition, one in serious condition and four in good condition.
About 300 people gathered for a vigil at 5:30 p.m. Sunday to pray for the healing of those still hospitalized and for the family of Rett, who is from Uxbridge, Massachusetts and attended College of the Holy Cross. Those in attendance were given a piece of cloth to tear, which is done in Jewish tradition to express sorrow after the loss of a loved one.
"This reminds us of the work of healing we have to do," Rabbi Michael Birnholz, of Temple Beth Shalom in Vero Beach, said Sunday. "We can still stitch (ourselves) back together."
Vigil for student athlete #GraceRett being held at Riverside Park in #VeroBeach pic.twitter.com/EGSfTjGh4B

— Nicholas Samuel (@JournalistNickS) January 19, 2020
Birnholz and other religious leaders led the audience in poems, a moment of silence, prayer and songs. The audience then wrote prayers and messages of encouragement on pieces of rice paper.
The crowd then made their way toward the Indian River Lagoon and tossed the pieces of rice paper into the water. The rice paper is water-soluble, meaning that it dissolves in the water, Birnholz said.
Vero resident Nicholas Muller said he wrote a wish in his message. He wished for Rett's energetic, hopeful and tenacious spirit to be with her parents.
"The service was beautiful. It shows the community comes together; for a small community, there's a lot of love," said Muller, 24. "I brought four bouquets of flowers. I wanted to show respect."
Muller said he was walking his family dog on Indian River Boulevard Jan. 15. Muller didn't see the crash, but heard numerous sirens from police and first responders.
Karen Rutledge, 48, who has a daughter in Sebastian River Rowing, said she prays anytime a sudden tragedy strikes. Gathering with others during these times helps to give her peace, she said.
"I knew if I was heartbroken, other people would be," said Rutledge, of Sebastian. Other members of rowing clubs in Sebastian and Vero Beach were also in attendance.
What happened
Rett was in the front-right passenger seat in a silver team transit van at 7:30 a.m. Jan. 15 near the Merill P. Barber Bridge. Two team vans carrying the College of the Holy Cross women's rowing team were headed to practice with Vero Beach Rowing Club on the Indian River Lagoon.
The first van, carrying Rett, was traveling southbound on Indian River Boulevard when it made a left turn to get to the bridge. The van drove into the path of an oncoming northbound red Dodge pickup, Vero Beach police said.
The pickup struck the van on its side, leaving both vehicles with heavy damage. It was unclear how fast each vehicle was traveling.
Both vehicles had green lights; there was no green arrow in the lane where the van was traveling, police said.
Several people, including the pickup driver, were taken to area hospitals. Rett was taken to a hospital, where she was pronounced dead, police said.
Police have not identified the pickup driver.
Officers blocked lanes on the bridge and Indian River Boulevard for several hours, causing heavy traffic. The College of the Holy Cross said it would offer grief counseling services to its students.
Friday, Vero Beach police wrapped purple ribbons around light poles near the west end of the Barber Bridge to show respect for the team members hurt in the wreck. A teddy bear tied to one of the poles represents the life of Rett, taken away from her family too soon.
The college's men's rowing team set up a GoFundMe fundraising page the day of the crash. By Sunday evening, the page had more than $240,000 in donations.
The funds will go toward medical bills for the injured and Rett's funeral expenses.
Visitation hours will be held from 2 p.m. to 7 p.m. Tuesday at St. Mary's Church, 77 Mendon Street, Uxbridge. A mass celebrating Rett's life will be held at 10 a.m. Wednesday at the church.
The investigation into the fatal crash remains ongoing.