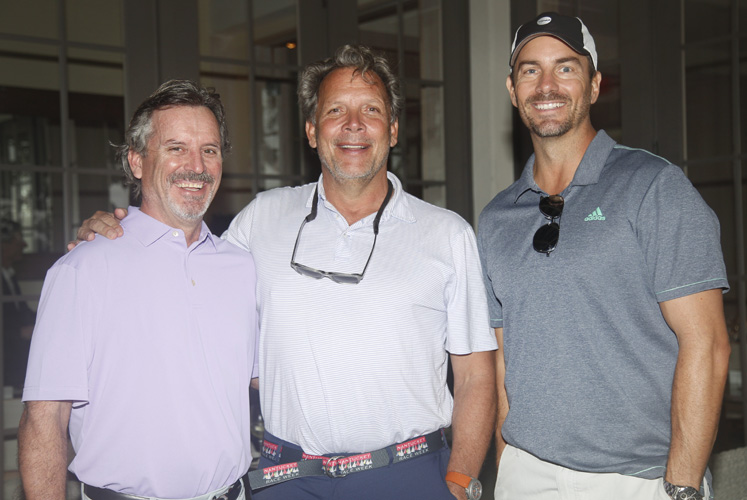 Windsor residents cheered as the Hon. Hilary and Galen Weston snipped the ribbon to officially reopen the Windsor Golf Course, which just recently completed a major renovation. The ribbon-cutting was followed by an impressive ceremonial 'first drive' by Paul McGinley, captain of the victorious Europe team at the 2014 Ryder Cup.
The project to restore the original Robert Trent Jones 18-hole course was spearheaded by Bruce Charlton, Robert Trent Jones II president and chief design officer, and was overseen on the Windsor side by Jeff Steele, director of golf, and Jason Schoonover, course superintendent.
"I'm not sure all of the members have an appreciation of how difficult it is to build a course in eight months, particularly when there was 21 inches of rain in August. So we were lucky to get it done and we're now all beneficiaries of their great effort," said golf committee chairman Gordon Nixon, congratulating everyone involved.
Paying special tribute to the Westons, Nixon said that because of their influence, nothing in Florida compares to Windsor's unique quality, architecture and culture.
Adding that the course had been built to the Weston's standards, he said, "It's truly one of the best courses in all of Florida. The membership just can't thank you enough for your willingness to ensure that it remains so and will continue in the future."
In thanks, Nixon unveiled a new Weston Cup, a Member-Member Championship Trophy.
Nixon commented that Charlton had been heavily involved in the original design of the Windsor course, as well as a number of others around the world.
"I think that this is certainly one of his best," said Nixon, adding that the subtle changes made have created both an improved and more beautiful course. "You've taken a masterpiece and made it even better."
Charlton paid tribute to everyone involved in what he said was "very much a team process," and described the Westons as gutsy for agreeing to enhance an already fantastic golf course.
"We just can't thank you enough for that support. Believe me, it was a pleasure, an absolute labor of love, to come back and kind of dress it up and polish it," said Charlton.
Calling it a young course, he added, "Be patient with it; I think you'll see it grow a lot in the next 12 months. This is not a process that moves quickly, although we did it pretty darn fast, and that's a lot to do with the crews."
"It is a big moment," said Hilary Weston after the ceremony, as guests milled about on the patio overlooking the picturesque course.
"To do it in the condensed time that we had, to have succeeded in making it, is just tremendous. And it's all to do with the people who were on this, who just pushed and pushed to get it done," she added.
Steele noted that while the eight-month project had endured some weather delays, the back nine was actually open to members in December.
"It's been terrific; everyone has been enjoying the new course," said Steele.
When asked if he had a favorite hole, Steele answered, "There's a number of them, but I've always loved hole No. 5. It's a great, great hole. The bunkering is beautiful, the lake is on the right-hand side. It's just the perfect hole."
Commenting on some of the enhancements, Steele said that the bunkers had been reshaped to restore their contours, and that the addition of a SubAir system underneath the greens enables them to regulate moisture in the soil.
"So it's pretty state-of-the-art; everything is so perfect," said Steele. "It's very, very exciting."
For more information, visit windsorflorida.com.
Photos by: Kaila Jones
Click HERE to see more or buy photos