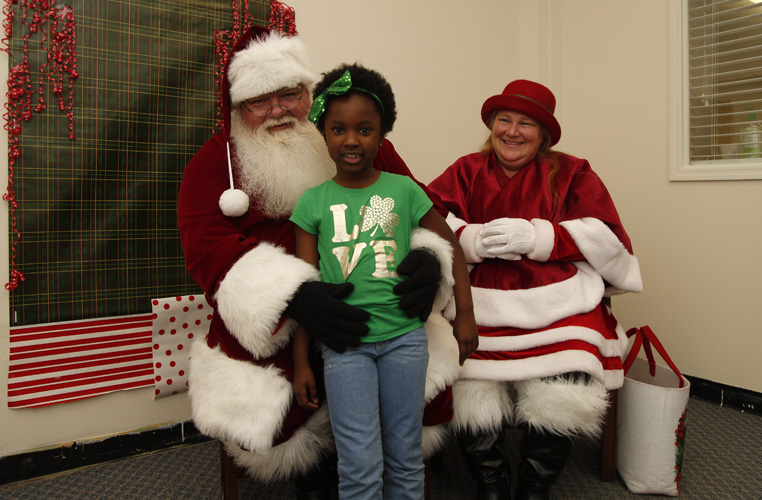 The Youth Guidance Mentoring Academy was overflowing with colorful decorations and plenty of happy faces at its recent Holiday Open House. The families of children already in the program were joined by potential enrollees looking to reap the benefits of the mentoring relationships and after-school activities offered by the nonprofit.
Santa and Mrs. Claus were honored guests at the festive event, during which youngsters in the program were each given individualized gifts donated by generous local businesses, including a number of shiny new bicycles, and potential newcomers were given bags of goodies to take home.
For more than four decades, Youth Guidance has been enriching the lives of children in kindergarten through 12th grade who come from low-income, single-parent homes in Indian River County.
As visitors moved through the facility's rabbit warren of rooms and corridors, Sue Hunt, YG public relations specialist, spoke about their new 'Shaping Brighter Futures Building Campaign' to raise funds to renovate and remodel the 58-year-old, 8,000-square-foot building they purchased in 2017.
"We paid for it outright," said Hunt. "For this capital campaign, we're going to try to raise $1 million. We need more flexible space."
Hunt noted that a more efficient facility would enable them to better serve their existing clientele and eventually increase the number of children in the program.
"With the capital campaign, some of these walls will be knocked down to make it less of a maze; more functional," explained board member Kim Prado. She noted such changes would create a large, multi-purpose room that could be partitioned off as needed.
Additionally, space would be designated for S.T.E.A.M. (Science, Technology, Engineering, Arts and Math) activities, academic enrichment tutoring, an art studio, a computer lab and a graphic design room, as well as offices and meeting rooms. Outside, the addition of privacy fencing would allow an outdoor play area.
"This is one of the big areas we need to raise money for," said Hunt, pointing out their current inefficient kitchen. The goal is to make it into a teaching kitchen with a student dining hall.
"Every day the children get a nutritious meal before they go to the programs," said Hunt. "When we have leftovers, they can take it home to their families."
Plans also include replacing the roof and HVAC system, purchasing hurricane shutters or impact windows and a security system, and repainting the building's interior and exterior.
For more information, visit youthguidanceprogram.org.
Photos by: Kaila Jones
Click HERE to see more or buy photos