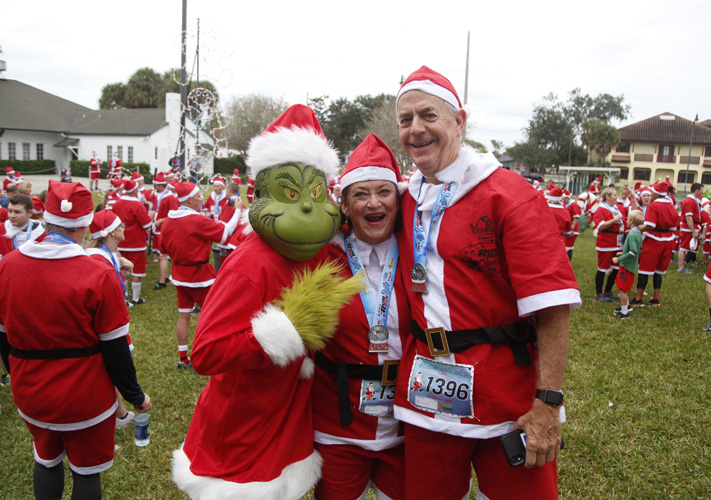 A sack of Santas showed that Kris Kringle's girth couldn't hold them back during the third annual Run Run Santa 1-mile fun run.
More than 500 runners – ranging from age 2 to 85 and from as far away as Hawaii and Canada – left their sacks of toys back in the North Pole as they ho-ho-ho'd their way from Pocahontas Park through historic downtown Vero Beach and to the finish line.
"So many out-of-town people take advantage of the race," said Brittany Streufert, who with Mike Acosta hosted the event to benefit Power of Pizza Charities.
Streufert said participants, clad from head-to-toe in Florida-style Santa garb, "sweated for a good cause."
The goal of Power of Pizza Charities is to impact communities by inspiring people to participate in health-conscious events to raise funds that support local schools, athletic organizations and child development programs.
Locally, race proceeds benefited the Indian River Healthy Start Coalition's Babies and Beyond Program, which assists women and their families before, during and after pregnancy by providing pre-birth education and a post-delivery home visits, where mothers receive help with breastfeeding, self-care and baby care.
"The Babies and Beyond program touches so many women here in Indian River County that have given birth," said Streufert, who was raised in Vero Beach.
The Grinch made an appearance mid-race, attempting to suck out all the holiday cheer, but the Santas gave the rascal a run for his money and his heart grew and grew with the joy of the community.
Many runners also participated in the Viera to Vero Santa Challenge, running back-to-back races in both locations on consecutive days. The top male finisher for the Vero race, Lee Kolias, finished with a time of 5:28.63. Top female finisher Mary Lunn had a time of 6:26.92.
After the last runners crossed the finish line, sweaty Santas gathered for a post-race party with food, drink and awards.
Photos by: Kaila Jones
Click HERE to see more or buy photos