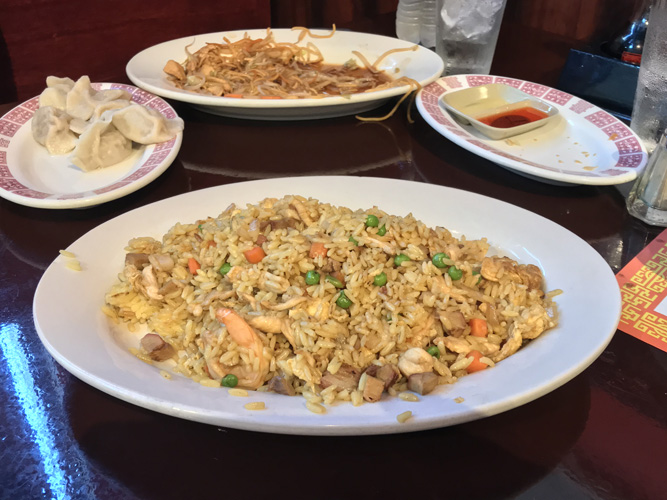 Walking into the tiny, simply decorated Shandong Noodle House last Friday with my two companions, we discovered a few "rules" right away. Sit wherever you like as there's no hostess stand. Walk straight back to the counter if you're grabbing a to-go order. Be prepared for your food to emerge rapidly from the kitchen. One last rule: Enjoy every bite!
When we venture out to an Asian restaurant, our secret hope is that the favorite dishes meet some sort of "average" standard, that they are what we expect with little deviation. When our run-of-the-mill dishes turn out to be something really special, that's a pleasant surprise.
Shandong Noodle House excels at the typical slate of Chinese staples – the fried rice, the lo mein, the spring rolls and the dumplings. But the cooks here put their own twist on some of the recipes and that's what you'll remember long after your meal.
Don't be afraid to ask questions because there are likely a few things on the menu that will cause you to wonder.
I had to ask about the Chinese Russian Soup and I'm glad we ordered it because it's delicious – tough to describe, but a savory, homemade-tasting must try. The egg-drop soup was different, too, but good. It tasted like drippings from a Thanksgiving turkey. Regarding the Chicken Corn Soup, my companion said he'd never had that combination of ingredients in a soup at an Asian restaurant, but it certainly works. A tasty soup that was a fine way to start the meal. The soups were included in our lunch specials.
The spring rolls ($2 each) were light, fresh and not greasy. We also ordered a plate of Pork Dumplings ($6.95) and Chicken Lo Mein ($7.95) to share. The dumplings were tender and packed with pork. The lo mein had a generous amount of chicken and vegetables and it was not too salty. We liked the thinner, more delicate noodles.
For entrees we ordered Honey Garlic Chicken ($7.95), Pepper Steak (8.95) and the House Fried Rice ($11.95) with beef, pork, chicken and shrimp. My companion described his pepper steak as having an appetizing aroma that "gave the game away" on this dish. He said it offered a good proportion of both the steak and the stir-fry vegetables in a tasty, slightly sweet deep-brown gravy. My honey garlic chicken was nicely deep fried in a fantastic golden sauce. The fried rice was an enormous portion, served piping hot with nice chunks of meat and shrimp.
We thoroughly enjoyed the owners' family recipes handed down through the generations, as our server told is the Chinese grandparents still staff the kitchen, whipping up their specialties. Our lunch excursion for three totaled $53 plus tip.
I welcome your comments, and encourage you to send feedback to me at lisazahner32963@gmail.com.
Our reviewers dine anonymously at restaurants at the expense of Vero Beach 32963.
Shandong Noodle House
Hours: 10 a.m. to 9:30 p.m. Monday through Saturday; 10 a.m. to 9 p.m. Sunday
Beverages: Beer & Wine
Address: 2089 Indian River Blvd., Vero Beach
Phone: 772-257-6775