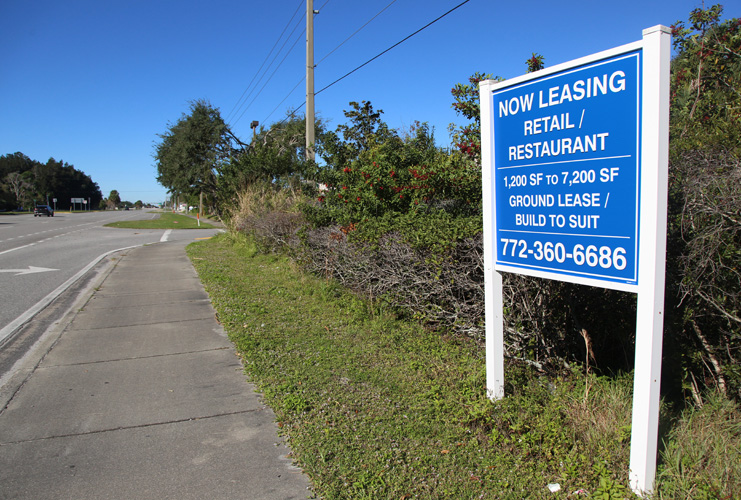 The real estate services firm called in to rescue the faltering Indian River Mall thinks new, outparcel developments adjacent to the mall could help revive the shopping center.
Joe Cataldo, president of RedevGroup Inc., has submitted preliminary plans to the county for two restaurants – one that's 5,734 square feet and one that is 3,500 square feet – along with a 5,130-square-foot retail building.
The proposed development would be built on a vacant 4.7-acre plot of land Cataldo owns on 20th Street next to an existing strip mall he owns that is anchored by Starbucks and Vitamin Shoppe.
Cataldo intends to submit more detailed plans for review early next year and have a portion of the development open by the end of 2020, he said. To make the project more attractive, parking will be located on the mall side of the buildings with greenery and an aesthetically pleasing pond situated on the roadside.
Cataldo hasn't yet secured tenants for the retail building or two restaurants – one likely to be a fast food establishment; the other slated to be a sit-down eatery – but the development has garnered interest from big names, he said.
Cataldo and Katy Welsh, senior director for Colliers International, believe the planned development is good news for the mall, which is roughly 25 percent empty.
"It certainly wouldn't hurt," Cataldo said. "The more activity out there the better."
Welsh, who has been tasked by mall owner Mike Kohan to secure more leases in the mall where more stores seem to close than open, said she's close to sealing a deal with a large tenant that could bring more jobs to the area.
Furniture stores, caterers and restaurants are interested in leasing space in the mall, Welsh said. There's also interest from an assisted living facility, hotels and apartment developers in a 14-acre mall outparcel owned by Kohan, Welsh said.
"Developing an outparcel and putting in a couple of restaurants is perfect for there," Welsh said. "That's what we're doing with malls across the country. That's how we're revitalizing them."
Welsh, however, admits the mall likely will never revert to a traditional retail destination. The shopping center currently offers a handful of dining options, a video arcade and a movie theater, along with some jewelry, clothing and gift stores, but the rest of the shopping center has become a hodgepodge of businesses that are not typical retail, including a vape shop, military store, Hyundai storefront, pet adoption center, martial arts centers and a church.
"The mall has become more of a community center and more of a climate-controlled environment for the community to use," Welsh said.
The mall is still anchored by several department stores that independently own or lease their land and buildings and aren't technically part of the shopping center, including Dillard's, Macy's and JCPenney.
Michael Yurocko, vice president and broker of Vero-based SLC Commercial, is skeptical that outparcel development will benefit the mall.
Shopping patterns are shifting as more shoppers buy online or flock to "power centers" that usually consist of stores such as Target or Bed Bath and Beyond. Open-air "lifestyle centers" with stores like Gap, Nike and dining options are also becoming more popular, Yurocko said.
"It will definitely draw a lot more traffic and attention out that way, but how it may impact the mall is a different story," Yurocko said. "The mall is kind of an island to itself right there. I don't know that people who go out there to eat at restaurants are going to go shop inside the mall like they may have done in the past. Shopping habits have changed."
Kohan could not be reached for comment. Last year he told Vero Beach 32963 he's been attempting to attract smaller retailers and recruit restaurants but offered few details.
Kohan purchased the mall three years after Wells Fargo foreclosed on it and a neighboring shopping center. Simon Property Group – the nation's largest mall owner – had defaulted on a $71.3 million loan. Since then, Kohan encountered financial issues of his own, falling behind on more than $250,000 in property taxes in 2017. He's now current on property tax payments.
The closure of stores, including Sears, which had been a fourth, independently-owned retail anchor, has spurred a steady decline in the mall's value, county officials said. The current appraised value is roughly $10.3 million, down $30 million from the $40 million-plus appraised value in 1998, county records show.