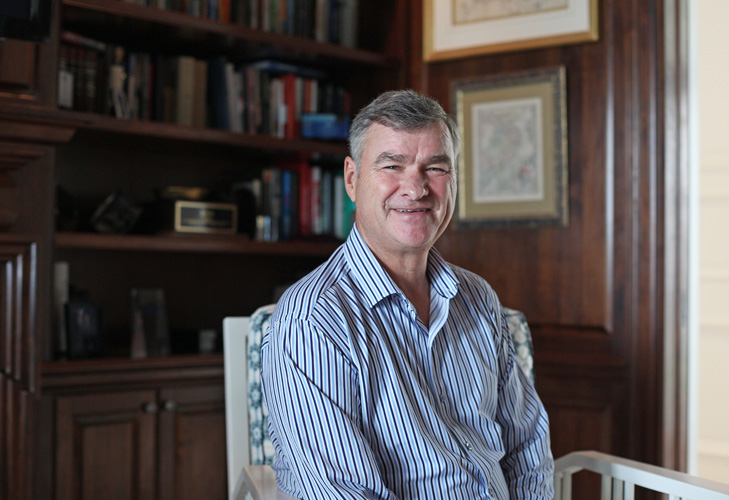 John's Island's lush foliage and guarded gates may protect its residents' privacy, but their philanthropy still pours into the community, including one-fourth of the $3 million raised every year by the local United Way. Sustaining that stream, and enlarging it, falls to the newly named co-chairs of the John's Island United Way campaign, Mike and Sue White.
Fortunately, Mike White has more than a little experience reaching into people's homes to raise revenue. White is the former CEO of DirecTV, the largest pay television provider in the world with 21 million subscribers. White held that post until his retirement in 2015, when DirecTV merged with AT&T in a $67 billion deal.
"To step up and do this is no small thing. It's their name and their personalization, even though they may not know everybody, they're the ones who make all the communications and all the solicitations," said United Way CEO Michael Kint, adding that most of the chapter's highest-level donors live in John's Island.
The Whites are taking responsibility "for what is a very important residential community to us."
The campaign, which gets underway this month, continues through March, when past donors who haven't given yet bubble up in the charity's last-minute analysis. That's when chairpersons start orchestrating run-ins at the club, and seemingly casual phone calls quickly get down to business.
On that score, Mike White is expert. On his watch, DirecTV took 140 million calls a year, for everything from installation orders to tech support. "I considered those calls our quality control," he says.
In John's Island, of course, the calls will go the other direction, with the Whites cajoling neighbors to carve out a chunk from their cash reserves to benefit the larger community.
Driving Mike White's efforts is his deep-seated belief in the Jesuit teachings of his alma mater, Boston College and its affiliated prep school Boston College High. "The Jesuits talk about seeing God in all things. I call it being a person for others," White says.
In his career, that "person for others" philosophy has translated to a focus on good leadership, a subject he has addressed in news interviews and lectures at graduate business schools. At DirecTV, he started an annual leadership seminar that included workers from every level, patterned after a similar program at PepsiCo, where he held senior management positions for 20 years.
White recently donated $1 million to Boston College High School, a portion of which will fund a leadership institute at the 150-year-old Catholic all-boys prep school.
"I've always been pretty passionate about leadership," he says.
"The best leaders are no more than 60 percent confident and 40 percent humble. That's a tricky balance. You've got to have enough confidence to push forward, but always with humility. You have to know how to connect with people, first of all. And with technology changing and disruption going on so fast, the humility piece is also about knowing what you don't know."
The leadership institute at B.C. High will bring in outside speakers and White expects he will be one; he gave the commencement address there two years ago.
More than half of the million-dollar donation will go toward financial aid, another of his philanthropic priorities; he has made even larger gifts toward scholarships at Boston College and Johns Hopkins University, where he earned a B.A. and a master's degree, respectively.
White, the oldest of eight children, grew up in a Boston suburb. His father, also a Boston College alum, was a lawyer who served two terms in the State House. But he died young, leaving his wife to manage not only the large family alone but a career in teaching.
White had a double major at Boston College: English literature and Russian studies. He had two years of Russian at B.C. High and was fluent by the time he was an exchange student in St. Petersburg, Russia, then called Leningrad, as a Ford Foundation fellow, one of only 29 American students invited.
After earning a graduate degree in international relations, he had a summer internship at the CIA before deciding it wasn't the career for him. He tried business consulting at Arthur Andersen, earning a CPA through the company. But after rising to manager, he knew he didn't want to be a partner.
He worked next at Bain and Company, again in business consulting, but this time he worked directly under Mitt Romney, whom he admires greatly and loved working for, he says.
"I was a manager, but candidly, I knew I probably wasn't going to be a partner. I'm not that smart in certain areas. And the travel was killing, with three kids at home. So, I started looking around again."
He ended up first at Avon, heading up a perfume division, then five years later, went to PepsiCo. There, as president and CEO of PepsiCo's Frito-Lay division in Europe, Africa and the Middle East, he finally used his Russian again, in the speech he wrote to open the first-ever potato chip factory in Moscow – the mushroom-flavored chips were a huge hit.
"Before that, the Soviet Union had no potato chips, zero. And they loved them," says White. "Not every country does."
White eventually took over PepsiCo's international division as CEO in 2003. "It was my dream job," he said. "I always wanted international."
It was at PepsiCo that White grasped the value of good leadership training. PepsiCo held training sessions every summer for a week, and they included internationally known speakers "from Bush to Thatcher to Kissinger."
In 2010, a headhunter herded White toward the CEO post at DirecTV. It was an entirely new direction, but also the challenge of a lifetime, running a whole company.
Coming in as a novice wasn't easy, but White, a quick study and a voracious reader, is also apparently up for anything. When DirecTV's P.R. people suggested he appear on the TV show "Undercover Boss," he genuinely felt the experience would help him understand the company he led.
The stunt included him gamely getting up on a roof to install a dish. While his ineptitude earned him the ire of the woman who believed she was training him, her patience earned her a spot as the first installation tech in White's newly formed leadership seminar, patterned after the training at PepsiCo.
As for his own media consumption, White says he watches very little TV, "mostly sports and '60 Minutes.'"
What he does watch is YouTube, specifically video piano lessons. He plays on average an hour a day, mostly jazz improvisation of late, and a grand piano has normally been the centerpiece of the couple's living room.
At the moment, however, the piano's usual spot is covered with cardboard to protect the floor while the Whites' home goes through a second phase of renovation.
That renovation, begun while the Whites were away on Cape Cod, included some changes to their home electronics.
One might think the former CEO of DirecTV would be spared having TVs on the fritz. But that's what greeted the Whites last week when they returned to Vero after the holidays.
Turns out, the malfunction was not the DirecTV but the Wi-Fi component of their smart home technology; even the electronic shutters refused to rise.
With his wife futilely waving a gilded remote at various black screens, the man who once had to worry about the TVs of 26 million customers was trying to describe the failure to two vanloads of technicians fanning out through the house.
"It's a little infuriating to come home and find nothing works," said White.
By week's end, all the TVs worked but one – the main one, of course. Even a newly installed modem wasn't working.
"I guess we'll be trying a new company," Sue White said ruefully.