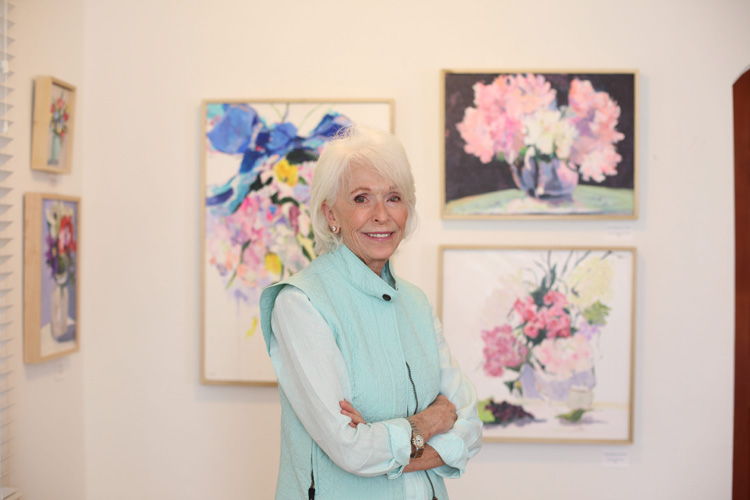 The first exhibition of the 2020 calendar at the Center for Spiritual Care in Vero Beach is Barbara Rowles' "Counting Flowers on the Wall," on display through Jan. 31. Rowles has of late become known for her abstract flower paintings, which are as upbeat as the Statler Brothers' 1966 hit, sans the blue notes of "playing solitaire till dawn with a deck of 51."
Rowles divides her time between homes in Florida and Vermont (where her flower garden inspires her art) and, until recently, the Gaspé Peninsula in Quebec. A Canadian by birth, she was raised in the town of Gaspé, where her Irish great-grandfather came to claim a parcel of land that extended from the forest to the sea, using the land for lumber and the ocean for commercial fishing.
Rowles' father, Russell Keays, built on his family's success there, as an industrialist whose businesses included lumber, ship-building, hotels and heavy construction. He was also a politician who served as the mayor of Gaspé for a decade. Running as a Progressive Conservative in 1958, Keays was elected to Parliament representing the electoral district of Îles-de-la-Madeleine; later representing Quebec's Gaspé district.
According to Rowles, "The Gaspé was more English than the English," during her childhood in the 1940s and '50s. It is now considered a mainly French-Canadian region.
"The Gaspé Peninsula is a destination now for people who want to kayak, whale watch and bike. It's a magnificent part of the world," says Rowles, who reluctantly sold her family's vacation home there earlier this year.
"It was very tough. The home I grew up in was in town, five miles away. This house was on the beach."
Although Rowles is now a U.S. citizen, Quebec's wide-open spaces and her pioneer roots there are close to her heart.
As a teen, Rowles attended a private school in Westmount, Quebec, and around 18 began attending studio classes at the Montreal Museum of Fine Arts.
One of her teachers, Arthur Lismer, was a member of the Group of Seven, the young lions of Canada's modern art scene in the roaring 1920s. Its members channeled their patriotic feelings into landscape paintings that lauded Canada's captivating beauty in stylized depictions of nature. Widely admired in Canada and noticed internationally, the Group of Seven disbanded in 1932 when its artists realized that they had achieved their goal of creating a distinctly Canadian school of art.
Rowles spent two years in art classes before rounding out her education with a stint in business school. The latter helped her in 1973 when she opened the Galloping Boutique, a fashion business with shops of that name in West Hartford, Conn., and on Martha's Vineyard.
While her training in art helped Rowles evaluate the colors and trends of seasonal fashions, running the business "was taking a lot of my time," she says. Too much to think about creating her own art.
"I used to go to Paris twice a year for the collections," she says.
"It was my goal that my clients not see anything in my boutique that they would see in a department store. So I went to the Prêt-à-Porter ('Ready-to-Wear') shows in Paris. I bought clothes in September, October that would arrive six months later for the spring collection."
Rowles often accompanied husband Barry M. Rowles on international business trips connected with his work in the food and beverage industry.
It was in Japan on one such trip when her husband told her, "You know, you are calling the shop from Tokyo to see what the day's sales are," before suggesting that it might be time for her to retire from the fashion business. She eventually sold the shop to her manager in 1985, after Barry had been retired for three years. The couple moved to Vero Beach in 1989, "the year of the freeze," when temps dipped into the teens around Christmas.
In addition to her business and travel interests, Rowles was also a horsewoman. In Vero, she was happy to find lodging for her steed at Winter Beach Farms, where she received a two-for-one deal. Artist Deborah Gooch, who with husband Jim Gooch owned and operated the horse boarding facility, became one of her first friends here.
"I started to paint with Deborah again, after having taken a 40-year sabbatical," says Rowles.
It wasn't as easy as all that, however. Before studying with Gooch, Rowles took classes with Bill Schultz, a Vero Beach-based artist known for his impressionistic style, and later graduated into lessons offered by Florida landscape artist Morgan Samuel Price.
She also signed up for workshops with painters from Santa Fe – Albert Handell and Joanna Arnett. One of her favorite workshop teachers is Californian Robert Burridge, who Rowles fondly refers to as "a wild man," whose use of florescent colors she has adopted – in moderation.
Rowles began to paint with Gooch, first in a barn on Gooch's property and then at the Vero Beach Museum of Art, when Gooch began teaching there. Over a decade ago, when 14 local artists got together to form Gallery 14 on 14th Avenue in downtown Vero, Rowles and Gooch were among the founding members.
Rowles, who stayed with the gallery for about seven years, says she had very good sales for her impressionist landscape and floral paintings during that time. Four years ago, when Gooch left the museum to teach in a Vero Beach storefront space just off Miracle Mile, Rowles followed her, renting a portion of the space to work independently alongside her mentor.
Now that Deborah and Jim Gooch have departed Vero to live in Taos, New Mexico, Barbara and a select few of Deborah's other advanced students have taken over the rent on the 7th Avenue studio and plan to continue painting there for the foreseeable future.
Rowles' personal crystal ball foretells a more abstract painting style for her. Since getting back into it, she has been making representational paintings for over twenty years.
With a certain amount of pride she says, "I just started using acrylic last year. Deborah said I handle acrylic like oil. Many of the paintings in the show at the Center for Spiritual Care are in acrylic. I'm very bold. I use a lot, with gloss medium mixed in."
As in her Gallery 14 days, she still likes to sell her work.
Whereas the audience who purchased her Gallery 14 works are currently at the age when passing their art collections along to others makes more sense than buying, Rowles says, "Now my audience is much younger. I don't know who they are."
"Look at a decorating magazine. They don't want any more brown furniture, they don't want any more clutter, they want minimal furnishings and they want big abstracts – whether or not they understand them."
Her exhibit at the Center, located at 15540 24th St. in Vero Beach, will be on display through Jan. 31.