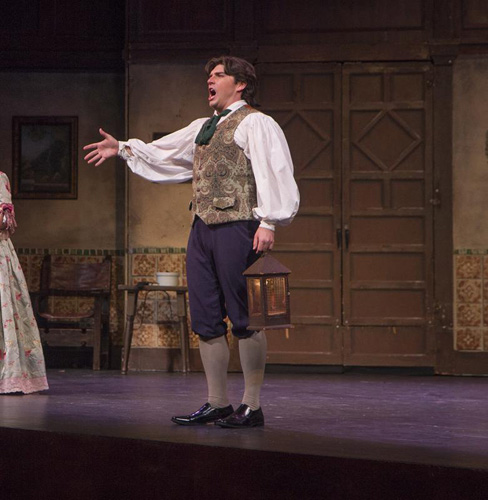 Vero Beach Opera's 2020 season opens Sunday, Jan. 12, at the VBHS Performing Arts Center with – comedy? That's correct. No angst. No bloody murders. No dark, brooding despair. If you've seen Rossini's "The Barber of Seville," you already know this, and you'll want to bring your opera-hesitant pals who have yet to dip their toes into even the shallowest of operatic waters.
There is, of course, "bribery, deception and disguise," says the VBO promo, as the mischievous barber, Figaro, helps Count Almaviva win his true love, Rosina.
The strong, professional cast includes mezzo soprano Stephanie Foley Davis as Rosina; tenor David Narghulis as the lovelorn aunt Almaviva; and, from the Met(ropolitan Opera), baritone David Pershall as Figaro; bass-baritone Peter Strummer as Dr. Bartolo; bass-baritone Rod Nelman as Don Basilio; and soprano Susan Neves as Bert.
The Vero Beach Opera Orchestra will be under the baton of another Met artist, Maestro Joel Revzen. "The Barber of Seville" is fully staged and with English supertitles. Enjoy. Curtain: 3 p.m. Tickets: $15 to $50. 772-569-6993 or Verobeachopera.org.
"The Way the Moon's in Love with the Dark": surely one of the most intriguing and fanciful titles for an artwork ever. And the artwork itself is gorgeously eye-popping as well. You can learn a great deal about this one Wednesday, Jan. 15, when the Vero Beach Museum of Art presents the new year's first in its popular Art Talk series, this one entitled "Lighting the Way," featuring Fred Wilson's fascinating sculpture.
Here's the format: A very well-trained docent meets attendees at the front desk, then you head to the galleries for a 45-to-60-minute deep dive into the work, including studying the piece in great detail followed by a sure-to-be lively discussion.
Time: noon. Admission: free with museum admission. Museum members free. Do register. Hours: Monday-Sunday, 10 a.m. to 4:30 p.m. Admission: under 17 and active military, free; adults, $12; 65 and up, $11; students with ID, $5. vbmuseum.org or 772-231-0707 ext. 136.
"Long ago and oh so far away …" Many of us, within a certain age range, hold a distant, dreamy memory that drifts back into mind when we hear a certain Carpenters song. Do you? It might be "Yesterday Once More," or perhaps "Rainy Days and Mondays."
These and other wonderful songs from those talented siblings, Karen and Richard Carpenter, will be yours again this Saturday, Jan. 11, when LIVE! From Vero Beach presents "Classic Albums Live: We've Only Just Begun: Carpenters Remembered" at the Emerson Center. According to Wikipedia, the Carpenters "sold more than 100 million records in just over a decade and still hold the record for most consecutive Top 10 singles."
Says the production promo, the show launched in 2013 and played to enthusiastic audiences "from Washington State to New York City to sell-out houses in Las Vegas, and Downey, California, the duo's hometown." Channeling Karen's voice and Richard's compositions and arrangements in the clear, precise, exceptionally true-to-the-original style for which Classic Albums Live is known will be vocalist Michelle Berting Brett, and her Nashville band.
Directed by Harry Sharpe, these musicians, says the Emerson, have worked with such pop icons as Donna Summer, Wynonna Judd, Collin Raye, Bobby Caldwell, Tanya Tucker, John Michael Montgomery, Sammy Kershaw and Michael McDonald.
Time: 7 p.m. Tickets: $30 to $95. 800-595-4849
Just appearing on my radar, this looks like a circle-the-date event for jazz and blues fans. A "Jazz to Classics Concert" this Saturday, Jan. 11, will bring to First Presbyterian Church in Vero musicians of the terrific, very community-minded Fort Pierce Jazz and Blues Society – Gene Bruno tenor sax; Don Bestor, piano; Claudio Bernardo, drums; and Al Hager, bass – and mezzo soprano Maire Therese Carmack who, says the concert promo, "won the Florida District of the Metropolitan Opera National Council Auditions in Winter Park this past November."
All proceeds from the concert benefit the Music Angels Education Fund, a nonprofit established in 2016 by patron of the arts Linda Sposato to provide music lessons, via scholarships, for "committed students 4 to 16 who couldn't afford them otherwise."
Time: 7:30 p.m. Tickets: $35 ahead, $40 at the door. 772-234-2736 or 484-885-7492 or info@musicangelsusa.org.
A popular resort, eatery, bar and live music mainstay on Sebastian's where-it's-at Indian River Drive, there's always something going at Capt. Hiram's. Take this weekend for example – Friday, Saturday and Sunday, Jan. 10, 11 and 12. Friday brings, from Cocoa Beach, vocalist and instrumentalist T.A. Williams at 3:30 p.m.; followed by up-and-coming alternative-pop band out of Vero Beach, East Harbor, at 7:30 p.m.
Relax with the Captain Saturday, starting with a nice rum drink and the music of country/western band Double Down at 3:30 p.m., then, into the evening hours, OverRated Band, with rock, pop and dance tunes from the '80s to now, from 7:30 p.m. Head on up this weekend for a little relaxing on the river. 772-388-8588.