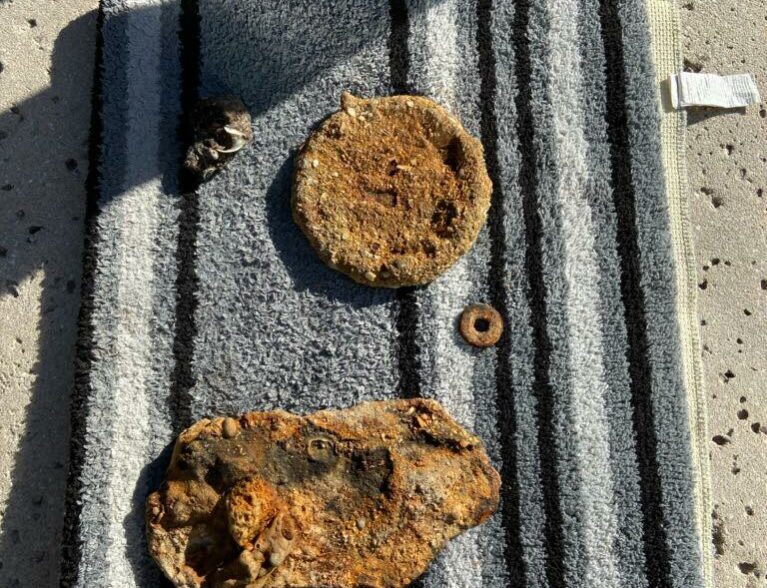 INDIAN RIVER SHORES — A day after an explosive ordnance team disposed of two World War II-era land mines, the group returned to the county to remove a similar device from a home after a woman found it on the beach months earlier.
"I think it's pretty awesome," said 51-year-old home health aid worker Jayne Wilson, of Sebastian. "At least I didn't get injured."
Wilson called 911 after realizing the item she picked up from the sand in April – thought to be an ancient plate that washed ashore from a sunken treasure ship – might actually be a land mine. Wilson saw newspaper articles about the land mines found on Tuesday and noticed they looked similar to the item she found, Indian River Shores Public Safety Department Cpt. Mark Shaw said.
"When residents find stuff like this, they should call 911 right away and not touch the object," Shaw said. It was unclear if the munition was live.
Shores officers responded to reports of a possible land mine about 9:30 a.m. Wednesday at a home on South Catalina Court. Wilson had the item sitting in a bucket of water outside of the Vero Beach home, where she helps to look after her client, Shaw said.
Wilson told officers she found the device several months ago on the beach while walking her client's dog. Wilson said she also found three other rusted items on the shore on three different days afterwards.
The area where the woman found the munition is north of Tracking Station Beach Park, Shaw said.
Wilson had been chipping away at the encrusted material around the device. Wednesday, the woman called law enforcement after she grew concern about the rusted item.
Patrick Air Force Base's explosive ordnance division went to the scene about 11:30 a.m. and confirmed the item was a land mine. The team removed the munition for disposal, Shaw said.
The base, located in Brevard County, is the closest explosive ordnance disposal in the two-county area. World War II-era munitions have been found throughout the years from Vero Beach down to Jensen Beach, including North and South Hutchinson Islands.
The areas were known as Fort Pierce Naval Amphibious Training Base, which the Navy used during World War II. Since 2014, the Army Corps of Engineers has conducted ongoing searches for bombs or ammunition left behind by the military decades ago in those areas.
No further details were available.