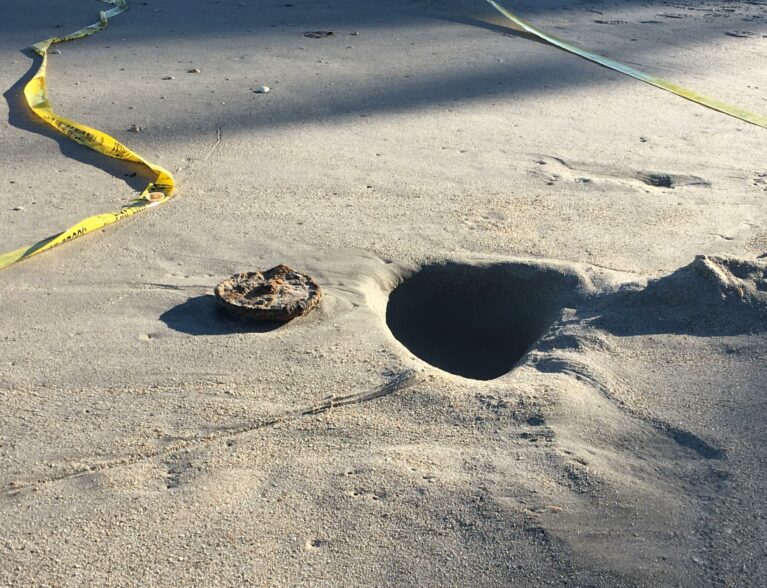 VERO BEACH — Two World War II-era land mines were found on the beach Tuesday, prompting the response from Patrick Air Force Base.
Both munitions were M-600 land mines, sheriff's officials said. It was unclear if the old mines were live.
A man with a metal detector found the first munition about 2 p.m. Tuesday near the 600 block of Reef Road, Vero Beach, Indian River County deputies said. The mine was buried about 1-foot deep in the sand, sheriff's officials said.
As a precaution, deputies roped off the area where the mine was found. The second mine washed ashore about 4:20 p.m., officials said.
A man with a metal detector found a World War II-era land mine Tuesday on the beach in #VeroBeach. Patrick Air Force Base crews were headed to the scene to remove the ordnance. #VeroNews pic.twitter.com/T9YI77OP6m

— Nicholas Samuel (@JournalistNickS) January 7, 2020
Patrick Air Force Base explosive ordnance division went to the area and collected both mines so they can be disposed, deputies said.
The base, located in Brevard County, is the closest explosive ordnance disposal in the two-county area. World War II-era munitions have been found sporadically over the years from Vero Beach down to Jensen Beach, including North and South Hutchinson Islands.
The areas were known as the Fort Pierce Naval Amphibious Training Base, which the Navy used during World War II. Since 2014, the Army Corps of Engineers has conducted ongoing searches for bombs or ammunition left behind by the military decades ago in those areas.
No further details were immediately available.
Photos by Nick Samuel and provided by Indian River County Sheriff's Office